Curtis Jones and Trent Alexander-Arnold were lauded by the media after Liverpool cruised to a 3-0 win at Leicester, with their winning run hailed.
The Merseysiders knew that only victory would do on Monday night, in terms of keeping their Champions League hopes alive.
It was Jones who got the ball rolling for Liverpool, scoring twice in the space of a few minutes, before Alexander-Arnold scored a fabulous long-range strike.
That's now seven Premier League wins on the bounce for Jurgen Klopp and his players – here's how the media reacted to the victory.
Liverpool really are flying at the moment…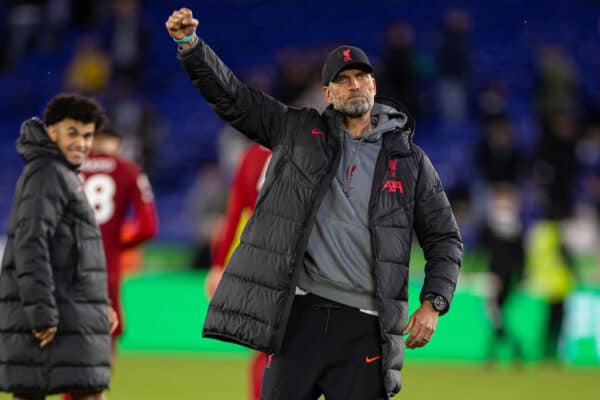 The Daily Mail's Ian Ladyman was hugely impressed by the Reds' performance:
"This was victory seven on the spin in the Premier League for Liverpool.

"It was comfortable and at times compelling and carried many of the traditional Klopp hallmarks.

"His team have found their legs late on in the season and it means that Liverpool, in fifth, now sit so tight on the shoulder of Newcastle and Manchester United in the third and fourth Champions League places that they must be leaving stud marks."
On Twitter, David Lynch feels this great run is vital ahead of next season, suggesting Liverpool could be back:
Whether Liverpool ultimately sneak into the top four or not, this run of results is just massive in terms building momentum for next season. The new system has already passed a lot of tests and can be even better with the right additions this summer.

— David Lynch (@dmlynch) May 15, 2023
John Percy of the Telegraph felt there was a chasm in quality between the two sides:
"While Liverpool continue to dream of the Champions League, Leicester now appear doomed to the Championship.

"These two clubs are heading in dramatically different directions and there will not be many times when Everton supporters celebrate a Liverpool result with such jubilation.

"A magnificent seven victories in a row mean Jurgen Klopp's hopes of achieving "a miracle" finish remain alive, with Liverpool now one point behind fourth-placed Manchester United with two games to play.

"Klopp still has a genuine chance to salvage a mediocre season with a top-four finish, while this result also hands Merseyside rivals Everton the opportunity to shape their own destiny as they battle to avoid relegation."
There was special praise for Jones and Trent…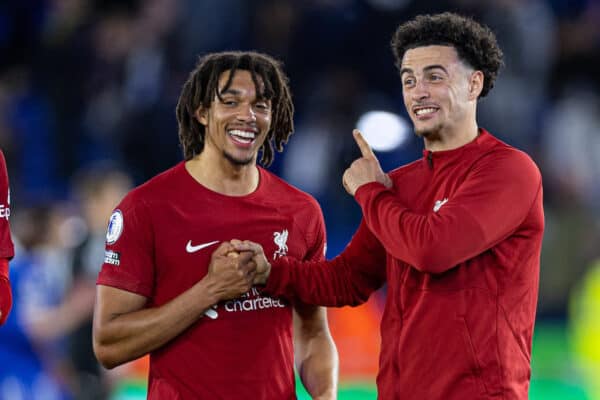 Ben Husband of the Mirror focused on another impressive outing for Jones:
"Klopp can hardly move for questions about Liverpool's midfield and how he will improve it next season. Supporters are desperate for blockbuster transfers, with a host of high-profile names linked.

"But Curtis Jones continues to show he is ready to fight for his place at Anfield. His first goal was a classic midfielder's run, arriving late at the back post to guide home a cross. His second was even better, finding the top corner with a dipping shot from the edge of the box.

"The Liverpool boss has spent much of this season reminding people about the 22-year-old, who was sidelined for an extended period with injury. But whichever direction the Reds decide to go with their midfield, Jones looks certain to be included in it.

"Curtis Jones. He's coming, ladies and gents!" Ian Wright said last month. He's not only coming, he's here to stay."
This Is Anfield's Mark Delgado was another who loved what he saw from the midfielder:
"It was probably already the best run of his career, but it definitely is now.

"Curtis Jones has been really important tactically over the last few weeks, ever-improving from a defensive perspective and now in the last few weeks also showing all that technical quality he has which comes with game time, confidence…and goals, apparently.

"Jones had only nine to his name in his whole career before tonight and had never hit a brace, despite being predominantly an attacker or even wide forward when coming through the system.

"Bit by bit though we've seen those attacking instincts on display again during this run of games, and his first against the Foxes was almost a carbon copy of his goal against Tottenham at Anfield: first time running onto a clipped ball to the back post.

"The second was pure teenage Jones though: into a dangerous area, back to goal, great touch, instant turn and a brilliant hit which displayed the massive level of confidence he has right now."
Ladyman waxed lyrical over Jones and Trent, as well as others:
"Alexander-Arnold was magnificent here, his passing at times geometrically perfect.

"Mo Salah, with three assists, was also majestically on point as was Curtis Jones, the young midfielder who has recovered from a stress fracture of his leg to score twice in three first half minutes.

"Luis Diaz was excellent, too, and they have missed the Colombian's pace and directness during his own spell on the sidelines."
The Reds aren't going away in the top-four race…

Delgado remained hopeful about Liverpool sealing a top-four finish:
"Beyond the summer, those who remain will hope – still – that the Reds are playing in the Champions League.

"This victory moves the Reds to one point behind both Newcastle and Man United, third and fourth, both having played one fewer.

"It means we still need them to slip up more times, and the odds remain against it – but winning out the season with nine in a row is all the Reds can do.

"So far, in that regard, it's all going well."
Finally, BBC Sport's Shamoon Hafez was bullish about the Reds' hopes:
"Has Liverpool's charge for a Champions League spot come too late?

"The two Uniteds above them need two wins from their last three games to guarantee a top-four finish but Liverpool are right on their tails and poised to profit from any mishaps.

[…]

"Liverpool face European-chasing Aston Villa at home on Saturday and round off their season against relegated Southampton knowing maximum points in those games may complete a stunning turnaround in an otherwise disappointing season."