Paul Tierney is due to be considered for future Liverpool games despite his ongoing dispute with Jurgen Klopp, who himself could face a ban.
Tierney's name has dominated the headlines in recent days following his run-in with Klopp during and after Sunday's 4-3 victory over Tottenham.
The Liverpool manager accused the referee of saying something "unacceptable" as he showed a yellow card for Klopp's celebration in the face of fourth official John Brooks.
PGMOL, the refereeing body, have strongly backed Tierney, insisting that audio of the incident showed the 42-year-old acting in a "professional manner throughout."
Klopp's issues with Tierney stretch back to 2017, and have heightened over the past two years, but according to the Mail this will not influence decisions over who referees Liverpool games in the future.
It is reported that PGMOL "will not shy away" from appointing Tierney to Liverpool fixtures.
A source maintained that "Premier League managers should not be allowed to influence the assignments list," likely as it would serve as a minefield every week.
Nevertheless, Tierney is unlikely to be received well the next time he is in charge of a Liverpool game, such is the high profile of his disagreement with Klopp.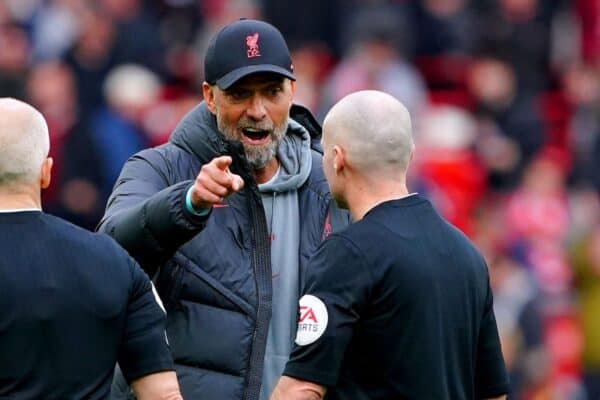 The FA have launched an investigation into Klopp's allegations towards Tierney, with the audio described as a "smoking gun" which would clear the referee of any wrongdoing.
That conversation, the Mail claim, is "likely to be made public at the end of any disciplinary case" as the FA submit a written explanation for any charges.
Klopp could face a touchline ban if found to have brought the official into disrepute, which would be his second of the season after already missing one match in November.
The German was sent off by Anthony Taylor in the 1-0 victory over Man City in October, after protesting angrily in the face of linesman Gary Beswick.

Interestingly, both incidents stemmed from the officials' failure to award a clear foul on Mohamed Salah directly in front of the linesman.
Against Man City, Bernardo Silva was not penalised for hauling the Egyptian down via his shirt, while against Tottenham, Salah was repeatedly pulled back by Ben Davies before the opposition was, somehow, awarded a foul.
Per WhoScored, 108 players across the Premier League have been awarded fouls more frequently than Salah this season.