Jurgen Klopp clashed with referee Paul Tierney again during Liverpool's 4-3 win over Tottenham, in the latest in a series of incidents between the pair.
The Liverpool boss displayed his frustration at the officiating after the game, telling Sky Sports "I really don't know what this man has against us," when referring to Tierney.
There has been no shortage of drama between both men in recent years, with Klopp vocalising his dissatisfaction with the official on a number of occasions.
Born in Wigan, Tierney has refereed Liverpool games on 25 occasions, with his first being the 0-0 draw with Plymouth in the FA Cup third round in 2017.
Here, we take a look at some of the biggest altercations between Klopp and Tierney following the latest controversy in Sunday's seven-goal thriller.
December 2017 – Handball?

Klopp's first brush with Tierney appears to have been in 2017, when Liverpool were denied a late winner in their 0-0 draw with West Brom at Anfield.
Substitute Dominic Solanke had the ball over the line in the closing stages, only to be ruled out for a handball which he described as "unlucky."
The manager confronted Tierney and his team at the final whistle, which came in the first time he had ever refereed Liverpool in the Premier League.
July 2020 – "Get over it"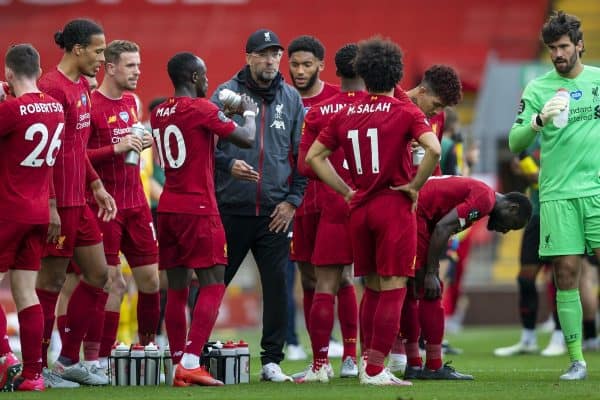 Having already been crowned champions in record-breaking fashion, Liverpool's 2-0 win over Aston Villa in 2020 wasn't without controversy.
Tierney responded to a furious Klopp by telling the manager to "get over it" after he failed to award a free-kick for a foul on Gini Wijnaldum.
The Liverpool Echo reported that the referee told Klopp: "I missed it Jurgen. I'm like players, I'm going to make mistakes. I missed it. Get over it."
December 2020 – A blatant penalty missed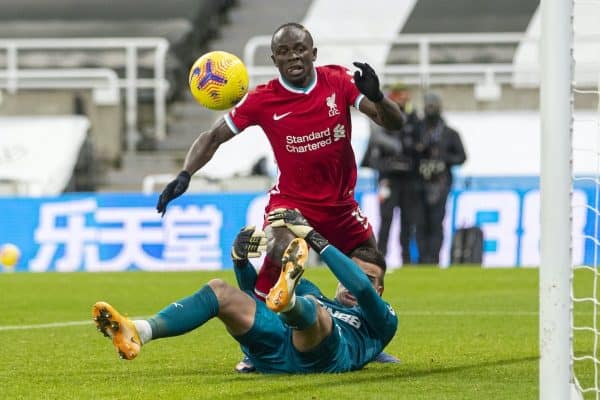 Controversy reigned over Liverpool's goalless draw with Newcastle at the end of 2020, with Sadio Mane dragged down by Magpies goalkeeper Karl Darlow.
Mane was denied a clear goal and, deciding not to go to ground despite the intervention of Darlow, the Reds were not awarded the penalty the deserved.
The referee that day? Tierney, of course.
January 2021 – "Strange, very strange"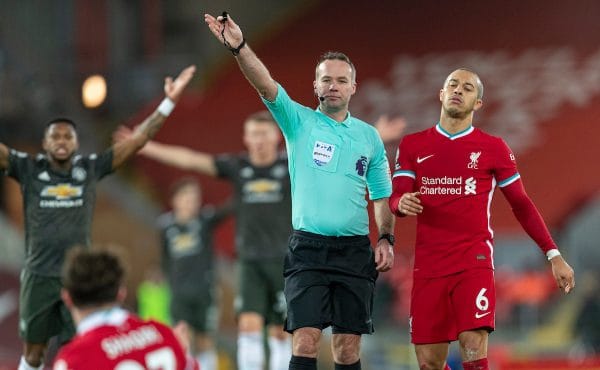 The manager is not the only person to have criticised Tierney's decision-making in a Liverpool game – captain Jordan Henderson was also unhappy with a "strange" call against Man United.
The referee blew the whistle for half-time prematurely during the goalless draw at Anfield back in January 2021, despite Sadio Mane being through on goal.
Remember this?

Sadio Mane in on goal vs. Man United. Ref blows early for half time.

Guess which ref it was. Yes, Paul Tierney. pic.twitter.com/BwurimJoNj

— This Is Anfield (@thisisanfield) May 1, 2023
"We weren't happy about that, as you can imagine," Henderson told Sky Sports after the game.
"Strange, very strange. I think he's through on goal if he doesn't blow [the whistle]."
December 2021 – "I have no problems with any referees, only you"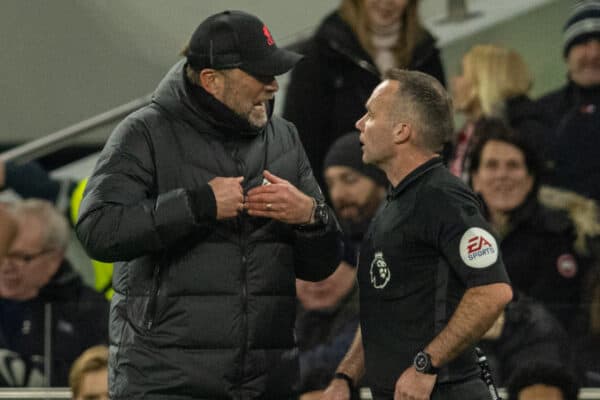 Arguably the most famous example also came against Sunday's opponents.
"I have no problems with any referees, only you," were Klopp's words to Tierney after a series of mistakes in the 2-2 draw away to Tottenham in December 2021.
Andy Robertson was sent off in north London for a poor challenge on Emerson Royal, but both referee and VAR overlooked a similarly dangerous tackle from Harry Kane on the left-back.
The referee also decided against giving Liverpool a penalty for a foul on Diogo Jota, prompting the German to tell Tierney "you've never played football" in a post-match rant.
"It should've been a penalty." ?

Dermot Gallagher says the referee should've been sent to the monitor when Rodri was deemed to commit a handball against Everton #RefWatch pic.twitter.com/Tqzlx9hAoT

— Football Daily (@footballdaily) February 28, 2022
Two months later, Tierney and his VAR failed to call a clear handball from Rodri in his own box as Man City held on for a 1-0 win over Everton.
City went on to win the title with a one-point advantage over Liverpool.
March 2023 – A win over Wolves and the referee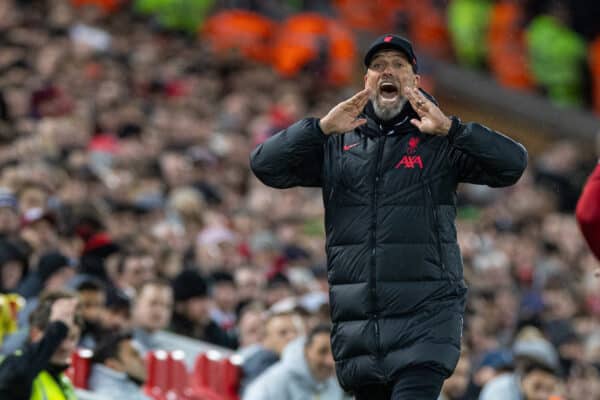 Tierney was the subject of plenty of criticism from fans on social media after another questionable showing at home to Wolves earlier this season.
It wasn't enough to prevent the Reds from picking up a fourth consecutive Premier League clean sheet en route to a 2-0 victory, but the referee's performance did give supporters plenty to talk about after the match.
April 2023 – A yellow for Robertson, despite being elbowed by linesman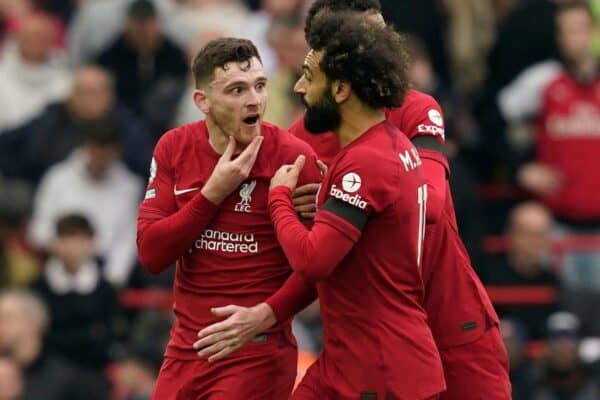 In one of the most controversial refereeing moments in Premier League history, linesman Constantine Hatzidakis elbowed Robertson at the interval in last month's 2-2 draw with Arsenal.
Tierney responded by booking the Scotland captain for his angry protests following the incident, with the linesman eventually avoiding punishment from the FA.
It emerged that Tierney had the power to remove Hatzidakis from his duties immediately after the incident, but decided not to.
April 2023 – "What he said to me is not OK"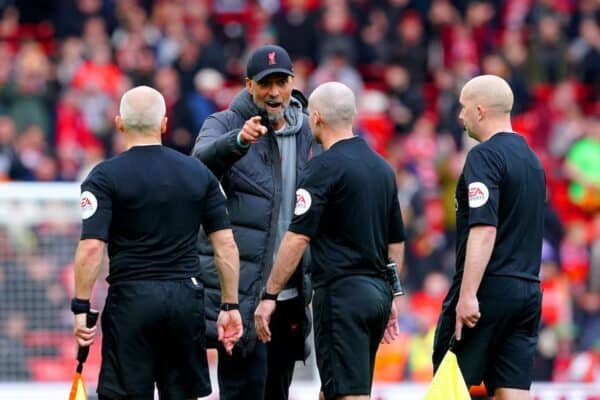 Finally, Sunday's visit of Tottenham saw the latest in a long line of disagreements between Klopp and Tierney.
The boss questioned the referee once again after he was met with comments while being awarded a yellow card late on in the game.
"What [Tierney] said to me then when he gave me the yellow card is not OK," said Klopp, before revealing it was "not possible" to disclose the extent of those words.