Mark Clattenburg has told assistant referee Constantine Hatzidakis that life will return to normal once he gets through the scrutiny of the next week.
Hatzidakis was stood down pending an investigation into his clash with Liverpool defender Andy Robertson that showed the official appearing to elbow the player at half-time of Liverpool's 2-2 draw with Arsenal at Anfield on April 9.
The Football Association cleared Hatzidakis of any wrongdoing and he will return on Saturday when he runs the line in a Sky Bet Championship clash between Preston and Blackburn before Tuesday will see him act as the assistant VAR for Leeds' home fixture with Leicester.
Former Premier League referee Clattenburg was pleased to see "common sense" prevail and, after experiencing plenty of scrutiny during points of his own career, he knows the external noise will quickly settle down for Hatzidakis.
Clattenburg told the PA news agency: "It will be difficult. If we go back to 2012 with John Obi Mikel and the racism case between Chelsea and myself, I came back (after being cleared) after five weeks and it is not easy.
"The scrutiny will be huge with cameras and, the way the media are, everything will be focused on him. The only advice I would give him is, it is only one game.
"I remember coming back at Tottenham as fourth official and the following midweek I was at Southampton and after that Southampton match, it was back to normal again.
"He understands the scrutiny will be on him, 100 per cent. But he is a top assistant so he will come back and, one game in, it will be forgotten about."
Hatzidakis is understood to have apologised to Robertson on a Zoom call last week, with the Scotland captain accepting his explanation for what happened and the FA choosing to take no further action.
"I think when you look in the cold light of day, it was a reaction to move Andy Robertson away. I don't think at any point the assistant would want to elbow him, so I think it was justice, common sense and a lot of things that have been dealt with very quickly," Clattenburg added.
"The Football Association dealt with it very quickly and what I like is they brought all the parties together and they discussed it.
"Days later when everyone discussed it and had their opinion on it, common sense has prevailed and I think the Football Association did the right thing."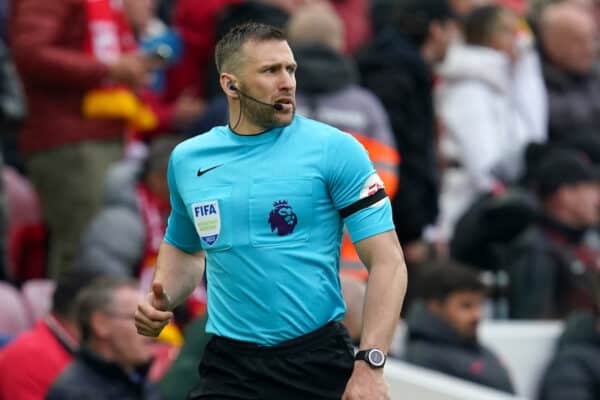 Robertson's incident with Hatzidakis occurred a matter of weeks after Fulham forward Aleksandar Mitrovic clashed with referee Chris Kavanagh at Manchester United, which eventually resulted in a red card for the Serbia forward and an eight-match ban.
A growing trend in the Premier League this season has been players surrounding referees over decisions and Clattenburg feels restricting only captains to speak with the match officials may improve the level of respect.
"Everybody is a role model, including referees, so whatever players do does transfer down to grassroots level and that is where we have an even bigger problem with referees being attacked, which is why they are wearing bodycams," Clattenburg explained.
"We did have this campaign years ago where captains were only allowed to speak to the referee and that has disappeared again.
"Maybe that is worth another trial again where only the captain can speak.

"There has been a lot of clubs fined this year where they have had players surround the referee during decisions and that is not a good image that can transfer down to the grassroots level."
Clattenburg will be back in the middle for Soccer Aid at Old Trafford on June 11 and is ready to receive an earful from ex-Manchester United duo Gary Neville and Paul Scholes when England take on a World XI again.
He said: "It has been an amazing journey. I think this is my eighth Soccer Aid, so I am probably the most capped! One of the main things is to raise money for UNICEF and I have seen it grow so much over the years.
"It is great to officiate, it's got its humour, you've got to also referee within certain perimeters of the laws of the game but mainly it's about enjoyment."