Formerly recognised as perhaps the world's best pure defensive midfielder, Fabinho – like many in the squad – endured a ridiculously tough 2022/23 campaign. What comes next for the Brazilian?
There are many types of defensive midfielders that managers could opt to have in their squad: the shuttling, ball-winning type which operate box-to-box, the deep-lying sprayers of inch-perfect passes who double up as protectors of the back line.
You then have the ferocious patrollers who sit, and sit, and sit and offer the relentless capacity to regain and retain possession no matter the opposition type of attack.
For so many seasons, Fabinho was pretty much all of them at once – an elite tackler, good in the air, capable of defence-splitting passes, possessed of real athleticism and utterly consistent in all of it.
But for the No. 3, like for so many other players, a number of those checked boxes fell by the wayside.

Tiredness, inability to track runners and a scary lack of agility was on show. Consistency? Liverpool as a whole didn't know the meaning of the word. And build-up play was a total non-event, not just from midfield but throughout the team.
Given his place at the centre of it all, Fabinho's downturn in fortunes was very noticeable, and very distressing, as he had for a long time been able to be the sticking plaster over others' failures.
Systemic changes and new faces around him have seemed to yield an upturn. But there's no stopping the ageing process and even with him yet to hit 30 years of age, there's at least the question to pose of whether he can actually hit his peak in that regard again.
Fabinho, 2022/23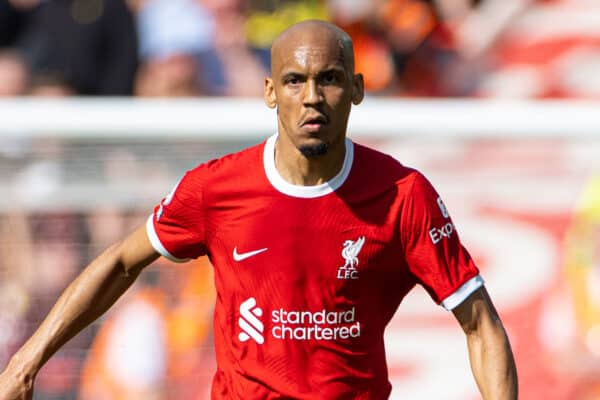 Started: 40 (All competitions)
On as a substitute: 9
Unused sub: 0
Goals: 0
Assists: 2
Overall Season Rating: 5.00
A good example of why partnerships are everything

Somewhere around October, and certainly running through until January, Liverpool fans must have been sat in the Kop or around the TV wishing for the brutal simplicity and functionality of a midfield with Gini Wijnaldum in it.
As one adventurous opponent after another simply galloped through enormous, non-stop gaps at the heart of the Reds' midfield, his ability – anyone's ability, even a Salif Diao or an Igor Biscan – to show awareness and speed and race back to get a toe-end to the ball and stop a dangerous counter would have been worth a castle to supporters who had long since resigned themselves to the inevitable chance on goal.
In truth, that midfield was never just about Wijnaldum of course, but about how the Dutchman worked in tandem with the rest of the players around him, in particular with Fabinho.
Between them they had spaces sorted, angles covered, recoveries noted, passing lanes cut off and opponents frequently in their pockets.
This year Liverpool had nothing.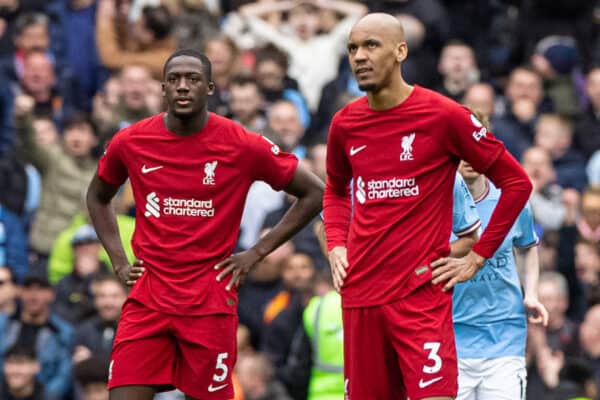 Fabinho and Jordan Henderson's alarming downturn in physical capacities added to a revolving cast in the other midfield slot and an overall shape which simply wasn't working on or off the ball, it just left massive gaps all the time to be exploited.
And, for the Brazilian specifically, an inability to do anything about it.
We've known for years that Fabinho commits "clever" (read: really frustrating, if you're on the opposing team) fouls to cover for the fact he's not sprinting back 40 yards, but even those were beyond him.
Any player skipping two feet to either side of him was simply breaking free into those acres of empty space beside him because nobody else knew what they were doing, how to cover, or where the danger was. Or if they did, they did nothing about it.

And yet, Fabinho's technical ability is all still there. In games where the Reds were backs-to-the-wall, defending deep or protecting a lead, his defensive nous was intact.
Think back to the games where we briefly played a deeper midfield double-pivot, or the Man City match at Anfield: without spaces behind him to worry about, Fabinho was fairly monstrous, winning everything, positionally perfect, a non-stop barrier at repelling creativity.
Get the angles and spaces right between himself and a partner – Thiago in that particular game, Stefan Bajcetic several times after it – and Fabinho still has a whole lot to offer.
But he cannot do it alone. That shouldn't be the case anyway. But one other aspect of the season brings another question mark.
Beware over-hyping a return to form

So, the end-of-season run. A switch in system gave Fabinho a new regular partner to play beside: Trent Alexander-Arnold, in possession at least.
In shape terms and all the on-the-ball work, it looks good. It looks like the next step we can take, with some alterations. But Fabinho's issue has rarely been about his contribution in play.
It's still worth highlighting though, that he can at times be more adventurous in this shape. We've seen him surge forward and leave an extra teammate holding fort without him, surprising the opposition into shifting their own defensive arrangement.
Add in a deft ball over the top or an ability to shoot from range and this is obviously a tactic we should look to use now and again.
But we don't have possession all game long, and that's where the question mark lies.

So there are two aspects to this: one, his individual recovery when a player darts behind him, and two, that role he fills when opponents target our right flank, their left.
When Trent is not there, it has been a big mix of players covering across: the right-sided midfielder, Fabinho and Ibou Konate. The latter seems to be the person of choice when possible, but there's still a long way to go to get it in perfect sync.
Meanwhile, Fabinho drops into central areas alongside Van Dijk, which he can do fine tactically, but the physical demands remain an uncertainty.
That aspect feels like it can improve with more time; hopefully over pre-season.
But what about play through the middle?

Even in the latter part of the season – team winning, confidence up, Fabinho playing better – he was so easily bypassed, so easily left behind play, that there must be a genuine question of whether he can be the starter in that role, game after game against the best teams.
The summer transfer window will of course see us linked with players who can slot into that role and it wouldn't at all be a surprise if one joins. The only question is whether they are starters, or given time to bed into the side.
Liverpool simply cannot afford to be as easily bypassed through a soft centre as they were this year, and that means either Fabinho finds a big upturn in agility and recovery speed, or else he needs to not be the go-to starter against certain opponents who will target that zone.
What's next?

Honestly, it appears there are already a number of supporters who would sell him this summer if a big bid came in.
The midfield does need regeneration and outright replacing him by using funds from a sale to buy a guaranteed starter as the No. 6 is not the worst idea, but as usual, it is doubtful Liverpool will be as ruthless.
Fabinho deserving time to regain form is certainly an idea which has merit anyway, and the likelihood is that he will have the opportunity to showcase his best level again.
---
Best moment: Brilliant against Man City. Brilliant. Stopped everything.
Worst moment: A distressingly poor showing against Brighton when he was bypassed at will and hauled off before 70 minutes. Also very, very poor against West Ham late on when we were holding on and he did nothing to try and stop it.
Role next season: Regular starter to begin…then we'll see.