A club-record transfer who injected chaos into a stuttering Liverpool outfit, but Darwin Nunez ended the campaign having yet to answer a number of lingering questions.
Unpredictable, raw and an agent of chaos; the 23-year-old has not been without a variety of tags throughout his debut season, forcing you off your feet and to put your head in your hands.
There is a dichotomy at hand with Nunez, a player capable of creating magic while also spurning opportunity.
We cannot overlook that the forward was injected into a team in disarray and a shadow of their former selves, all the while still adjusting and acclimatising to a new culture and language.
There are mitigating circumstances aplenty with Nunez, who has shown what he can contribute to the side but simultaneously has raised questions about what happens next.
Darwin Nunez, 2022/23

Started: 26 (All competitions)
On as a substitute: 16
Unused sub: 0
Goals: 15
Assists: 4
Overall Season Rating: 6
Delivering the spark

It came as no surprise that 'chaos' was swiftly used to sum up Nunez's start at Anfield, a player with a level of unpredictability that you were not even sure he knew what came next.
Raw but with an aura to him, the Uruguayan did not wait long to catch the attention with goals against Man City in the Community Shield and at Fulham on the opening day.
That was then followed with a three-game suspension after a inexplicable headbutt on his Anfield debut – there is that dichotomy we mentioned earlier.
Judgement was quick to be cast on Nunez, who despite his obvious pace, power and tenacity made shot-taking look like rocket science, such were the chances that went begging.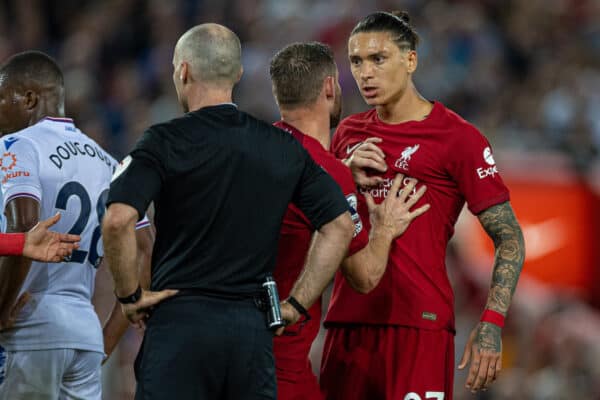 Throughout the entire Premier League season, Nunez missed 20 big chances – the third-most in the division behind Erling Haaland (28) and Marcus Rashford (22) – which amounts to 25.6 percent of Liverpool's total missed chances in the top flight (78).
It has led to a certain comparison to a former Red from the stands up and down the country, but his final goal return was more than respectable, 15 in all competitions.
Nunez himself conceded early in the season that "I feel a little indecisive, I don't feel completely confident." It became easy to forget the challenges of his move and the state of the team he joined.
The benchmark to Man City's new number nine did not help matters either, though slowly but surely Nunez began to adapt and often looked the only Red able to change the course of a game.

His chaos made him almost unplayable at times and it was that unpredictability and directness that Liverpool desperately craved during their extended malaise – he offered the spark.
There was still an awareness of the work needed to be undertaken as he operated in the central role, as this was never going to be an instant success story despite what his price tag may have suggested.
Nunez has teetered on the cusp of exploding, his underlying numbers showed as much, especially in the first-half of the season – but Jurgen Klopp has started to raise questions and doubts.
Questions arise

The Uruguayan was deployed both centrally and on the left of the front three throughout his debut season, with injuries to two left-sided players creating an obvious opening.
The raw potential and early confidence made way for what can only be described as losing his spark in the latter half of the campaign, with his body language portraying a different Darwin.
It partly coincided with the January arrival of Cody Gakpo, who instantly become a permanent fixture of Liverpool's forward line.
Nunez was forced out of the equation with three separate injuries following on from the Dutchman's arrival, and subsequently there was a run of one start in seven.
Klopp has stressed throughout that Nunez is "a long-term project," but the manager has not resisted dropping hints that he wants to see more from his No. 27.

The language barrier remains firmly in place more than 11 months on from his arrival, with Klopp saying back in April: "His English is still not great, if not existing at all.
"He has to learn English, that's how it is, we can translate everything but in training sessions, we cannot have four languages translated."
While he has the likes of Pep Lijnders, Vitor Matos and Thiago to assist in translation, the assimilation into the team will surely grow by leaps and bounds when football is not the only mutual language.
Hopefully these words from October will have done a complete 180 in the near future, "The truth is, I honestly don't understand anything when [klopp] talks in meetings," Nunez conceded.
Beyond that, the boss has expressed a desire to see Nunez's counter-pressing become more effective – especially in the central role – such is its importance to the Reds' system.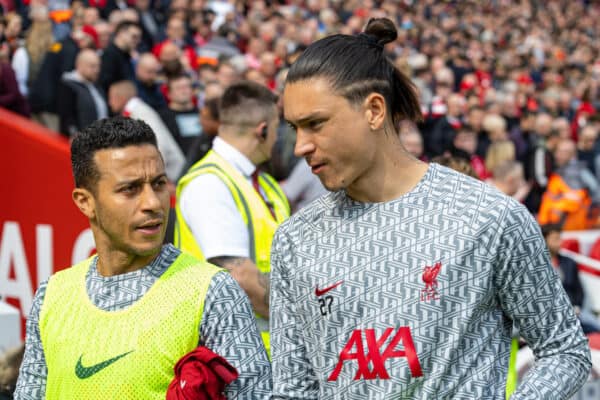 "It needs a specific set-up that he can play and defend in the centre," Klopp explained in an obvious expression why his time in the central role changed post-Gakpo's arrival.
Moreover, by the time Luis Diaz returned to fitness Nunez had all but moved to Klopp's fifth choice forward behind the Colombian, Mohamed Salah, Diogo Jota and Cody Gakpo.
So where does that leave the 23-year-old?
What's next?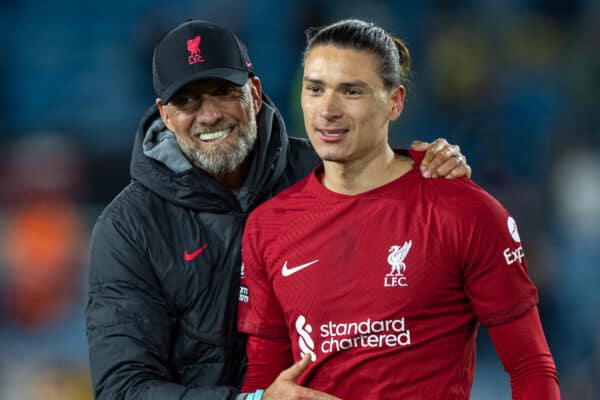 It is important to note that there have been a number of mitigating factors that have not made Nunez's transition into the side as seamless as one had hope when he signed last June.
The team has not functioned like the well oiled machine it was once and it is obvious Nunez thrives on confidence – and 15 goals and four assists in his debut campaign ought to offer just that.
When you throw in the language barrier and assimilating to a different country and culture, whilst remembering he is still only 23, there is plenty of perspective to be had.

His challenge, though, is finding his clinical edge and ensuring it is a consistent part of his game moving forward, and proving he can be relied upon to press from the front.
Nunez is not to be short on competition in the forward line with Diaz and Jota at home on the left and Gakpo carving out quite the start to life at Anfield, he has plenty to prove.
Questions have been asked of his defensive contribution and how he can mould himself into a player Klopp can trust to lead the line, it is his job now to show that he can be relied upon while still embracing the chaos we all love.
---
Best moment: The brace against Man United is hard to look past, but his, now glossed over, goal against Real Madrid must be applauded.
Worst moment: A red card on his Anfield debut.
Role next season: Not first-choice, leaving him with a point to prove.