The new Anfield Road Stand continues to take shape ahead of its unveiling for the new season.
The Anfield skyline has changed dramatically over the last 20 months, with the new stand now matching the Main Stand for stature.
It makes for an impressive sight across the Anfield area, with exterior work giving us a glimpse at the finished product.
There had been suggestions on social media that the media would be briefed this week of a delay, but This Is Anfield understands that is not the case.
Liverpool are still planning for their opening home game on August 19, against Bournemouth – hopefully with 61,000 in attendance.
You can see in the image below that the new upper tier itself is now structurally complete, following the removal of the old upper tier and roof earlier this month.

The removal of the old roof and its stanchion that held it up, means there will be a new small block of seats created in the lower tier.
The image below shows where around 150 new seats will be installed in the lower tier, taking the lower tier's capacity to around 6,500.

Explaining this last month, stadium operations manager Paul Cuttill told This Is Anfield: "When we've done the demolition and removed the steel, there may be some seats that become available, some space to put some seats in."
There will also be the odd seat from the old support beams – those poles that obstructed views in the lower tier.
Changes from here on out may not be as clear to the eye as in previous updates, but we can already start to see work starting on the road that will navigate around the new stand.
From the pictures below you can see a line of concrete blocks that form the outline of the new road, with tarmac now being laid for what will become a new paved area (image below).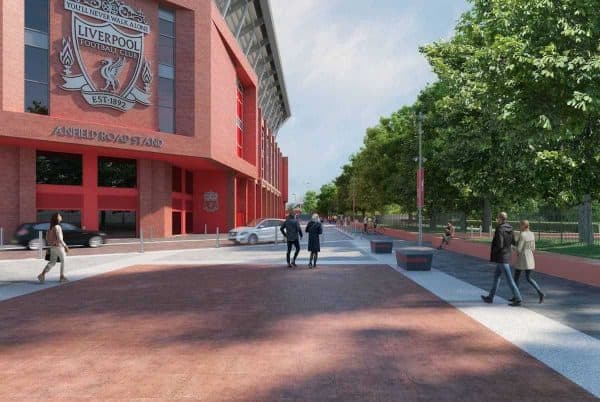 With the new large crest of the Anfield Road/Sir Kenny Dalglish Stand corner now installed, and most brickwork complete, a lot of the scaffolding is being removed.


As for inside the stadium, we can see the pitch protection system is still in place but that is due to removed very soon in order to lay the new pitch.
On the roof, the solar panels have been installed.

The new pitch is expected to be laid next week and takes just three days to lay and three weeks to be ready for matches – leaving plenty of time until Jurgen Klopp's side take to the field.
Look closely on these two and you'll see Goodison Park in the distance there across Stanley Park!


Internal work is where there's a lot of action ongoing, and while there is plenty left for contractors The Buckingham Group to do, there is almost two months until that first home game and work goes on around the clock.
---
Anfield Road End Expansion – Key facts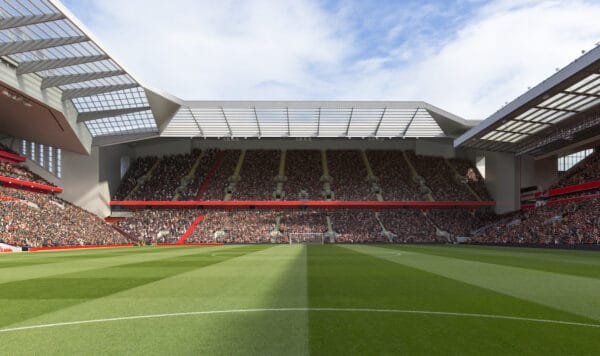 To be completed before the first home game of 2023/24
New capacity set to be be 61,015
Expanded stand will hold 15,967 supporters
The lower tier will remain same but with larger concourses
Estimated build cost of £80m