There has been confusion over the exact details of Alexis Mac Allister's release clause at Brighton, but the fee Liverpool will pay is now clearer.
Mac Allister is set to undergo a medical with the Reds in the coming hours, before finalising his switch to Anfield as the club's first signing of the summer.
The 24-year-old has agreed a five-year contract worth a reported £100,000 a week, and is expected to inherit the No. 10 shirt last worn by Sadio Mane.
Since the pursuit developed at the beginning of May there has been a lack of clarity over Mac Allister's price tag – and it was not even immediately reported that a release clause was involved.
Initially, Liverpool were slated to pay £70 million for the World Cup winner, but that has since now reduced considerably.
Now the majority of journalists around Merseyside and beyond are reporting that the transfer will be worth between £45 million and £55 million.

The Athletic's James Pearce originally wrote that "the fee is likely to be undisclosed but is understood to be in excess of £45m," but later added that "sources on the south coast [are] suggesting [the] fee could rise to £55m."
David Lynch of Football Insider has claimed that the fee was "expected to be lower than the £50m amount previously reported."
The Press Association and Sky Sports both report that it will be "between £45m and £55m," while BBC Sport appear to have erred on the side of caution in citing a £55 million fee.
Meanwhile, the Telegraph's Mike McGrath has added that the transfer would be "upwards of £40 million."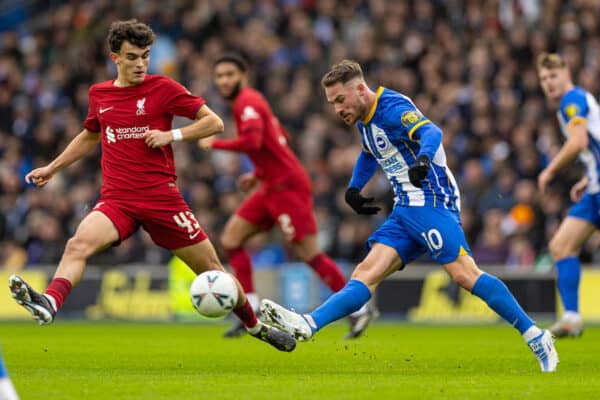 The Mail's Dominic King seems to be the only journalist still of the understanding that the fee paid to Brighton would be "north of £60 million."
It is almost certainly the case that King's information is outdated, with sources from both clubs suggesting a fee in the region of £45 million to £55 million.
In all likelihood, Pearce's report may prove the most accurate, likely with an up-front fee of £45 million rising to the final £55 million.
Either way, it represents considerably better value than the £70 million first reported in Mac Allister's native Argentina.