Naby Keita turned down "much bigger offers" to join Werder Bremen, and despite 'skeptics' among their medical staff he passed fitness tests easily.
Keita wasted no time upon his release by Liverpool, as he signed a three-year deal with Bundesliga club Werder Bremen last week.
The 28-year-old is widely reported to have agreed a salary in the region of £30,000 a week, which is a quarter what he earned during his five years at Liverpool.
It shows his willingness to revive a flagging career after ongoing injury problems at Anfield – and perhaps the concerns among other suitors.
There is no doubt Keita's fitness issues have led him to drop down to a side that finished 13th in last season's German top flight, but there was "no reason to worry" during his medical.
Speaking to Werder outlet Die DeichStube, though, the club's sporting director Frank Baumann did admit that the club's medical staff were initially 'skeptical'.
"But they were very impressed by the current condition he is in," Baumann insisted.
"There is absolutely no reason to worry."
Keita arrives as a marquee signing for Werder, with Baumann confirming that the Guinean would "definitely be one of our top earners."
"But it does not break our salary structure," he added. "We can handle it."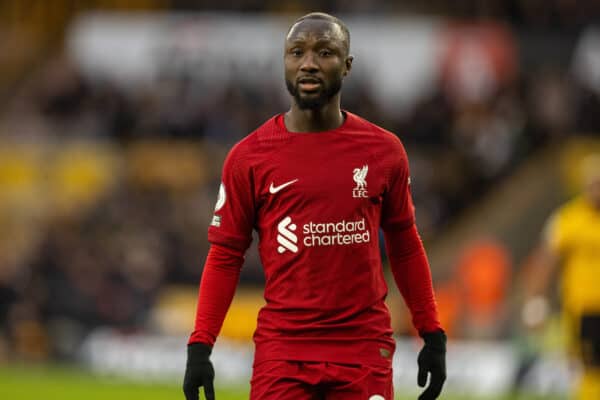 The decision to join Werder came as something of a surprise, with RB Leipzig touted with a move to re-sign the player they sold for £52.75 million in 2018.
Baumann explained that the midfielder turned down "much bigger offers" to join his side, and that even those within the club felt a deal would be "unrealistic."
"On Monday I still thought it was unrealistic that it would really work," he said, with the deal going through on the Friday.
He added: "Of course we gave him the feeling that he was needed here and that he would play an important role.
"Naby had much better offers in terms of sport and business, but in the end he wanted to come to us because he sees the best chances here of getting back in top form."
Baumann even gave examples, in Max Kruse, Davy Klaassen or Serge Gnabry, of players who revived their fortunes in joining Werder.
The hope is that Keita can stay fit and do the same.