With 12 months left on his contract as of this summer, Thiago is "unlikely to be offered" an extension at Liverpool, allowing him to leave in 2024.
Thiago stands as an exception to Liverpool's recruitment model, as perhaps the only established world-class player brought in under Jurgen Klopp.
He arrived having won 11 league titles and the Champions League twice through decorated spells with Barcelona and Bayern Munich, but he also did so having already turned 29.
That made him a clear anomaly, and unfortunately with his age the midfielder has brought ongoing fitness issues, with hip surgery ending his most recent campaign early.
The Spaniard is one of two players with a year left on his existing terms, along with Joel Matip, and therefore a decision should soon be made on his future.
According to GOAL's Neil Jones, Thiago is "unlikely to be offered" a new deal, which paves the way for a free transfer next year.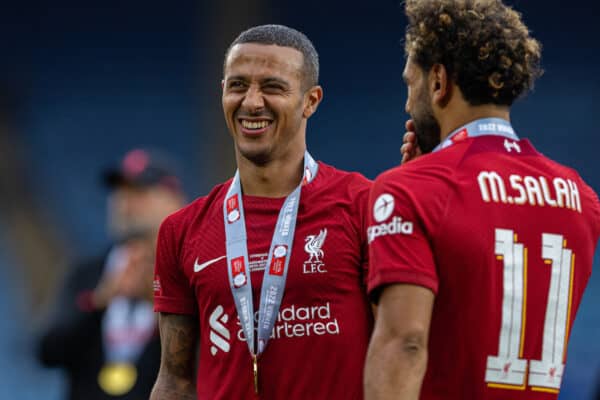 He is not expected to be sold this summer, despite muted links with a return to Barcelona, but it stands to reason that his stay will not be extended.
Thiago will turn 33 in April and has only once played over 30 games in his three seasons at Anfield so far – despite him being one of the club's highest earners.
Liverpool appear eager to avoid repeating costly mistakes in tying down players past their peak, which led the club to overrule Klopp and allow James Milner to depart this summer.
It was reported in April, by Sky Sports' Melissa Reddy, that members of the Reds' recruitment team have long held the belief that the squad has been "veering away from the 'right football age'."
"They felt blanket new contract extensions were not the best strategy for a spine that had multiple seasons of exacting football taking its toll on their bodies and minds," the journalist wrote.

The decision to hand Jordan Henderson a four-year contract in 2021, taking him beyond his 35th birthday, resembles a clear example of this in effect.
Henderson's extension was driven by Klopp, and though the club's transfer structure looks to have handed the manager more power – at least for the short term – it is sensible that decisions on contracts are not entirely in his hands.
Matip finds himself in a similar situation, turning 32 in August and having averaged 22 games a season over the past four years.
It seems likely that both Thiago and Matip will see out their final 12 months before leaving as free agents next summer.