Incoming signing Alexis Mac Allister was a World Cup winner with Argentina, but fans may be wondering why his surname doesn't quite sound as South American as some of his compatriots.
The 24-year-old is Liverpool's first signing of the summer in a deal reported to be worth £35 million and supporters have been frantically searching for information about the newcomer.
One thing that often grabs people's attention is the midfielder's surname, with many questioning where the space in the middle comes from and why it sounds closer to home.
Having lifted the biggest prize in football back in December, you could be forgiven for wondering whether Mac Allister and his immediate family are in fact from Argentina.

His father and agent Carlos, who was heavily involved in the deal to bring him to Anfield, is a former Argentine footballer himself having played for Boca Juniors in the 1990s and registering three caps for his country.
In an exclusive interview with The Athletic in 2020, Carlos detailed the family's Irish roots and cleared up some of the confusion behind the surname.
"According to our family, we came from Ireland, rather than Scotland," he explained.
"We came to Argentina, to a place called Pergamino, but that was three or four generations ago, and later my father and mother married and moved to a different place – Santa Rosa in the Province of La Pampa, which is where Alexis was born.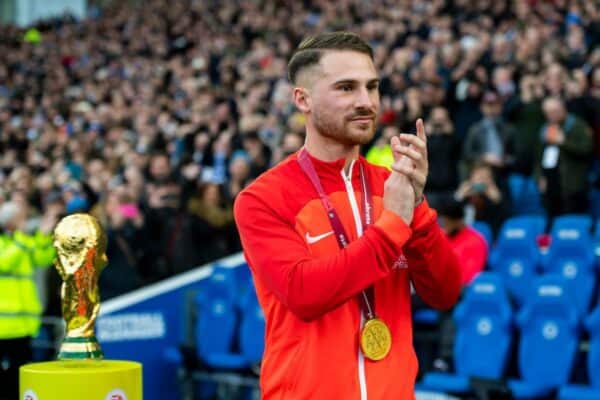 "Now, when we get together, they always say that our ancestors came from Ireland.
"I don't know whether the ones before them were from Scotland, and went to Ireland from Scotland, and then our ancestors came here. But we say that we came from Ireland."
Mac Allister himself said that the name "comes from Ireland" in an Olympic Channel Original Series "World at their Feet" earlier this year.
His cousin Dickie Mac Allister revealed in an RTE interview in December the difficulty that others experienced in spelling the name before the midfielder's breakthrough.
The midfielder's uncle Patricio Mac Allister also played for various clubs across Argentina, Mexico and Japan, but never featured for the international side.
Along with the rich footballing history, the Irish heritage in Mac Allister's family offers an explanation for the somewhat unusual surname for an Argentine.
Following his excellent contribution in Argentina's glorious World Cup campaign in Qatar, Liverpool fans will be keen to see what the new signing can bring to Anfield this season.