One player in Jurgen Klopp's ranks has not scored in any of his 173 games for the club – and no, it is not the goalkeeper!
Goals have not been in short supply under Klopp, with more than just the forwards chipping in – although there has long been clamour for more output from the midfield.
And yet there remains one senior player in his ranks who has yet to find the net – and it has not been for a want of trying.
Joe Gomez's goal drought now stretches to 173 games, having still not opened his account in the season just gone, which saw him feature 31 times.
It is the longest wait for a maiden goal for Liverpool since Ronnie Moran, who went 210 matches between 1952 and 1959 before finding the net for the very first time.
But he is not just waiting to open his account for the Reds, as Gomez has, in fact, never scored in any of his 208 senior appearances for club and country.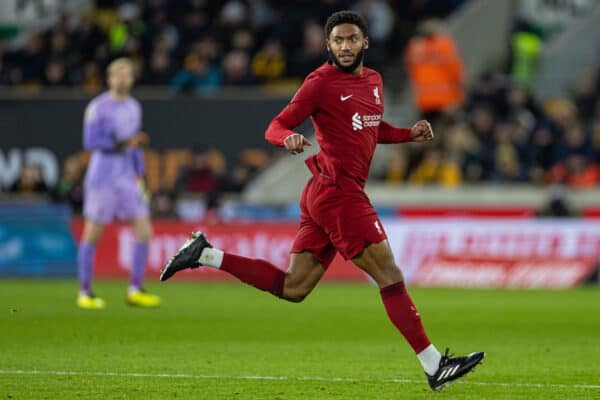 Liverpool's No. 2 has been at Anfield for eight seasons now and is edging ever closer to the top of the club's games-without-scoring list, as appearances continue to tick by without a breakthrough.
He will want to avoid joining Eph Longworth, Stephane Henchoz and Rob Jones, all of whom ended their Liverpool career without a goal after 370, 205 and 243 appearances respectively.
That list, of course, omits goalkeepers but even Alisson has a better record than most having scored in his 128th appearance for the club.
That run was shorter than what Lucas Leiva experienced between his sixth goal and his last for the club, having gone 200 games between 2010 and 2017 without scoring.
Let's hope Gomez does not surpass the Brazilian in the list and that next season is finally the time he breaks his duck – should he remain beyond the transfer window, that is.
You do wonder how he would even celebrate, though. A run to the corner, a knee slide or will he be too shocked to even move? Let's hope we find out!