The story of Jordan Henderson and a move to Saudi Arabia is fluid and ever-changing, the latest brings news of a £700k-per-week salary and serious consideration.
The reality is Liverpool's captain could make a move away from Anfield this summer.
Earlier this week we explained how Henderson was not in talks with Steven Gerrard's Al Ettifaq.
But on Wednesday evening that all flipped on its head with reports saying the 33-year-old is "leaning towards" a transfer.
We all know of the lure of astronomical salaries from clubs in Saudi and Henderson is said to have been offered quadruple his Liverpool wages (reportedly £190,000), that's in the region of £700,000-£760,000 per week.
Say it out loud, it's outrageous and few who would not consider it.
The Mail's Dominic King and the Athletic's David Ornstein report that the Englishman is to "decide imminently."
Fabrizio Romano follows up by stating that Henderson will speak to Jurgen Klopp on Thursday – oh, to be a fly on the wall.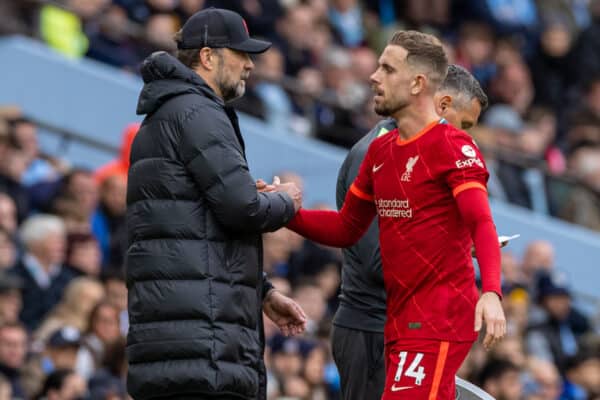 If he does wish to join Gerrard, talks will be established between the two clubs – which has not yet been the case.
But Liverpool won't simply stand by and allow a measly fee, it has to be beneficial for them if they are to lose their captain and a valuable homegrown player.
When rumblings of Henderson and a move surfaced it felt a lot like 2021 when rival interest emerged and seemingly leveraged for a new contract – Ornstein was among those to break the story back then.
This time game time is the obvious assurance the captain would want, but it is far from straightforward with Klopp overseeing a midfield rebuild.
But it looks like we will not be waiting long for Henderson to make up his mind.
Though, It is important to note what the Athletic rightly pointed out in their report, that Henderson has long been a vocal advocate and supporter of the LGBTQ+ community. In Saudi Arabia, homosexuality is illegal.