It is a prospect none of us want to think about, but Jurgen Klopp has hinted that his managerial career may not end at Liverpool.
The Reds' boss' current contract is set to run until 2026 having signed a two-year extension last April.
He has lifted every possible club trophy since he arrived at Anfield in 2015 and earned legendary status along the way, but his footballing intentions beyond his Liverpool career have remained something of a mystery.
Speaking at a panel discussion on Thursday night, Klopp revealed it would be a "great honour" to manage the German national side when he eventually leaves Liverpool.
"The national coach job is and would be a great honour – that is completely out of the question," admitted the boss, as quoted by Sky Germany.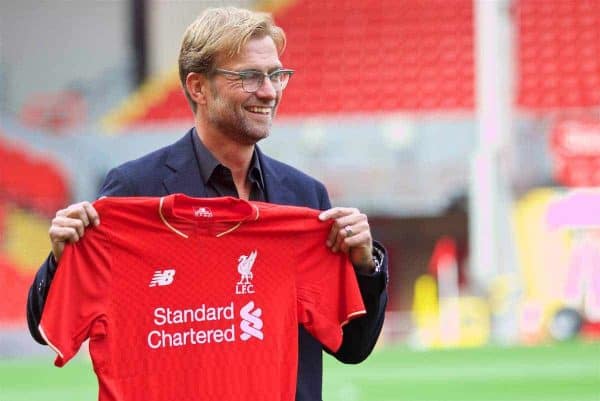 "The problem that stands in the way of the whole thing is my loyalty. I can't just leave Liverpool now and say I'll take over Germany for a moment. That doesn't work and the request isn't there at all."
Just three years separate Klopp from the end of his current deal and, until they hear differently, Liverpool fans will remain hopeful that his stay is extended beyond that.
The 56-year-old insisted that his allegiances still lie with his current club, but confessed that the prospect of managing Germany is an "interesting" one.
"If I'm supposed to do this at some point, then I have to be available and I'm not that at the moment. I have responsibility towards the club," he continued.

"Basically, it's an interesting job. But I don't even know today whether I'm doing something completely different after I stop at Liverpool. I would like to leave the options open."
The Germany job has often been regarded as the next logical step for Klopp before he retires from football for good, but it is not an opportunity he has previously had a great deal to say about.
He has previously indicated that he does not wish to coach into his 70s and that retirement could be a possibility after he says goodbye to Liverpool.
Klopp is Liverpool's longest-serving manager since Bill Shankly.