With Liverpool edging closer to securing their second signing of the summer, fans are eager to find out all they can about our next potential incoming.
Things have moved quickly since The Athletic's David Ornstein reported on Wednesday that the Reds had held talks with Dominik Szoboszlai over what was then described as a "complicated" transfer.
Liverpool wasted little time in meeting the £60.1 million release clause in the midfielder's contract shortly before the June 30 deadline and all the suggestions are that official confirmation is now a matter of when rather than if.
Naturally, supporters are eager to gather as much information as they can while waiting to see him pull on a red shirt, so we thought we'd do some of the legwork for you!
Should Liverpool get this deal over the line, what type of player can we expect to see at the club next season?
To get more of a lowdown on Szoboszlai and what he could bring to Anfield, we spoke to Áron Aranyossy @A11Aron, Hungarian journalist and Liverpool fan.
Firstly, we know Szoboszlai is versatile but how would you describe his skill set?

He is a creative player, very technical, but that does not mean he is afraid to go for a tackle. He works hard and runs a lot in games especially out of possession. In that sense, I think he would be a great Klopp-player.
He is good at taking others on, shooting and supplying through balls as well. That's why he is such a threat, he is excellent in all three, so you never know what to expect.
He was often used on the left wing to cut inside, but he's also more than capable of playing as a No. 8 or 10. Tactically very mature and aware player, his tactical awareness and decision making is great.
What are his strengths?

Mostly his technical ability, as I mentioned before. His delivery is fantastic, and he shoots the ball very hard, but his key passes and shot-creating actions are also very important.
He is not selfish but doesn't shy away from shooting himself. I love his work rate, he thrives under pressure so he steps up during important matches.
What about weaknesses, is there a part of his game that needs improving?
I would say his heading is average, if you look at his numbers his aerial duels will not be poor but they are not impressive either.
He is not a defensive midfielder, but he can and is willing to defend, but maybe he could improve there as well.
We know Klopp values players with the right attitude, what kind of personality is Szoboszlai?

Szoboszlai is a very determined and confident guy, which is sometimes seen as cocky. I assure you, he is not!
He works very hard during training sessions as well. I remember he told his teammates recently to not be afraid of asking for help from him on and off the pitch.
I've seen him live this year quite a few times and it's not just talk, sometimes it genuinely feels like he's everywhere!
He has great friendships from his previous teams so it makes me think he's a good bloke to have around. He is competitive and loves a good challenge, doesn't get scared facing tough opposition.
He is a very, very professional player, we heard stories from him and his father as well about how much he has given up from "just being a teen" to be where he is today. It's like he is on a mission.
For those probably wondering, how do you pronounce his name?
Try think of it this way: So-boss-luh-e. Or another take on this, forget about the Z in his name because the "sz" is pronounced like an 's' in Hungarian.
Can you see him fitting in at Liverpool next season?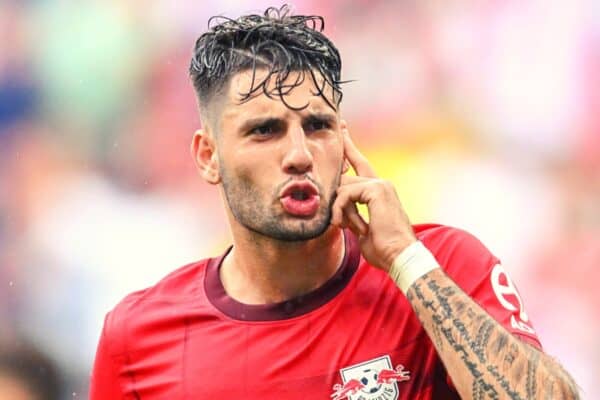 I'm really excited to see him there, not only because I'm a Liverpool supporter myself, but also because he seems like a great player for Klopp.
His work rate and energy should make him a great fit and I can see him feeding Mo Salah some great through balls. I would think he would need a little bit of time to fully adapt to the system but I have no doubt Klopp can turn him into a beast – or I should say a mentality monster!
---
* Thanks again to Áron Aranyossy for the lowdown on Dominik Szoboszlai. Follow Áron on Twitter @A11Aron.