As Liverpool's players report back for pre-season training at Kirkby on Saturday there will, initially at least, be a somewhat unfamiliar feel to proceedings.
For the first time in the Jurgen Klopp era, the dreaded 'lactate test' will have a new champion*.
James Milner, the undisputed king of that day-one tradition since his arrival on Merseyside in 2015, has gone, and while the time may have been right to say goodbye to the 37-year-old, his departure certainly leaves a void, and a few questions to be answered.
When we talk about Liverpool under Klopp, and in particular the idea of building a 'culture' within the club, the discussion must begin and end with Milner.
He has been the training-ground standard-bearer for the best part of a decade, the man coaches have feared and teammates have marvelled at, who new signings have always sought to impress and who younger players have always looked to as the perfect example.
"If you get the nod of approval from Milly, it means everything," an academy graduate once told me. A former member of the backroom team put it a little more candidly. "He could be a f***ing nightmare at times," he said. "But nobody got away with anything with him around."
The standard setters

Staff tell a story about the first pre-season session of 2019, a few weeks after Liverpool had been crowned European champions. Milner had finished his lactate test – first place, of course – and headed to where he expected his recovery drink to be. It wasn't there.
Cue the explosion. "Won something, have we?" came the volley directed towards the fitness coaches. "Standards slipping already, it's not good enough."
An extreme example, granted. Especially as it turned out the drinks had simply been moved into the shade, a few yards away.
But the point is that Milner's influence, and that relentless, at times absurd, quest for perfection, will be hard to replace going forward. His ability to keep everyone – staff, teammates, journalists, even Klopp – on their toes is a quality that will be sorely missed.
His is not the only significant departure this summer, either. Liverpool have lost perhaps the most-loved member of their squad in Roberto Firmino and, in Naby Keita and Alex Oxlade-Chamberlain, two players who never quite scaled the heights they would have liked to on Merseyside, but who nonetheless played a significant role in the club's success, and in the dressing-room culture which underpinned it.

All will, in their own way, be missed – witness the scenes at the end of last season for proof – and the challenge for those coming into the club, and just as importantly for those who remain, is to maintain, if possible improve, the standards and the togetherness, which Klopp believes will be integral if Liverpool are to put the struggles of last season behind them.
The recent signs are positive, in that regard. Club sources believe that in Alexis Mac Allister and Dominik Szoboszlai, and before that Cody Gakpo, Darwin Nunez and Luis Diaz, Liverpool have recruited players who have both the talent and the personality to succeed on Merseyside, who work hard and have a commitment to self-improvement, and who as a result will fit in well within the dressing room dynamic at Kirkby.
New hierarchy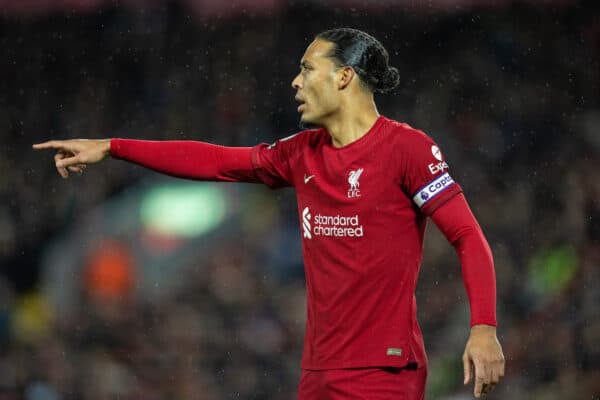 In terms of the logistics within that dynamic, Virgil van Dijk will officially step up to the role of vice-captain following Milner's departure, and it will be interesting to see who, if anyone, is now added to the first-team 'leadership group', which is voted for by the players and which now consists of Van Dijk, Andy Robertson, Alisson Becker and Trent Alexander-Arnold, as well as club captain Jordan Henderson.
Mohamed Salah, surely, would be the obvious candidate, given his standing and years of service, and the Egyptian could also, one feels, be the man to take over as the day-to-day standard-setter at Kirkby.

Certainly, he shares Milner's obsession with fitness, preparation and conditioning, and the likes of Harvey Elliott, Stefan Bajcetic, Bobby Clark and Ben Doak would all confirm that he regularly offers words of advice and encouragement, which can mean the world to young players desperate to learn and impress.
Certainly, Liverpool are going to need more from their senior players if they are to recover from last season's disappointment.
They need the likes of Van Dijk, Henderson, Robertson and Fabinho back to their best, for Alexander-Arnold to continue to ensure his strengths far outweigh his weaknesses and for Salah and Alisson to maintain the staggering levels of consistency they have shown previously.
Equally, they need Diaz, Nunez and Gakpo to now move through the gears, and for Mac Allister and Szoboszlai to step up and deliver from the word go. Liverpool have gambled on those players to replace bona fide club legends, and it is their duty to help usher in a new era of success.
Easier said than done, of course, with Manchester City about and wealthy rivals queuing up to make life even more difficult going forward. Rarely has the Premier League been more competitive, and rarely has money talked louder than it does now.
That, though, is the challenge Klopp and his new-look side face, and it is a challenge they must embrace and not fear.
A challenge, you could say, that they must approach like Milner does pre-season. Head on.
The future starts here.
* Salah, surely, would be the bookmakers' favourite to take over the mantle, but Joe Gomez has been runner-up to Milner on more than one occasion in the past. My money's on the Londoner!