Liverpool kicked off the Asia leg of their pre-season friendly schedule by thrashing Leicester 4-0 in Singapore.
With the campaign proper edging closer, the Reds produced their most convincing performance of the summer in beating their recently relegated opponents.
Goals from Darwin Nunez, Bobby Clark and Diogo Jota put Jurgen Klopp's three to the good before the half-time break, and the rout was completed by youngster Ben Doak in the second 45 minutes.
Here, we take a look at five things we learned from another positive outing for Liverpool.
Curtis the holder?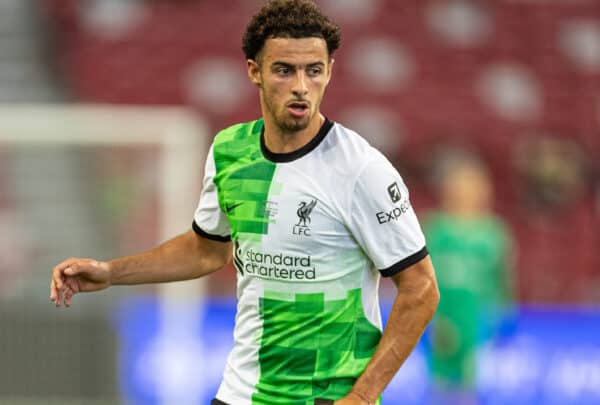 With Liverpool having lost their first-choice holding midfielder in Fabinho and backup in Jordan Henderson, there have been calls for two specialists in that position to be signed.
But, as a manager who generally likes to keep his squad involved, it would be unlike Klopp to sign a player as a pure second choice, with Kostas Tsimikas arguably the only player at the club who fits that bill.
With that in mind, you wonder if, alongside Romeo Lavia, the plan is to sign a multifunctional player who can operate across a number of midfield positions.
And if that is the case, then we may be seeing a lot more of Curtis Jones in the No. 6 role he occupied in this game.
It is not an unfamiliar position for the Scouser, who played there for England U21s this summer, and has the ball retention skills, discipline and patience to do a good job there.
It would certainly be helpful to Jones' chance of regular playing time to make himself an option as a holder, while anything that can help take the pressure off a player as young as Lavia should he come in would be a bonus.
Nunez continues to excite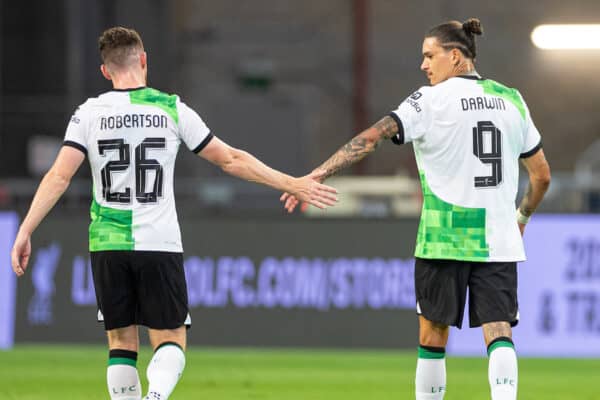 Yes, it may only be pre-season, but it's hard not to get excited by what Nunez is showing this summer.
The Uruguayan took his goal tally to four in three games (with an assist thrown in), with one of the simplest tap-ins he is ever likely to be gifted.
But, once again, the most encouraging aspect of his performance was a composure that appeared to be sorely lacking during his struggles last season.
This was best summed up by the nonchalant flick over the goalkeeper that preceded a disallowed strike early in the first half, as well as some eye-catching link play.
It would be a big call for Klopp to deny the forward a start at Chelsea as things stand.
Mac Allister shows his quality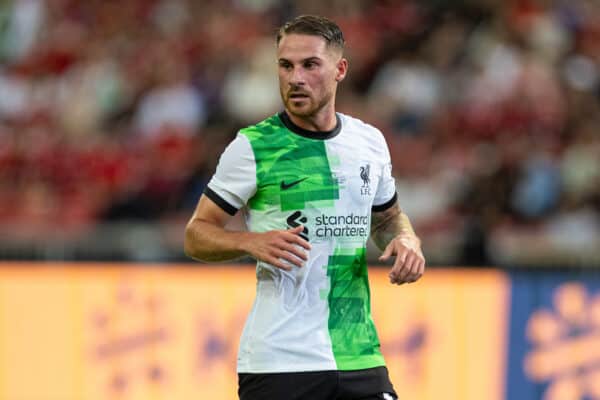 If anyone is questioning why Liverpool moved to sign Alexis Mac Allister this summer, then his first-half performance against Leicester would work as a handy riposte.
The Argentine's control in tight spaces and eye for a pass were brilliantly showcased in this game, with two of the Reds' goals owing everything to those qualities.
He may start on either side of that double-eight midfield Klopp deploys, but the number on the back of Mac Allister's shirt is a far better summary of what he brings.
After this appetiser in Singapore, supporters should be very excited for him to bring that creativity to competitive games going forward.
Szoboszlai makes case for set-piece involvement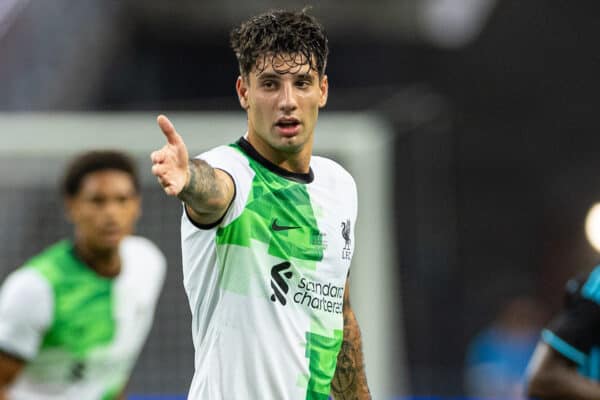 Given the sheer quality of his delivery, it will take something special for anyone to claim set-piece duties from Trent Alexander-Arnold.
But the Scouse defender now appears to have some seriously strong competition in the form of summer signing Dominik Szoboszlai.
It was the midfielder's inch-perfect corner that teed up Liverpool's fourth, and Joel Matip's celebration after his flick-on assist appeared to suggest it was a pre-meditated routine.
It he makes a habit of that, then we will at the very least surely see Andy Robertson relegated from second choice in the set-piece stakes.
Reasons behind disappointing crowd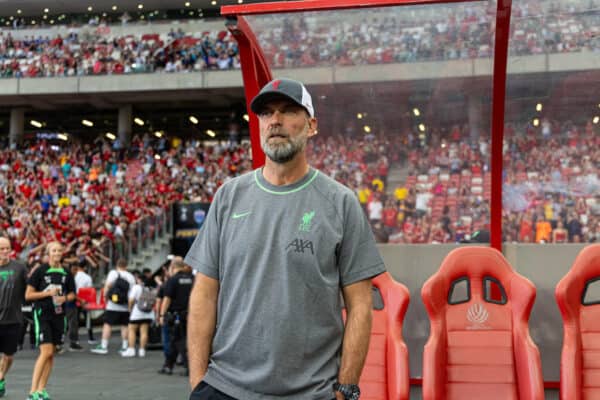 Fans watching from afar will not have failed to notice that the National Stadium crowd did not perhaps live up to the usual expectations around Liverpool's pre-season. The attendance, of 28,597, represented around half the stadium's capacity.
However, there are a few reasons for that.
The first is that the Reds are, of course, contesting two games in quick succession in the same destination, which is generally not the case when on tour.
The second is that tickets were expensively priced, making a potential double-header unappealing even for the most ardent of supporters out in Singapore – and even more so for fans from nearby countries which aren't as affluent as Singapore.
The third is that this is a very rare occasion whereby Liverpool have returned to not only the same continent, but the same country and same stadium in consecutive summers.
Fortunately, Wednesday's game against Bayern Munich is expected to be close to a sell-out, which should provide a more fitting backdrop for Klopp and his squad.