Curtis Jones has never been the player to lack confidence and the need for him to play the No. 6 role has not stopped him in his tracks, it is, instead, quite the opposite.
The Reds currently have six midfielders in their ranks, they have an average age of 23 but none are proven nor specialist holding midfielders.
Trent Alexander-Arnold was tasked with operating in the No. 6 position throughout pre-season after Fabinho and Jordan Henderson's departures, before Jones stepped up.
The 22-year-old was utilised in a deeper midfield role throughout England's triumphant U21 Euros campaign this summer and Jurgen Klopp confirmed he's part of the No. 6 plans, for now at least.
"In this position? If nobody else is there, he can play that definitely," Klopp said prior to Wednesday's friendly defeat against Bayern Munich.
Jones showed both his strengths and weaknesses in the position throughout the match but one thing he does not lack is the confidence and conviction that he can execute the role for the team.
"I just wanna go and play the game so it doesn't really faze me when I'm then told to go and play as the [number] six, where I'm deeper," he told The Anfield Wrap in a recent interview.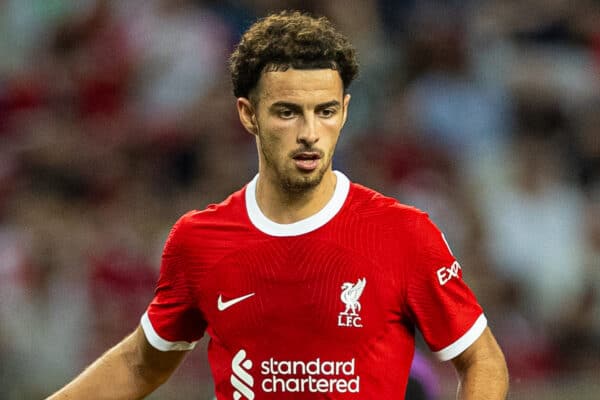 "For the whole time that I've been at the club, I've always been a kid who just wants to go and score goals and attack and have assists.
"I've always played like a 10, but then I came around the team and I adapted well in terms of going to press and get around.
"So then it's more just the trust of the manager and staff then to know, 'we know if he's higher up that he can score goals, he can create and get assists. But then know if he's in a deeper role he's going to press and he's got more of a mature head on him, where he can stay'.
"The talk comes but it's more just gaining the trust I'd say, training at times and in the game. There's been times Fabinho or Hendo had come off and I'd have to drop in there, be the man who's a little bit more as 'the defensive one'.
"I just want to go and play the game so it doesn't faze me when I'm told to go and play as the six."

"I've always been a kid who wants to go and score goals and attack but I came around the team and adapted well to the press and get around."

? Curtis Jones & Harvey Elliott pic.twitter.com/WX65k369aD

— The Anfield Wrap (@TheAnfieldWrap) August 3, 2023
"You play games where you have to adapt and change anyway," Jones continued. "The talk is always there but at the same time it's on you as well to just go out there and know what you have to do in that role.
"You're old enough now, you're experienced there, so it just ends up clicking anyway."
The 22-year-old will know the move is not permanent but he certainly is not without conviction that he has what is required while Liverpool look to the transfer market to find their permanent solution.
Romeo Lavia is still being targeted but even if a move for the teenager or anyone else was confirmed before the opening day of the season, Jones is odds-on to start as the No. 6 at Chelsea.