As Liverpool appeal the red card shown to Alexis Mac Allister in their win over Bournemouth, one ex-Premier League referee has argued their case.
As reported by This Is Anfield's David Lynch, Liverpool have now notified the FA of their plans to appeal Mac Allister's red card.
The midfielder was dismissed for a soft challenge on Ryan Christie just before the hour mark in Saturday's 3-1 victory, with the decision not overturned by VAR.
It has left Liverpool at risk of losing their No. 10 for the upcoming clashes with Newcastle (August 27), Aston Villa (September 3) and Wolves (September 16).
But they will hope to now avoid a three-match ban and have Mac Allister available for Sunday, having received support in their process.
Was Mac Allister unlucky to see red? ?? pic.twitter.com/E6Jo0Oicmo

— Sky Sports Premier League (@SkySportsPL) August 21, 2023
Dermot Gallagher, formerly a Premier League referee and now part of Sky Sports' coverage, has explained why he feels the tackle was "not a red card."
"I think the problem here, for me, is the referee thinks it's a high tackle, but it only becomes a high tackle because both players are there," Gallagher said.
"If you look, the boot actually catches him on the ankle.
"If his foot was on the ground and he still catches him in the same place, it's not a high tackle.
"I think that's what deceived the referee, that they've both got their feet off the ground.
"Not a red card for me."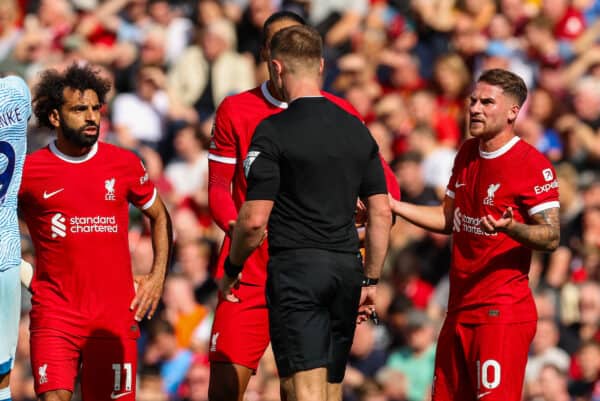 Asked whether he felt Liverpool should appeal the decision, Gallagher said: "They would have to convince the panel that it was a clear and obvious error by the referee."
The notion of 'clear and obvious' is one that has negatively impacted the way in which games are refereed, with the point of VAR diluted by red tape.
Mac Allister's challenge on Christie, upon reviewing the various angles available on footage, was clearly not worthy of a red card.
However, another ex-referee now working with Sky Sports, Mike Dean, outlined why he felt it was "not a wrong decision" by referee Thomas Bramall.
"Common sense, you can't have that as a ref you should know that!" ?

Merse and Mike Dean can't agree on that controversial Mac Callister red card ? pic.twitter.com/Yr1eJ04AAO

— Sky Sports Premier League (@SkySportsPL) August 19, 2023
"He's gone in quite high. There's not a lot of force in the challenge, but he has just caught him quite high," Dean explained.
"It's just a lazy leg, he probably doesn't need to make the challenge. The foot's quite high, he has caught him on the shin.
"It's not a wrong decision by the referee. He's gone in with the studs showing, he's caught him on the shin. It's not a wrong decision.
"VAR would have looked at it, happy with Tom's decision, game moves on."