The power of Anfield is no myth and certainly is no secret, and as a new home campaign gets underway, Aaron Cutler highlights the importance of the fans.
Liverpool return to Anfield this weekend, still in an unfinished state, looking to make home advantage count in their bid for a top four finish (or better).
A strong home record has underpinned Jurgen Klopp's reign, with long unbeaten runs catapulting his side into contention for the biggest prizes.
Even at our lowest ebb in 2022/23, we proved hard to beat on our own turf, taking 44 points from a possible 57.
Only Leeds left Merseyside victorious, the first team to do so in 19 months and 29 games. That run stretches back even further if you discount fixtures played either behind closed doors or in front of reduced capacities.
Incredibly, the Reds had gone 85 home matches unbeaten in this context.
It is the foundation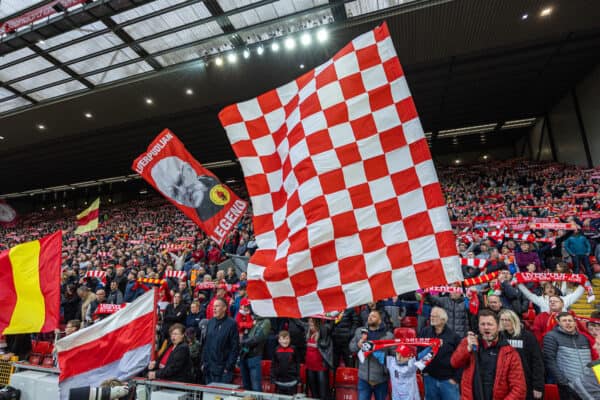 A strong home record provides the foundation for a successful season. Excluding the Covid campaign – and an inexplicable run of six defeats on the trot – Klopp and his coaching team have come to rely on that bedrock.
In the era of the oligarch and petrostates however, a decent home record must become a perfect one in order to compete for titles.
This fact won't be lost on the German, who will be weighing up how to turn 44 points into 57. It's not unthinkable that the Reds can take a maximum home haul, but this depends on some key factors.
One of those is atmosphere, which has been severely lacking in recent times.
Any spares?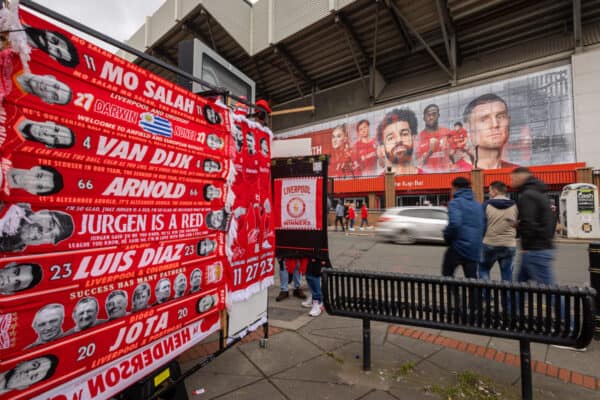 Anfield – and access to it – is a hot topic. You don't have to scroll more than a handful of tweets to find dyed-in-the-wool Reds bemoaning another lockout courtesy of a failed members sale. Heck, I'm one of them.
While the ticketing system borders on the farcical it is born from huge demand, this owing to the club's global fanbase.
Yet with waiting lists running into the tens of thousands, it's baffling that Anfield can seem so… quiet.
Granted, some context is required.
The decibels will (and have) always be cranked up for certain fixtures above others.
This seems to irk fans of 'lesser' sides who show great delight – if little imagination – in asking 'is this a library?'
Rightly or wrongly, Anfield is never going to be cacophony of noise for a 3pm against Luton, certainly compared to how it would sound for a 5.30pm against Everton.
Yet there is a middle ground to be sought and it's one the manager will be hoping to realise this term.
Needing to lay down the gauntlet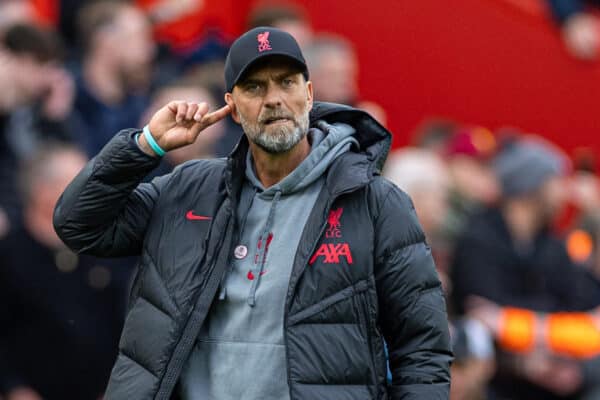 Klopp himself has spoken on several occasions about the 'power of Anfield' and often lays down the gauntlet in press conferences and programme notes.
He's well aware that some of his seminal successes has been inspired by a crowd so fired up they resemble 50,000 screaming banshees.
He's not stupid and knows this will never be the norm. If it was, the impact may well be diluted.
But he already knows the type of fans he wants to see in the new Anfield Road End, when it's at full capacity, saying earlier this summer: "It would be cool if it could be the right people, the loud people.
"On fire and really enjoying it," he continued. "Thinking 'I was waiting for this ticket for 20 years, I will shout my soul on the pitch'."
But looking back on last season he could probably point to a maximum of eight league games in which Anfield rose to the occasion. Even that may be generous.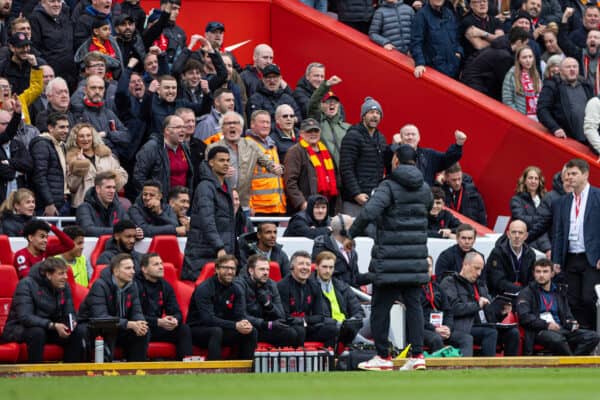 When it comes to performance and atmosphere, one often begets the other. You could argue Liverpool gave their supporters little to cheer about last season, but then the players might have expected more from the stands when going through an existential crisis.
In certain instances, it was events as opposed to displays that stoked the flames.
Anfield became a bear pit at home to Newcastle, for example, but only after their players had displayed time-wasting antics to make Jose Mourinho blush.
The atmosphere at home to Brentford was half decent but only after we'd been forced into playing the national anthem. To this day, that boggles the mind.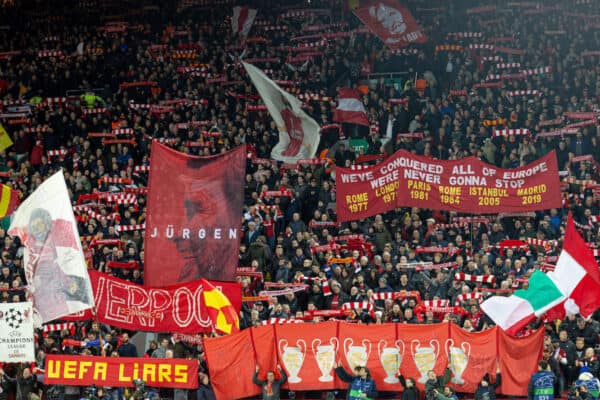 Arsenal proved a turning point of sorts, but we were only woken from a slumber when Granit Xhaka slipped back into his natural role of pantomime villain. This transpired after the Gunners had embarrassed their hosts and quietened the Kop. Fans and players eventually decided enough was enough.
Otherwise, it was slim pickings.
The home defeats of City and United were boisterous but that is to be expected, particularly when putting seven past the latter.
Villa on the final day was loud enough but this was akin to a party atmosphere in light of some high-profile departures.
There's an obligation for all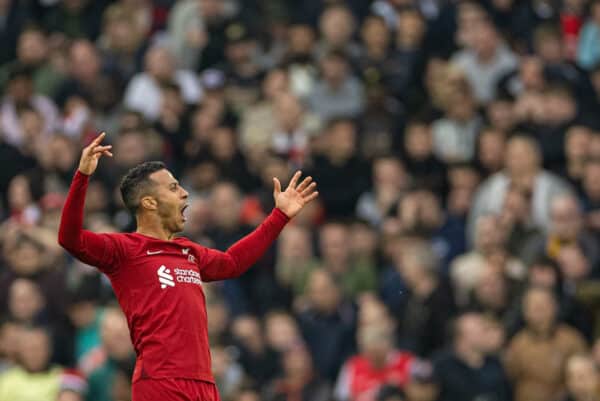 Too many games were played out in front of a subdued Anfield, no doubt dismayed at a drop in standards but incapable (or unwilling) to rouse themselves.
Brighton, Chelsea, West Ham, Fulham, Wolves and Leicester were all examples of an underperforming crowd. While we won some of those games, the performances in each left a lot to be desired.
It's not unreasonable to think hearty support would inspire improved showings. With his team toiling badly, Klopp would have appreciated that backing. It may just have facilitated more points.
Root causes are hard to pinpoint but does the makeup of the crowd have an impact?
Liverpool as a club and city are outward facing and welcoming of allcomers. That will never change.
Our history has spawned a global fanbase and an extreme demand for tickets. This gives rise to day trippers and those less versed in the 'Liverpool Way'.
These people are just as welcome as season ticket holders of 20 years. After all, no one fan is more important than the other.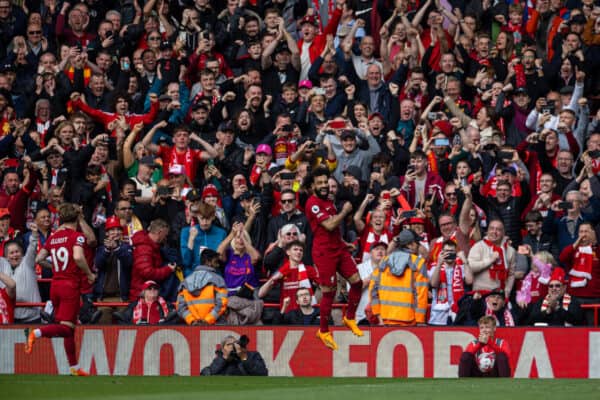 That said, it could be argued that as the demographic widens, the atmosphere suffers.
Perhaps that is too simplistic a view but it's certainly harder than ever to sort tickets for groups of friends, even those in the L4 postcode. It's these same groups that so often manifest new chants and support culture.
The hope is increased capacity, when the new stand is finally finished, will have a positive impact on both fronts. There will be more availability and – we hope – more noise.
The unveiling of the rebuilt Main Stand in 2017 led to a better atmosphere throughout the ground and coincided with the first of those long runs. The 'suits' at Liverpool will be hoping to repeat the trick when the Anfield Road is reopened in full.
Our 'famous atmosphere' is no myth. Many an opponent has subscribed to that idea and been made to look foolish. It has though become more infrequent.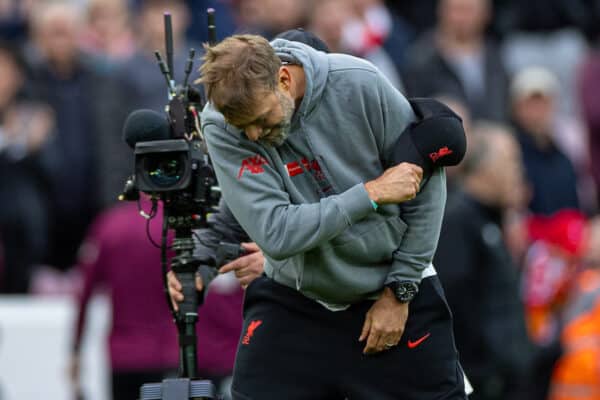 A rocking and feral Anfield can prove decisive in the biggest games. A noisy-ish Anfield will prove decisive in smaller ones, and there are far more of those.
Anyone lucky enough to get a ticket to Anfield this season would do right to remember they have an obligation and need to play their part.
The manager will demand it.