Jurgen Klopp is hoping a newly-expanded Anfield will give "the right people" the opportunity to have their voices heard next season.
The Reds are set to welcome an additional 7,000 supporters into the stadium in 2023/24 thanks to the development of the Anfield Road End, taking the capacity of the ground up to 61,000.
Liverpool's first home game of the campaign is scheduled to be the visit of Bournemouth on August 19, where they will be looking to make a positive start to the new season following a summer of changes.
Klopp has admitted it is "exciting" to be able to house even more supporters when the Reds return and hopes that the additional tickets will end up in the hands of the "loud" supporters.
"I can't wait for that [the expanded Anfield]. My imagination is not good enough to see that, honestly. I had some of the best moments of my life in the 'old' stadium so let's see what we can create," said the manager on the club's We Are Liverpool podcast.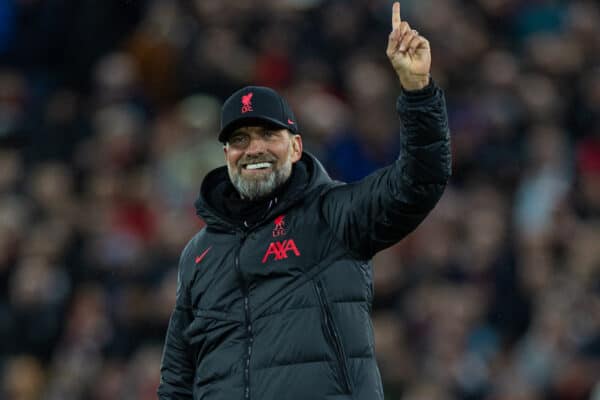 "It's like 6,500-7,000 more [fans], it would be cool if it could be the right people, the loud people. On fire and really enjoying it. Thinking 'I was waiting for this ticket for 20 years, I will shout my soul on the pitch'. That would be really cool.
"It's really exciting, can't wait to see it for the first time from [up] close."
The boss has seen huge changes in the stadium since his arrival at the club, with the capacity taken from 45,000 to 54,000 upon the opening of the new Main Stand in 2016.
Klopp commented at the start of that season that he hoped the expansion would give his team "more power" from the terraces, and his message isn't too different seven years on with another new structure almost ready to go.
The development of Anfield Road End is scheduled to be completed within the coming weeks to give even more fans the chance to cheer on the Reds on matchdays from next season.
Liverpool will be hoping to put the additional noise to good use on the pitch as they try to put things right after a disappointing campaign on all fronts in 2022/23.