Mohamed Salah did not try and hide his frustration when forced from the field, but Jurgen Klopp has downplayed the reaction as he explained his decision to withdraw the No. 11.
The Egyptian is accustomed to playing every minute of every game for Liverpool, but he managed 77 at Chelsea and he did not hide his disdain.
He tore at the wrapping around his wrists, throwing the tape on the pitch and making it clear what he thought of Klopp's decision with the match delicately placed at 1-1.
Seventeen-year-old Ben Doak took his place and Salah was subsequently denied the opportunity to score on the opening day for seven consecutive seasons.
With the reaction quick to be dissected across social media, the manager quickly downplayed the situation before it could get out of hand when talking post-match.
"Mo if he scores could have been [a new record for opening day goals], so I understand it [the reaction], but in that moment, I didn't think about that," Klopp told Sky Sports.
Mo Salah is NOT happy with being subbed off ? pic.twitter.com/QpZuI17qWE

— Sky Sports Premier League (@SkySportsPL) August 13, 2023
"We needed stability and again, fresh legs. It was super intense for everybody. That's all I can say about it, but his reaction was absolutely okay.
"The first time I sub a player and he is jumping into my arms at 1-1 as a striker, who thinks he will score, then I would be really surprised!
"So that's absolutely fine."
There was no touchline hug between the pair at the time of the substitution, but Klopp's decision was made with the best intentions at heart, in what was the first game of the campaign.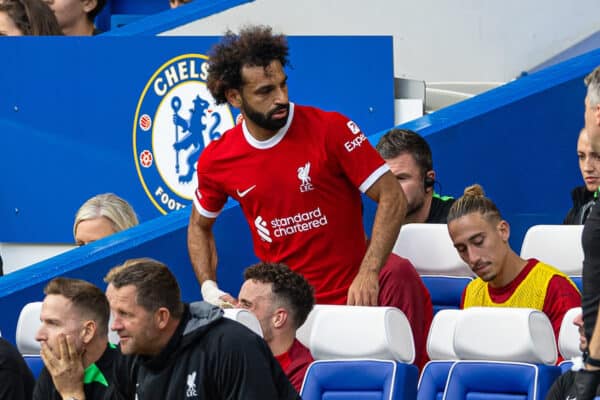 Of the entire Liverpool squad, only Alisson completed 90 minutes in pre-season, and it was clear tired legs were coming into play late on.
Salah's reaction was viewed in two ways, as one of a fierce competitor or over the top dramatics, but Klopp has put a line through it all now.
The Egyptian knows he is irreplaceable to Liverpool but the season is a marathon, not a sprint. Bournemouth are waiting, take the frustration out on them.