While there was a VAR check on Alexis Mac Allister's baffling red card against Bournemouth, the referee's decision was upheld for two reasons.
Though Liverpool were able to battle for a 3-1 victory in their first home game of the season, the fallout could have been much different.
With the Reds holding a 2-1 lead as the hour mark neared, Mac Allister vied for a loose ball with Ryan Christie, with the Bournemouth midfielder getting there first.
Mac Allister's foot collided with Christie's leg, leading to referee Thomas Bramall – in his first-ever Liverpool game – to send the No. 10 off.
A straight red card, the call was met with fury from inside Anfield and disbelief among Mac Allister and his new team-mates.
Mohamed Salah and captain Virgil van Dijk remonstrated with Bramall, while the decision was referred to VAR – who, as it transpires, was Paul Tierney, supported by Constantine Hatzidakis.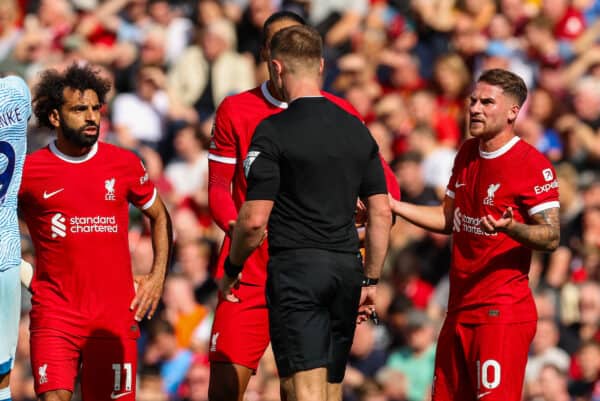 According to the Liverpool Echo, Tierney and Hatzidakis – two officials involved in controversy with Liverpool last season – decided not to challenge the referee's call.
That was due to "the fact there was studs showing from Mac Allister and a high point of contact being made on Christie."
Upon watching the incident back, with angles that would have been available to Tierney and Hatzidakis, the tackle is clearly a genuine attempt to win the ball.
The contact is soft and Mac Allister went in with his sidefoot, attempting to play the ball with no intent on harming the opponent.
Jurgen Klopp has already indicated the club will appeal the decision, which currently leaves Mac Allister facing a ban of three matches.
"Common sense, you can't have that as a ref you should know that!" ?

Merse and Mike Dean can't agree on that controversial Mac Callister red card ? pic.twitter.com/Yr1eJ04AAO

— Sky Sports Premier League (@SkySportsPL) August 19, 2023
It remains to be seen whether the ban would be upheld, with former referee Mike Dean explaining on Sky Sports why he could agree with Bramall.
"He's gone in quite high. There's not a lot of force in the challenge, but he has just caught him quite high," Dean said.
"It's just a lazy leg, he probably doesn't need to make the challenge. The foot's quite high, he has caught him on the shin.
"It's not a wrong decision by the referee. He's gone in with the studs showing, he's caught him on the shin. It's not a wrong decision.
"VAR would have looked at it, happy with Tom's decision, game moves on."