Tottenham and Aston Villa both produced dramatic late turnarounds this weekend as this season's stricter stoppage-time rules made an impact in the Premier League.
Here, the PA news agency looks at how much time has been added this season and the increase in stoppage-time goals.
Drama at the death
As the clocks hit 90 minutes on Saturday, Spurs trailed Sheffield United 1-0 while Villa were locked at 1-1 with Crystal Palace.
Fast forward 11 minutes and both had turned their games decisively in their favour.
Richarlison was Tottenham's hero, scoring a 98th-minute equaliser before setting up Dejan Kulusevski's winner just over two minutes later.
As Richarlison's goal went in, fellow Brazilian Douglas Luiz was stepping up to convert a Villa penalty – both goals were timed at seven minutes and 33 seconds into stoppage time.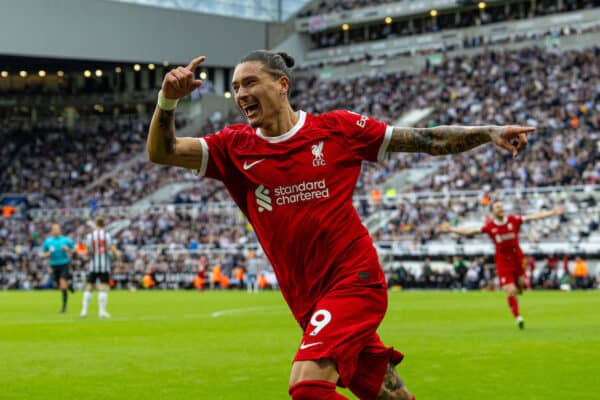 Leon Bailey then added a clinching third in the 11th added minute for Villa, who had trailed 1-0 until Jhon Duran's 87th-minute strike.
It was the third example in the last fortnight of a team scoring twice in stoppage time to change the result of a game, after Declan Rice (90+6 minutes) and Gabriel Jesus (90+11′) earned Arsenal a 3-1 win over Manchester United.
There have been 22 stoppage-time goals in 48 Premier League games this season, compared to just five in last season's first five rounds of matches.
Eighteen have come in the second half, meaning 14.8 percent of all this season's Premier League goals, and 19.4 percent of those in the second half, have been scored in time added on by the officials.
That is up from 7.7 percent last season, and 8.4 percent of second-half goals.
Through the first five rounds of last season, those figures were at just 3.5 percent overall and 2.4 percent in the second half.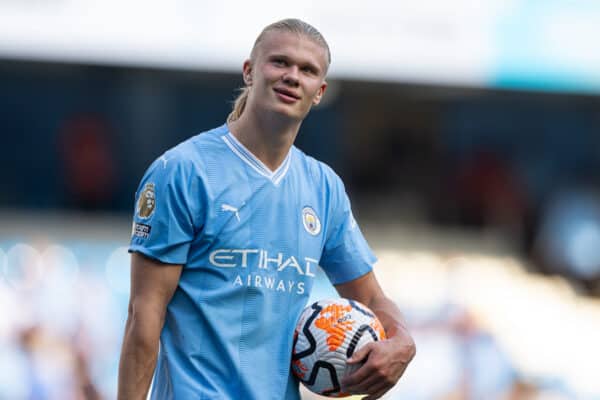 Manchester City scored at 45+5 and 90+5 minutes, through Nathan Ake and Erling Haaland respectively, in their 5-1 win over Fulham on September 2 while on the same day, Spurs' 5-2 win over Burnley featured stoppage-time goals for Cristian Romero in the first half and the Clarets' Josh Brownhill in the second.
Spurs have scored four stoppage-time goals this season – Emerson Royal with the other in the first half of their draw with Brentford.
They also led the way last season with eight, which were worth six additional points – matching rivals Arsenal for the highest such total in the top flight – and they have gained four already this term.
Three minutes more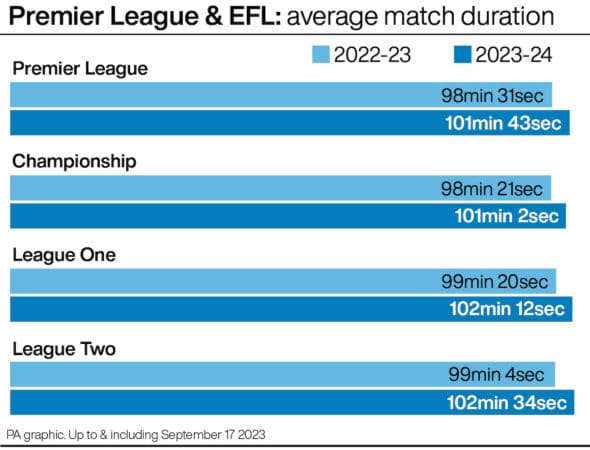 The increase in stoppage time stems from new rules introduced by the International Football Association Board, first seen at last year's men's World Cup and now implemented worldwide.
IFAB encouraged a stricter application of time added on in a bid to deter time-wasting and ensure the ball remains in play for more of the regulation 90 minutes.
Matches in this season's Premier League, up to and including Arsenal's 1-0 win at Everton on Sunday, have lasted on average 101 minutes and 43 seconds.
That is up from 98:31 last term, an increase of just over three minutes but 37.5 percent. At the equivalent stage of the season the figure was at just 98:08.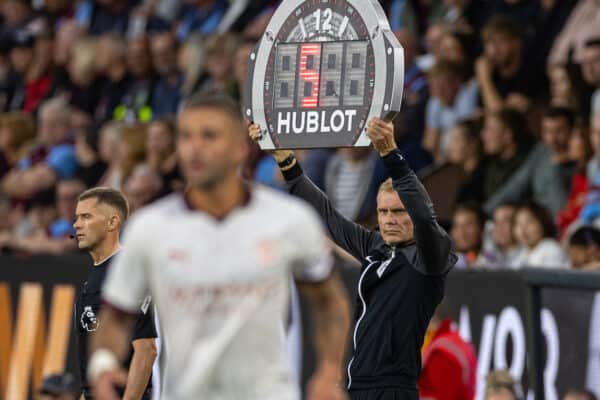 The picture is similar across the EFL, with Championship matches up from 98:21 last season to 101:02 and Leagues One and Two up from just over 99 minutes to 102.
Those numbers indicate players are already adapting to the new rules, after the EFL's opening weekend saw averages of 104 minutes in the Championship, 106 in League One and 107 in League Two.