Jordan Henderson has spoken for the first time about the reasons for his move to the Saudi Pro League and responded to criticism he received for his decision.
Henderson ended his 12-year spell at Liverpool by joining Steven Gerrard at Al-Ettifaq in a deal said to be worth around £12 million.
The move was a controversial one, with the 33-year-old previously vocal in his support for LGBTQ+ communities only to switch to a country in which being part of those groups is considered illegal.
Publically addressing the transfer for the first time, Henderson denied suggestions that his departure was driven by money and cited a pre-season chat with Jurgen Klopp as a key factor in his thought process.
"I won't go into detail about the conversation [with Klopp] because it's private, but it put me in a position where I knew that I wasn't going to be playing as much. I knew there were going to be new players coming in my position," the former skipper told The Athletic's David Ornstein and Adam Crafton.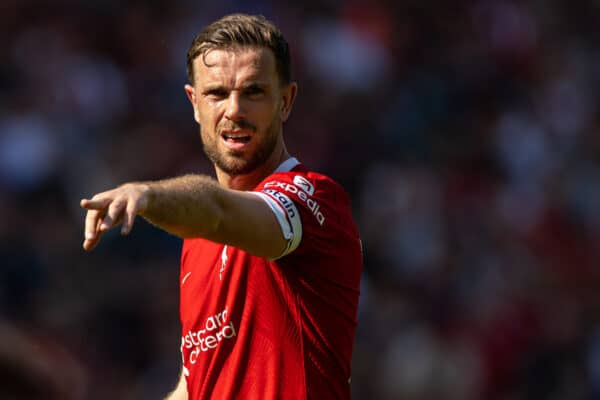 Claims move isn't about money
Says nobody at LFC wanted to keep him
Says Klopp told him reduced playing time
Makes strange claims over LGBT+ support and human rights issues
"Now, that's not to say that they forced me out of the club or they were saying they wanted me to leave but at no point did I feel wanted by the club or anyone to stay."
On the salary claims and finances, Henderson says: "The numbers just aren't true. But again, it had to work out for us financially as well. I'm not saying that it didn't and I'm not saying, 'Oh, I'm not on good money' because it's good money and it was a good deal but it wasn't the numbers that were reported. No."
The notion that money didn't play a defining role in Henderson's decision will be difficult for supporters to accept given what he was leaving behind.
Having joined the club in 2011 and being made captain four years later, the midfielder went on to lift every major trophy available to him in a Liverpool shirt.
It was a move that understandably also prompted backlash from LGBTQ+ supporter groups, who felt let down given Henderson's work as an ally for their communities during his time at Liverpool.
The midfielder admits he felt "hurt" by the criticism he faced and insists he "still" holds the values for which he was so widely praised.
"For people to criticise and say that I'd turned my back on [LGBTQ+ groups] really, really hurt me," he continued.

"I think there was always going to be criticism regardless of what I did, whether I stayed, whether I went. So basically I had to make the decision on what was best for me and my family.
"And obviously the LGBTQ+ community. I can understand the frustration. I can understand the anger. I get it. All I can say around that is that I'm sorry that they feel like that. My intention was never, ever to hurt anyone. My intention has always been to help causes and communities where I felt like they have asked for my help.
"I think people know what my views and values were before I left and still do now. And I think having someone with those views and values in Saudi Arabia is only a positive thing."
The comments on both the money involved and LGBTQ+ criticism are unlikely to appease supporters given how unlikely it is that one footballer can make a palpable change to the culture of a nation.
Henderson was one of the most influential allies in the sport and his decision to accept the proposal from Al-Ettifaq will always be difficult for many to swallow.