Pep Lijnders has signalled Liverpool's intention to make sweeping changes for their League Cup third-round clash with Leicester City.
The Reds kick off their domestic cup campaign on Wednesday evening when they face the recently relegated Foxes at Anfield.
The meeting with Enzo Maresca's men comes as part of a run of three games in just seven days across Europa League, Premier League and League Cup.
And Lijnders says that makes alterations to the lineup "a given," though he insisted Liverpool will be taking this competition seriously this season.
He said: "First, we want to win the game, so that's our first thought.
"[We are in] a crazy schedule at the moment because we play Europa League, which means Thursday-Sunday-Wednesday.
"And we know that even more with the style we have, it takes a lot from the boys, not just physically but mentally.
"So we need to make changes in this kind of period, it's just a given. Normally in the cup, we make more changes and give debuts, but we are not only here to give debuts, we are here to develop.
"Jota said a while ago to me, the best thing about the season where we went for the four trophies was that we stayed in the League Cup until the end, because it gives all the players constant game time.
"All the players in the squad stay hungry because they know there's a next game where they will play and a healthy squad that wants to fight for all competitions needs this."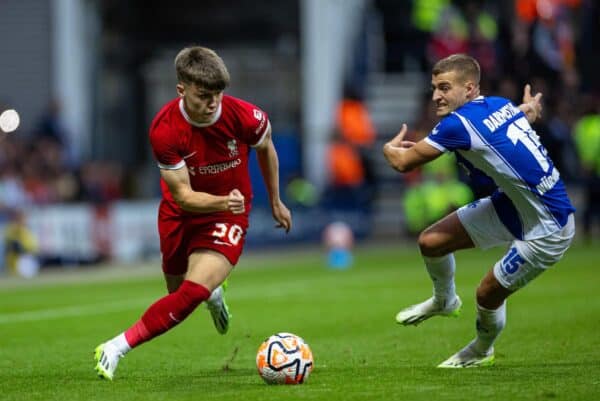 One likely change for Wednesday's game is the introduction of 17-year-old winger Ben Doak, who has impressed since making the move from Celtic last summer.
Of the exciting young Scot, Lijnders said: "He's young so a lot of things can happen.
"I had the privilege of growing up in Holland and we have this long tactical culture of Johan Cruyff and the idea of having the wingers on the outside to create, can really use one-v-ones to disorganise the opposition, they have this speed.
"Overmars, Arjen Robben, this kind of player, in the past it was [Johnny] Rep, [Rob] Rensenbrink.
"So we have this culture of wingers, but you get a young winger from Scotland, only 17 years old, but has this capacity to create and to reach the final line with individual skill and movement, it's nice to see.

"The good thing with Ben is that he comes into a squad with so much senior authority and, he is not this kind of guy, but he will never make a sidestep.
"The boys will tell him, you already hear constantly 'decisions!' from Robbo.
"He has this great low centre of gravity, and that's how he can control the ball at the highest speed with his left and right foot.
"But loads to come, he needs to mature, needs to listen to Robbo, to Salah, to Jota, to Cody, to Luis, to all these guys who are really trying to help him.
"We as a club, I think it's really nice for young players to be in our squad."