Jurgen Klopp, speaking before news of an initial £100 million bid from Saudi Arabia broke in the press, has told reporters that Mohamed Salah is "super committed" to Liverpool.
Klopp was speaking to reporters after Friday morning's press conference, with the bid from Al Ittihad having arrived – and been rejected – on Thursday evening.
In the press conference itself Klopp had claimed not to know of any bid, perhaps playing his best poker face there.
Speaking separately to reporters for the Saturday newspapers including the Guardian's Andy Hunter, Klopp spoke further on Salah, saying:
"Mo is super committed, really in training fully there, and in the leadership meetings this week he was fully in.
"I have to deal with facts, and my fact is 'All good, we are here and everything is fine.'"
Liverpool rejected the initial £100 million plus £50 million in potential add-ons bid, but there were suggestions later on Friday that the Saudi side will return with a bid worth £200 million.
As of 11pm, no such bid has been reported.
While the Premier League transfer window closed at 11pm, the Saudi Arabian window remains open until September 7, meaning they could bid again later this week.
Of course, Liverpool would then have no opportunity to sign a replacement, which is why it is likely to be rejected again.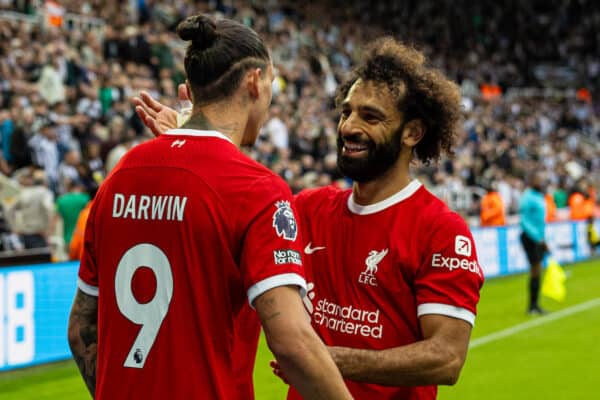 Salah's agent, Rammy Abbas, has previously denied reports linking Salah with Saudi Arabia, Tweeting earlier this summer:
"If we considered leaving LFC this year, we wouldn't have renewed the contract last summer," he wrote on Monday morning.
"Mohamed remains committed to LFC."
Abbas, though, has not been vocal following the new links and indeed an actual bid from the Middle East.
Whether it is all legitimate or part of a wider PR stunt, meaning that on the final day of the European transfer window the headlines are all about Saudi Arabia instead, nobody can know for sure.