PGMOL chief Howard Webb took part in Sky Sports' 'Match Officials: Mic'd Up' show with the supposed intention of providing more clarity, but is he really just digging the officials a bigger hole?
When things go wrong in football we often ask for transparency in the hope that it will lead to improvements and, at least, offer fans insight into how decisions are reached – rightly or wrongly.
The VAR audio released in the wake of the Luis Diaz offside ordeal at Tottenham was a step in the right direction, but it certainly didn't make us feel any better about it.
It was exactly as chaotic as we imagined and even more amateurish, the trust of fans being tested to the limits as yet another officiating disaster made its way into the headlines.
We don't want to be talking about officials after matches of such significance and they certainly don't want their own shortcomings being scrutinised, but here we are again.
Referee chief Webb faced the cameras on Tuesday night in a bid to show empathy with his mates and do his bit for supporter relations.
In reality, no damage was repaired and fans were once again left with more questions than answers from a show designed to do the opposite.
Pressure maintained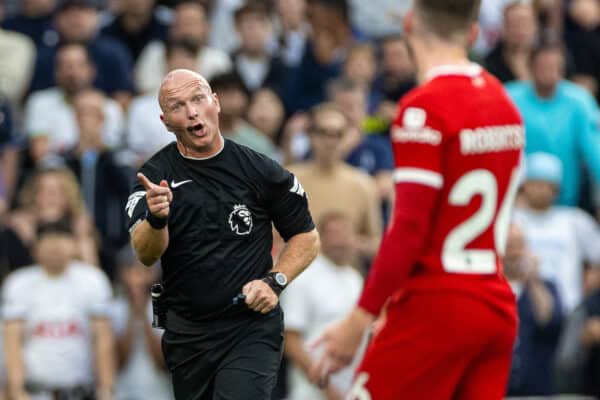 The fact Sky Sports were willing to continue to shine a light on the debacle more than a week on initially felt positive.
Failure to even acknowledge the incident at half-time during the contest severed trust further as it left many believing there were attempts to cover up the error.
The PGMOL released a statement before the final whistle had even been blown and they likely hoped that the storm would pass within a couple of days.
Liverpool ensured that wouldn't be the case on this occasion, sending out a statement of their own the following day highlighting the "sporting integrity being undermined" and subsequently making a formal request for the VAR audio to be made public.
That footage opened a whole new can of worms when the footballing world was able to hear the havoc that transpired at Stockley Park, but it crucially kept the conversation alive.
It has all led to Webb addressing the issue on television 10 days on, but the usual jargon wouldn't wash this time around.
His claims that referee Simon Hooper and his two assistants weren't aware of the VAR wrongdoings were an immediate red flag to supporters.
Hooper may have been shielded from culpability for the Diaz fiasco but that does little to explain the numerous misdemeanours that followed on the pitch.
Comedy of errors

Take out the incorrect offside and this was still one of the worst refereeing performances of recent times.
Saying it is "better that he doesn't know" so that he can be "focused in the moment" only serves to remove mitigation and place further heat onto Hooper, when the intention was clearly the opposite.
The car crash didn't end at Liverpool, with Webb going on to suggest that referee Michael Oliver didn't want to have a "negative impact" on Arsenal vs. Man City at the weekend by "overreacting" to the challenges made by Mateo Kovacic.
How can that possibly be the case when the rules are written in stone? Particularly given that only minutes earlier he explained how FIFA laws "don't allow" common sense to take over to delay the game in instances like the Diaz one.
It begs the question, where is that line drawn? The Reds received two red cards at the Tottenham Hotspur Stadium and both were dubious at best, did that not have a "negative impact" on the biggest game of that weekend?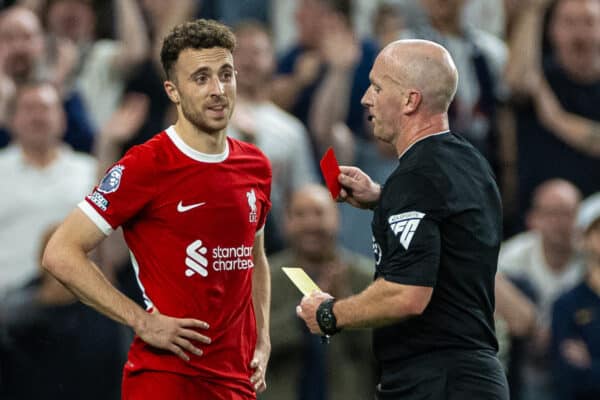 The decision to keep Kovacic on the field was its own isolated moment but the inconsistency which stems from making such calls based on the status of a match can only lead to further problems.
Liverpool received four red cards in their opening seven games with decisions that could have derailed their season before it had even started.
The Alexis Mac Allister dismissal at home to Bournemouth was overturned following an appeal and Diogo Jota's sending off at Tottenham was deemed incorrect by an independent panel.
Curtis Jones and Virgil van Dijk's red cards were more subjective, but in a world where Kovacic remained on the pitch at the Emirates to protect the game you have to question why that same luxury hasn't been extended to Jurgen Klopp's side.
Tedious inconsistency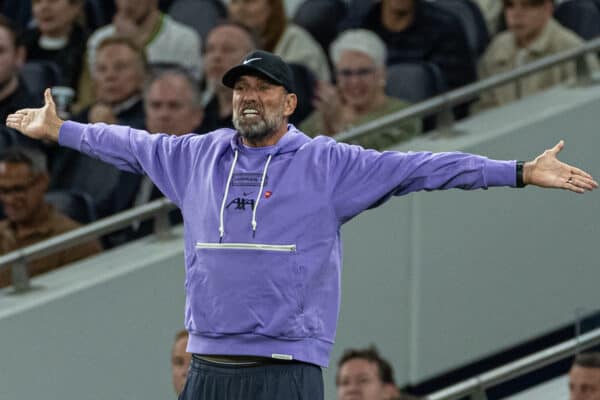 Webb did concede that Kovacic was "extremely fortunate" to escape the same fate, but it is concerning to hear that a top-level referee would consider the prospect of "overreacting" by simply dishing out the appropriate punishment.
It is a complicated enough sport with the rules seemingly changing each summer, officials need not make life more difficult for themselves by applying context that they have no business taking into account.
Refereeing each scenario on its own merit will suffice.
Frustration is natural in times of injustice, but the long-term aim must always be to improve standards and increase consistency, irrespective of tribal motives.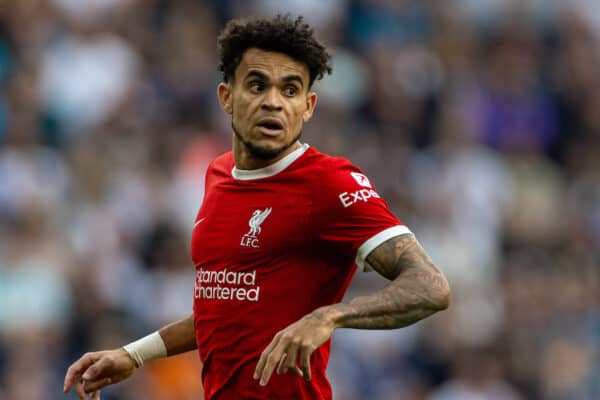 The way in which we are viewed by our rivals has not helped us in acquiring allies, but we ought to take pride in the way the football club have been unwilling to take this one lying down.
Liverpool have kept this discussion at the forefront for over a week and facilitated positive changes in the process.
It is now over to the referees to do their jobs, leave it to the professional footballers to concentrate on what that might mean for the bigger picture of the football.