From my perspective, Derby Day Belly is a thing of the past; a bit of introspection and a chat with a stranger whilst on my way up to the Main Stand Upper on Saturday led me to the conclusion that it went out of the window with any contemporary respect I have for our blue cousins across Stanley Park.
As a child of the 1970s and 1980s, the rise of Everton between 1984 and 1987 was right in the sweet spot of childhood impressionability.
They had a great team and their fans were riding the crest of a wave they had never dared dream of during the frustration of the previous decade and a half.
There were cranks amongst their congregation, but as a collective, they were generally sound. The same could be said of us, and for a while, it was like looking in a mirror.
At this point in time, derby day belly was virulent. It gripped the stomach and stirred the soul; it was exhilarating and unsettling in equal measure.
The joy of victory was unconfined, and the afterglow of it could keep you warm all winter or light up the summer, while defeat was a pain like no other and it was one which would linger.
A complicated relationship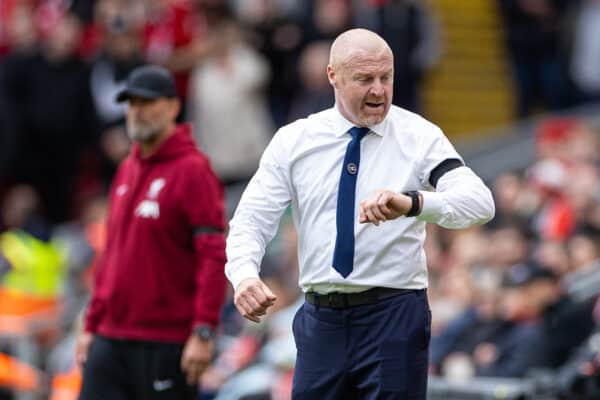 At both ends of the spectrum, the thought of crossing paths with your blue family members and friends was electrified, and a draw was almost a relief.
A decade on, by the mid-1990s the fortunes of both clubs had dipped, but back-to-back FA Cup finals against Manchester United acted as a loose line in the sand when it came to neighbourhood relations.
While most Reds were happy to accept Everton beating Alex Ferguson's side in the 1995 final, most Blues rejoiced in our loss in the 1996 final.
By the dawning of the new Millennium, a loose simmer had risen to boiling point, with Hillsborough silences disrupted and "die, die, Nicky, Nicky die" being aired.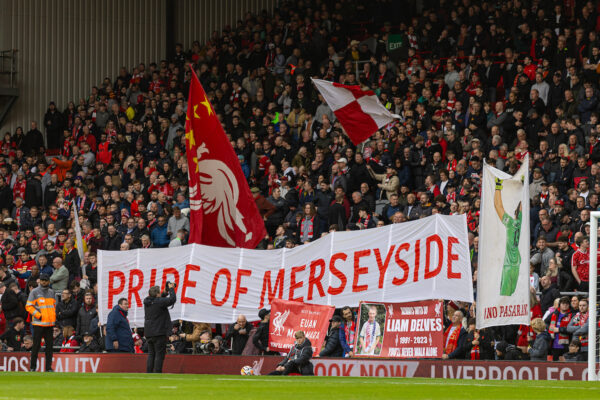 Heysel was drawn into the methodology of blue-tinged justification and we were branded murders, as the more volatile and militant of blues started to take on the aura of a northern outpost of Millwall supporters.
Amid this, you still had sound Everton supporting friends and family that jarred with this increasingly hostile backdrop.
Over the last two and a half decades, even they have become more bitter as their beloved club has descended into one whose only joy is defying gravity and somehow maintaining their Premier League status.
Personally, across these last two and a half decades I've shifted from someone who wouldn't begrudge Everton success, as long as it didn't supersede anything we were doing, to shrugging my shoulders about their repeated precarious situations.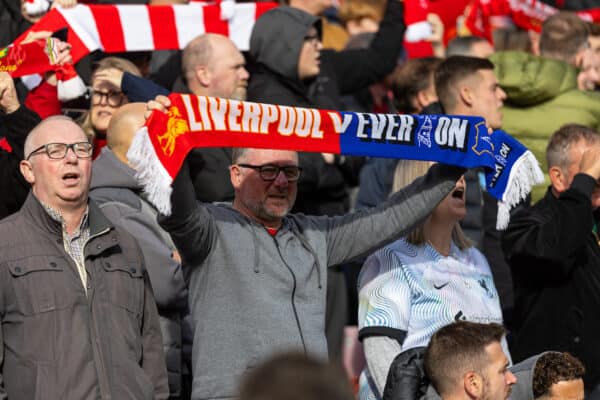 I even harboured feelings of vague disappointment when they survived their latest flirtation with relegation, but at the same time, I still respect their great teams and feel genuine concern for the well-being of the Blues I hold dear.
Now, there is a rinse-and-repeat nature to our dealings with the wider Everton brethren. They set themselves to shock jock mode, with no boundaries of a lack of class sacred.
They either respond to a chiselled draw as if winning the lottery, or there is a defined grieving process for their defeats to us.
This usually involves identifying perceived, or even better, genuine complaints of injustice, then cursing the "Red shite" and "Kopite behaviour" from which they bleat for eternity. It's no way to live.
Familiar controversy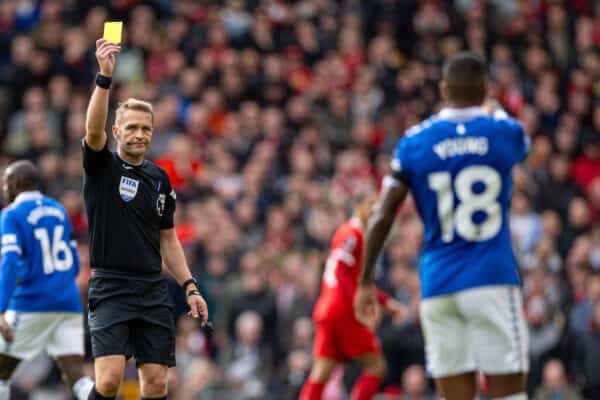 For the latest instalment of this kitchen sink drama, Ashley Young was correctly shown two yellow cards followed by a red.
A penalty was rightly awarded after VAR's intervention and a hitherto foiled Liverpool made the breakthrough and went on to score a second, once increased space naturally presented itself, as the visitors made feeble attempts to procure an equaliser.
Of course, there was Konategate, and grumblings that Kostas Tsimikas had evaded a yellow.
Another referee has added his name to the Everton black book of enemies, and conspiracy theories and tinfoil hats are in vogue once again at Goodison. The more things change, the more they stay the same.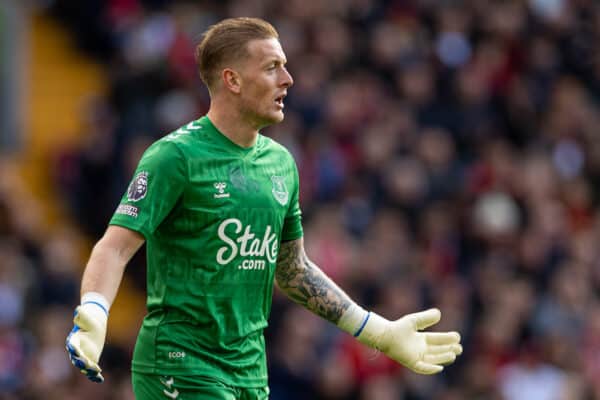 Mohamed Salah was the match-winning bogeyman this time, despite it not being the most commanding performance he's ever produced, as he netted twice and could have had a hat-trick on another day.
Everton, with an xG of 0.12, produced just one effort on target, this being a tame and poorly directed header from Dominic Calvert-Lewin. Meanwhile, Everton's xF (expected fume) is still being calculated.
Five strung across the back in the second half from Sean Dyche, with their holding midfielder situated two or three yards in front of this thick blue line.
There was a deployment of three midfielders not much further forward, with Calvin-Lewin/Beto occupying the centre circle, it was football constriction, in the hope of prospering from a set piece. More rinse and repeat territory.
Perhaps sadly, Everton will survive the drop again this season, and they know it.
Tests to come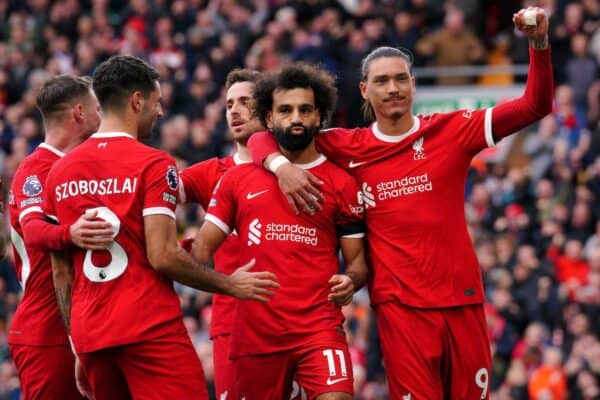 When it comes to the Premier League's current bottom eight, the other seven have all obtained their top-flight status within the last two years, with this season's crop of new arrivals looking particularly vulnerable, as are a "difficult second album syndrome" Bournemouth.
I'd be stunned if three from today's bottom four will not be relegated.
Away from the pantomime, this was a crucial win for Liverpool, on the back of two points slipping away at Brighton and the rancour of a pointless day at Tottenham.
Top of the table for a couple of hours, we have essentially reached the quarter mark of the season sat on the shoulder of the leaders, with some big away days and the first derby day of the campaign already navigated.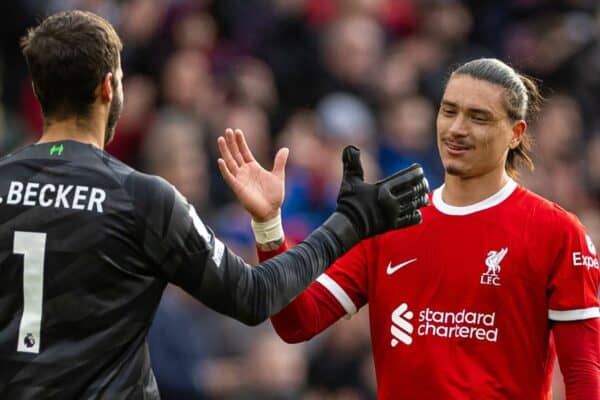 Arguably the real test comes next, however, with – like Everton – our next three Premier League fixtures are also against teams that reside in the bottom eight.
Last season we struggled to pick up the points we should have when up against the reputed chaff of the Premier League.
Throw in Brentford beyond Nottingham Forest, Bournemouth, and Luton Town, and 12 points between now and the November international break must be the target.
That achievement would have us in a very healthy position at the one-third marker of the season.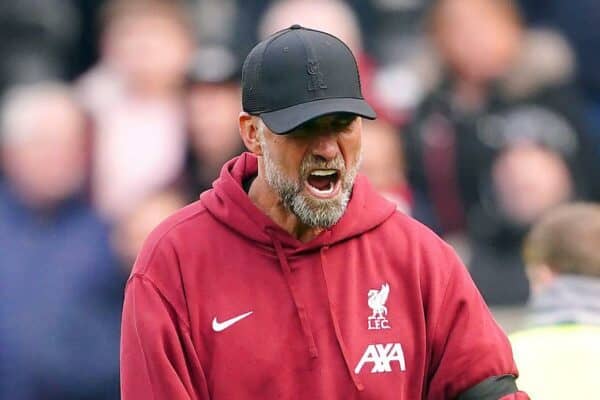 Something that would be unsettling for our opponents that loom on the other side of that international break, when we take a certain trip east, to face Man City.
One step at a time it is, but it's also worth keeping an eye on the near horizon.
You don't plan for greatness by ignoring the stepping stones to come.
Up the conspiratorial Reds.