With two more youngsters making their Liverpool debuts and another his first start, Jurgen Klopp has named the next in line for a first-team "opportunity."
Luke Chambers started and both Calum Scanlon and James McConnell came off the bench as the Reds breezed past Toulouse for a 5-1 win in midweek.
It was the perfect night for Klopp, who was able to make eight changes to his starting lineup while introducing new players to the fold.
Speaking to TNT Sports after the game, the manager explained that there could have been an even more youthful feel to the side if not for injury to Ben Doak and Bobby Clark.
In Clark, Liverpool have the next teenager in line for an increased chance in the first team – having already started against Derby in the League Cup last season.
"I'm not sure how much it had to do with the result, it was more that we really thought the boys need that now, to get that feeling," he explained of his team selection.
"It's one thing if I tell them how much I like them, what I see in them – from time to time, we have to show it.
"It's not easy, but in good moments you can give the boys opportunity. We did that tonight and they all took it.
"A couple are not even available. Ben Doak would have for sure had minutes tonight, Bobby Clark who is coming back from injury.
"We have a lot of good boys, we really trust them and we build on that."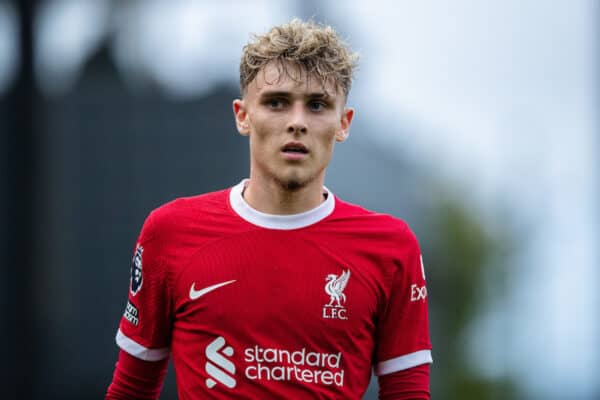 Such is the faith in Clark, 18, that Liverpool registered him in one of 25 slots in their senior squad for the Europa League while Adrian was omitted.
Injury suffered with the U21s has kept him out in recent weeks, but with three group games left and a chance the Reds qualify for the last 16 as early as their next fixture, there is plenty of time left.
It has taken time for Klopp and the wider staff at Liverpool to cultivate such a strong academy, but in his post-match press conference the manager was effusive in his praise.
"We 100 percent believe in [Chambers] and trust him. I wanted to show him that tonight," Klopp said.
"So in that position the next one is knocking on the door with Calum. Everybody could see, a really exciting player.
"A few situations where he got too excited, but a real talent and a real heartful footballer.
"James played a sensational pre-season for us, we gave him a new position, put him on the six, and he did really well there.
"He's very smart and he deserves it as well.
"If Ben Doak would have been available tonight he would have got minutes, like Bobby Clark probably would have got minutes.
"We should not forget Jarell Quansah who played again.
"So there are a lot of good boys coming up and it's not enough that I tell him – which I do from time to time, not often – but sometimes you have to show when we have the opportunity to do so.
"Tonight we did and that's good."