Liverpool's brave performance in their 2-1 defeat away to Tottenham was praised by the media, as the Reds showed such heart on a grim night in north London.
The Reds headed to Spurs for a mouthwatering Premier League clash on Saturday evening, but it ended up being ruined by a woeful refereeing performance by Simon Hooper and VAR Darren England.
Jurgen Klopp's side had to make do without Curtis Jones and Diogo Jota for much of the game, with both sent-off, and they so nearly hung on, prior to Joel Matip's stoppage time own goal.
Here's the best media reaction to Liverpool's defeat, with plenty to discuss following the game.
Liverpool were fantastic in defeat, so nearly picking up a memorable point…

Rob Draper of the Daily Mail lauded the "extraordinary resilience" on show by the Reds:
"A game of this quality, with its glorious ebbs and flows, deserved its dramatic finale. It was the Premier League at its finest, the pressing rabid, the technique superb and the tactical responses to setbacks outstanding.

"At the end of it, all Tottenham are joint top and Big Ange was acknowledging a euphoric stadium in a glorious rendition of Robbie William's Angels.

Who had this on their Bingo card when Harry Kane left in August? This is more than a feeling. Tottenham are made of something more than that.

"And Liverpool, even in defeat, demonstrated extraordinary resilience. With City losing, maybe a title race is possible."
On X, Paul Gorst couldn't hide how cruel a loss it was for Liverpool:
An absolute sickener for Liverpool who weathered the storm with 10 and then nine pretty well. We can all debate the decisions but the first yellow for Diogo Jota just isn't a booking. Shame to see a 19-game unbeaten run ended in those circumstances.

— Paul Gorst (@ptgorst) September 30, 2023
The Guardian's David Hytner was hugely impressed with Klopp's tactics with nine men:
"Jurgen Klopp had been hailed as a great innovator of the modern English game by the Tottenham manager, Ange Postecoglou, on Friday.

"But has Klopp ever set up in a 5-3-0 formation to try to preserve a point?

"Spurs had camped in the Liverpool half from the second-half restart and, after Jota's dismissal, they tried to turn the screw further.

"The crazy thing was that Klopp's nine men looked set to hold firm. They barely gave up a chance and, as the game entered the sixth and final minute of stoppage time, Klopp could almost touch a stunning result."
While clearly a frustrating night, Phil McNulty of BBC Sport said Klopp could be proud of he and his side's efforts:
"Matip's misery was the final straw for Liverpool after a game in which manager Klopp and his players were convinced officialdom and the fates conspired against them cruelly.

"Klopp complained bitterly about Jones and Jota being sent off, while Liverpool the decision to rule out Diaz's first-half goal for offside was clearly an enormous error

"Their sense of injustice will have felt even more acute given the manner in which they organised themselves in a 5-3-0 formation, with a world-class last line of defence in keeper Alisson, to keep Spurs at arm's length once they were down to nine men.

"Liverpool have shown they can get results with reduced numbers this season, having beaten Bournemouth and Newcastle United despite being down to ten men, but this time it just proved a step too far.

"Klopp, however, will be rightly proud of the way Liverpool gathered themselves to get within seconds of a valuable point."
It was a truly shocking performance by the officials, and many focused on that…

This Is Anfield's David Lynch was at a loss at the incompetence on show:
"Something didn't quite feel right about the speed with which a brilliant Luis Diaz first-half strike was ruled out for what looked like a marginal offside.

"It was only last week that VAR almost made an absolute howler in nearly chalking off a Brentford goal against Everton by focusing on the wrong phase of play before that error was corrected at the last moment.

"Attempts to contact the PGMOL over this matter have yet to elicit a response, which is a concern given it would surely be straightforward to reproduce the calculations that show Diaz to be beyond Cristian Romero.

"Let's hope this is not another refereeing decision that Liverpool end up rueing after an afternoon that was dominated by them."
On X, Sky Sports' Melissa Reddy is becoming increasingly concerned by the level of officiating on show:
We've seen lines incorrectly drawn against the wrong defender, lines not being drawn at all, the failure to fully investigate an offside decision, the failure to investigate and intervene at all…

The increasing lack of faith in offside calls is increasingly for good reason

— Melissa Reddy (@MelissaReddy_) September 30, 2023
Liverpool legend Jamie Carragher was of a similar persuasion:
Shocking mistake, but this is nothing to do with the drawing of lines.

The VAR have missed the Spurs centre back & have gone off Diaz clearly ahead of the full back.
This season when an offside has been obvious they have tried to speed it up by getting the game going quickly…

— Jamie Carragher (@Carra23) September 30, 2023
Speaking on Sky Sports after the game, even Gary Neville found himself sticking up for Liverpool!
"What that does today is undermine other decisions over the last few weeks, months, years."

Gary Neville on how damaging the PGMOL error to disallow the Luis Diaz goal is. pic.twitter.com/4z2ufhzJjM

— Sky Sports Premier League (@SkySportsPL) September 30, 2023
There is a definite feeling that Liverpool in a title race, though…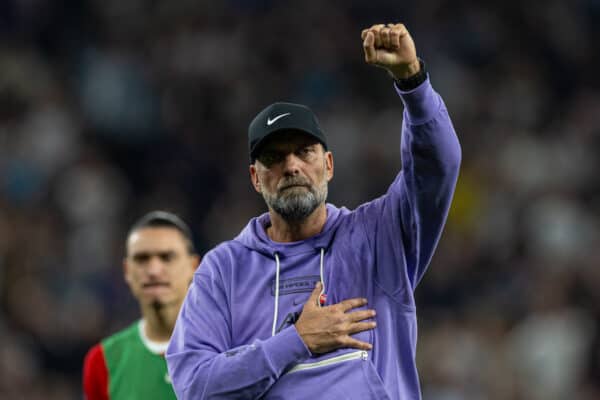 Lynch felt that the Reds showed they are a superior team to Spurs:
"It will no doubt be incredibly difficult for Klopp and his players to find the positives after defeat in such heartbreaking circumstances.

"But make no mistake, this game was yet more proof that they are more likely to find themselves engaged in a title challenge this season than scrapping with Tottenham for fourth.

"For all the hype around Spurs coming into this fixture, Liverpool were the dominant force on their own patch right up until Jones' sending off.

"And the way they continued to match the hosts and create chances in the aftermath of the first red card showed exactly who the superior team was.

"Even once down to nine men, Klopp's side evidenced a togetherness and nous that hints they are destined for great things this campaign."