Liverpool's performance against Brighton wasn't exactly showered in praise, as the watching journalists assessed two points dropped by the Reds.
Jurgen Klopp's men knew that a win at the Amex Stadium would be a big statement of intent, but that rarely looked like happening.
Granted, Mohamed Salah's brace put Liverpool 2-1 up at half-time, but they were disappointing for chunks of the game and Lewis Dunk equalised thanks to a gift from the Reds late on.
Here's a look at how the media reacted to the Reds' below-par draw.
This arguably wasn't good enough from a team with title aspirations…

Lewis Steele of the Daily Mail admitted that it was a mixed bag from Liverpool:
"It was not the anniversary present Jurgen Klopp would have wanted but it was markedly better than his team's last two trips to the south coast. Brighton fought back to claim a well-earned draw against Liverpool after Mo Salah scored a brace.

"Klopp, who celebrated eight years at the club, described this fixture last season as the worst performance of his many years in management, with Liverpool getting thrashed 3-0. They went behind here to a cheap goal which evoked memories of that dark day.

"But they salvaged some respect as Salah scored twice for Liverpool to put behind them the monumental mess-up by VAR that dominated discussion for a week after their loss at Spurs, but they could not see out a win with Brighton skipper Lewis Dunk equalising late in the game."
On X, Football Data Editor Michael Reid was a little more positive, though:
"Liverpool are the first away team to have more possession and more xG against Roberto De Zerbi's Brighton in a Premier League game at the Amex Stadium.

"Thought we played well there. Frustrating to concede two poor goals."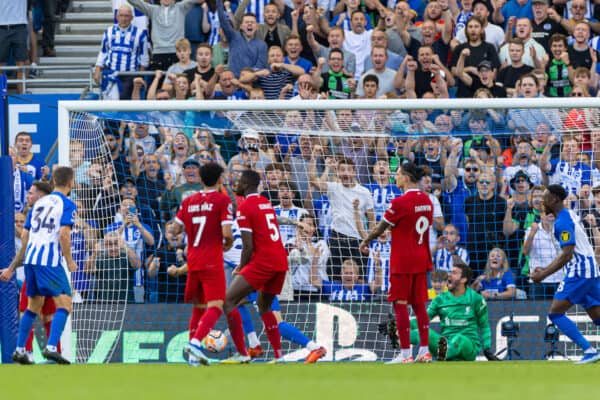 This Is Anfield's David Lynch bemoaned yet another slow start by Liverpool:
"That Liverpool have taken 10 Premier League points from losing positions already this season is handy proof that the 'Mentality Monsters' are back in the building.

"However, that impressive statistic would not have been needed were it not for the Reds conceding first in seven of their 11 games this season in all competitions.

"Again at Brighton, they were slow starters, preferring to engage in a game of chess with the hosts en route to giving away a sloppy opening goal.

"That ultimately came back to hurt the Reds as they only unable to take more than a single point despite Mohamed Salah's brace late in the first half.

"It is a habit that Klopp will have to stamp out if his team is to deliver on its promise as the season progresses."
Samuel Meade of the Mirror was similarly critical of that shortcoming:
"Klopp must hope that eventually his team don't need to concede a goal before waking up and realising they need to up their levels.

"On the south coast though the Reds were true to form and the hosts started the better before making Liverpool pay early on.

"They scored first, opening the scoring just after the 20 minute mark with the Merseysiders failing to really fire a shot.

"The goal at the Amex was the fifth time in eight games that Klopp has seen his side concede the first goal. Now on three of those occasions they've fought back to claim three points, but their appetite for comebacks cannot – and will not – last forever."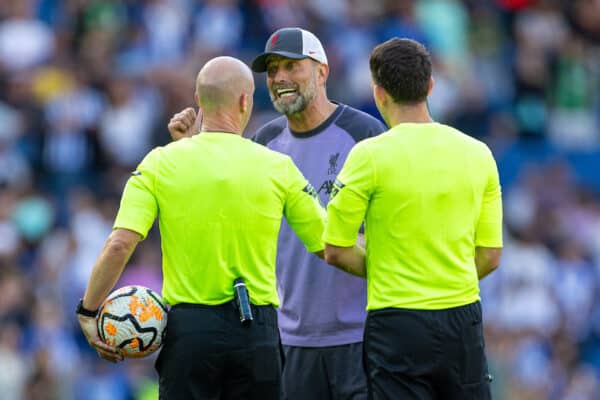 The Guardian's Jonathan Wilson felt Liverpool's performance was indicative of their season to date:
"Take two sides who press supremely well and attack at pace, but who also have defensive weaknesses, and perhaps it should be no surprise when the result is a thrilling game, an exhausting end-to-end battle, full of incident and intrigue, that probably left both managers slightly frustrated. The dynamic may have been predictable, but it was no less enjoyable for that.

"Would Liverpool be affected by last week's VAR controversy? Would their fury and sense of disillusionment curdle into something self-destructive? Might it even galvanise them?

"The truth is it barely seemed to make a difference at all. This was Liverpool as they have been for most of the season, a blend of brilliance and vulnerability that makes them look at times like a title contender while the sense lingers that this cannot be sustained."
Neil Johnston of BBC Sport touched upon Brighton becoming a bogey team for Liverpool:
"Liverpool have now failed to beat Brighton in the past four attempts and there will be frustration from Klopp – who took charge of the Reds on this date in 2015 – that his players could not hold on to the lead after turning it around.

"Their last appearance on the Premier League stage ended in the controversial 2-1 defeat against Tottenham when the video assistant referee (VAR) failed to overturn an incorrect decision to disallow a Luis Diaz goal for offside with the game goalless at the time.

"They made a sluggish start at the Amex Stadium, but appeared to have put last week's events behind them when Salah's goals turned a 1-0 deficit into a 2-1 lead.

"No Liverpool player has scored more than Salah during Klopp's time in charge, yet his 191st and 192nd club goals ultimately were not enough to clinch success."
A struggling Alexis Mac Allister was focused on…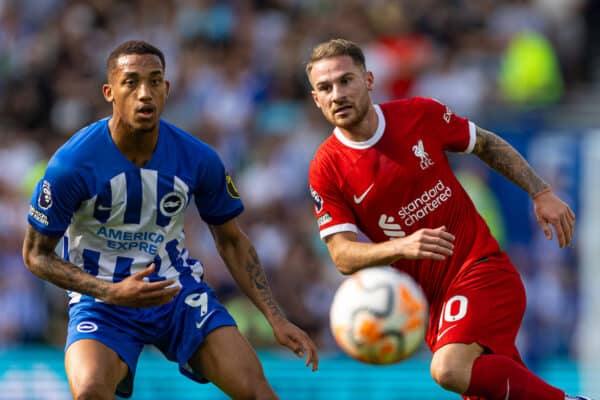 Lynch felt that the Argentine struggled badly as a No. 6, who is not playing the role he was expected to when he joined:
"It is perhaps overly harsh to criticise a player who is clearly not playing in the role he was expected to occupy upon signing for the club.

"But, holding midfielder or not, it is hard not to feel that there has to be so much more to come from Alexis Mac Allister in a Liverpool shirt.

"Too often during his start at Anfield it has felt like his complete lack of pace is not being mitigated for, creating the conditions for gaps to open up around him in midfield.

"The Argentine is also prone to occasional bouts of hesitance in possession, which hard-pressing Brighton were all too happy to exploit in this game in particular."
On X, The Late Challenge Podcast host Gareth Roberts was of a similar thought process:
"Not the worst result but feels worse because of last week (no, you move on). Bit dopey in defence and injuries and suspensions hurt us. Not a fan of Mac Allister in that role. Don't think he is either."
Finally, TIA's Matt Ladson feels it was a grave error not to sign an out-and-out defensive midfielder in the summer:
"For all the talk of Liverpool's 'complete midfield rebuild' they are glaringly short of a defensive midfielder/No.6.

"The day Mac Allister can play in his actual position will be a very pleasing one."