The Anfield Road End looks markedly different to the eye as all the seats in the upper tier have now been installed, as work continues to get the full stand ready for 2024.
There has been one delay after another when it comes to the opening of the new stand, with the club announcing in early October that the upper tier would not be ready until 2024.
Fans with tickets to six different fixtures were left without, but the hope is that the same issues will not come into play following New Year, enabling Anfield to host a full-capacity crowd of 61,000.
Visually, you can see progression on the stand and the surrounding area with all the seats in the upper tier now installed, leaving only fans to fill them when the time comes.
WATCH OUR FULL ANFIELD UPDATE:


Further cladding on the roof has been installed, while pavement on the exterior of the stand has been laid, in addition to the first tree planted in the surrounding area.
A sandstone wall between Stanley Park and the Anfield Road End is being built as we edge closer to seeing the final product, which will be a long-awaited sight.
It all moves the stand closer to completion, and there is speculation that the visit of Chelsea in the Premier League on January 31 will be the first with some fans in upper tier.
A test event will be required to obtain a safety certificate from Liverpool City Council before the upper tier can be full of supporters during a competitive fixture, which Liverpool expect to take place before the end of the year.
The members' sale for the second-half of the season is likely to bring more information on Liverpool's expectations and timeline later this month, with a "phased" opening still very much the plan.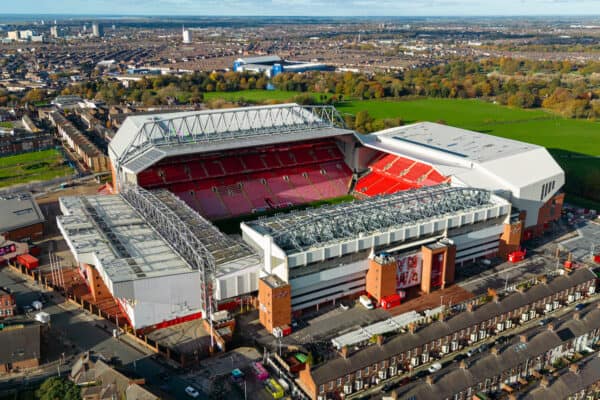 Currently, only the lower tier of the stand is open and some may have noticed there is still work to be done in the bottom-left corner (as you view it from the Kop), and that is not expected to be complete until next summer.
Anfield has been operating with a reduced capacity of around 49,000 to start the season, and estimations are that the club are losing in the region of £750,000 per match with the ground in its current state.
The initial target date for the full opening of the new stand was the first home game of the season, but plans were torn up when contractor, Buckingham Group, filed for administration.