Anthony Taylor, who will serve as fourth official for Luton vs. Liverpool, has been demoted to refereeing duties in the Championship this weekend.
Liverpool head to Kenilworth Road for their 11th game of the Premier League campaign, with Andy Madley appointed referee for the 4.30pm kickoff.
Harry Lennard and Nick Hopton will serve as assistant referees, while Craig Pawson is on VAR duty supported by Simon Long.
Fourth official for the Sunday clash will be Taylor, in his only Premier League fixture of the weekend.
Instead of operating as referee or VAR for any of the high-profile games on Saturday as usual, the 45-year-old has been dropped to the Championship.
Taylor will referee Preston vs. Coventry in the second tier, with the Mail reporting that this is punishment for a major error in Wolves 2-2 Newcastle last Saturday.
The two sides were tied at 1-1 at Molineux when Hwang Hee-chan was adjudged to have brought down Fabian Schar in the penalty box.
Newcastle were awarded a penalty following a lengthy VAR check, even though replays showed Hwang did not make enough contact with the Swiss defender.
Hwang went on to equalise with a brilliant finish late on, but speaking after the game, Wolves manager Gary O'Neil was rightly furious with the decision.
"It was a scandalous decision," O'Neil said.
"It was a terrible on-field decision, and terrible that VAR didn't intervene so I thought they got it badly wrong.
"[Hwang] has a big touch…and then goes to clear the ball. He makes such minimal contact with Schar, hardly any, a glance of the boot.
"Schar's is already on the way down."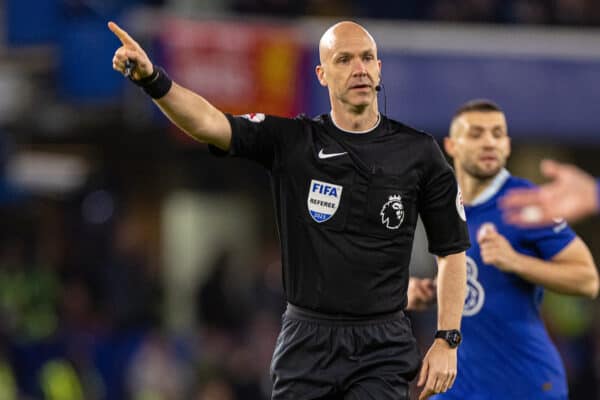 After learning of the news on Taylor's demotion, O'Neil joked in his pre-match press conference on Friday that officials "need to be careful" when refereeing Wolves games.
"I think Anthony Taylor's doing the Championship game this weekend – that's three referees who've been relegated on the back of refereeing us," he told reporters.
"So you need to be careful when you referee Wolves because you could end up getting relegated the following week!
"I haven't received an apology and I don't want one. They're not going to help, but hopefully the level improves."
Jarred Gillett, who was VAR for the game, has been retained, and is VAR for Fulham vs. Man United on Saturday before refereeing Nottingham Forest vs. Aston Villa on Sunday.