Second String Review A weekly look at the Reserve and Academy teams
Unfortunately there have been no matches this week at either Reserve team or Academy level following a week blighted by snow up and down the country; the Reserves had their game at home to West Bromwich Albion postponed while the Academy had no less than three matches – Wolves, Notts County and West Bromwich Albion – all delayed until a later point in the season, meaning Liverpool have to wait to get their retribution on West Brom, who have already beaten the Academy 4-2 this season.
Match Preview
Wednesday however, sees a return to action as Liverpool under 18s take on Notts County in the FA Youth Cup 3rd Round. Notts County – who currently have Tom Ince and Steven Darby on loan from Liverpool – have performed well in this tournament so far, beating Histon and Shrewsbury Town without conceding a goal.
The expectation, however, is of course high on the young Reds and they will expect to come through the tie without too much trouble.
LFC Player to Watch: Adam Morgan – The young striker may be given a rare start to show his potential.
---
Future Stars – The Players of Tomorrow
This week we look at Liverpool's reserve team goalkeeper – Martin Hansen – the 20 year old Dane who has recently been making his push on to the first team bench.
Martin Hansen: Solid Goalkeeper, but is he good enough?


Martin Hansen
Age: 20
Nationality: Danish
Position: Goalkeeper
Hansen arrived at Liverpool from his hometown club of Brondby in the summer of 2006. His arrival was initially hailed as something of a coup, with Liverpool snatching the talented teenager from beneath the noses of European giants Inter Milan and Bayern Munich.
Starting with the under 18s, Hansen quickly developed through to the reserve team set up, benefiting from the continued loaning out of David Martin to Tranmere Rovers and Leicester City. Throughout the 07-08 season, Hansen was a mainstay of the reserve side, impressing regularly for the Reds. However, the 08-09 season saw the arrival of Australian Dean Bouzanis and Hungarian Peter Gulacsi, who both appeared as competitors for the reserve team jersey. Subsequently, Hansen was forced away from the starting position with both Bouzanis and Gulacsi seen as more consistent performers.
Hansen got a rare opportunity of a start when Liverpool Reserves took on Everton Reserves, and the Dane conceded a howler and he let a back pass roll between his legs and into his goal. Hansen continued to struggle to regain his early career form and his time at Liverpool seemed to be petering out, until the sacking of Rafael Benitez in 2010. Hansen seemed to be reinvigorated by Benitez's departure and his new found focus helped him take advantage of the loan deals of Peter Gulacsi and Dean Bouzanis in the early season as he easily secured the reserve team jersey and then even pushed himself ahead of new signing Brad Jones, appearing on the Reds' bench 3 times.
While Hansen's renewed focus has seen a pleasing progression, Liverpool fans are right to be suspicious of Hansen's long term future, as the impressive Gulacsi returns from Tranmere and first choice 'keeper Pepe Reina still comparatively young as a goalkeeper Hansen's progress seems to peak as a second choice for Liverpool.
"My personal view of Hansen is that he's a solid, and talented, young goalkeeper. He's a big lad and commands his area to an extent, very well, he is also an adept shot stopper. However he is prone to lapses in concentration and lacks that little bit extra in his reflexes and kicking than our other talented goalkeepers.
He has a bright future as a goalkeeper. Is that with us? It would be unfair to say no, but you have to look at his direct competition which is Gulasci and the performances he has shown on loan at Tranmere and wonder whether he can match the young Hungarians exceptionally high level of displays. However I have no doubt that he will forge a career as a solid goalkeeper and could definitely become a dependable deputy goalkeeper at this club if he maintains his level of consistency." – DaggerToMyHeart
Main Attributes: Shot stopping, agility, large build
Main Weaknesses: Distribution
Comparable Players: Craig Gordon
VERDICT
Current Ability: 4/10
Potential Ability: 7/10
What level could he play at? Don't be surprised if he returns to Denmark
---
Remember Him? John Welsh
Today sees the introduction of a new feature to Second String Review, 'Remember Him?', which will document the careers of former Liverpool Academy and Reserve team footballers.
This weeks' featured player is former reserve team captain and England under 21 international, John Welsh.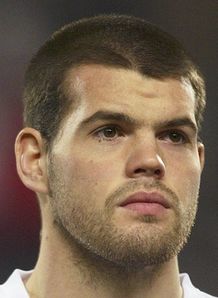 John Welsh
Age: 26
Nationality: English
Position: Centre Midfielder
Current Club: Tranmere Rovers
John Welsh was another one of the 'next Gerrard' crew which continues to plague every Liverpool youth player who dares to play centre midfield. Following on from the likes of David Mannix and Alan Navarro, Welsh was actually the most likely to live up to such a ridiculously high expectation.
Indeed, Welsh's brief stint in the Liverpool first team – a Carling Cup tie against Tottenham Hotspur at White Hart Lane – produced a performance which suggested a bright future.
However, things didn't work out for Welsh and in 2005 he was traded to Hull City for exciting winger Paul Anderson. Once again, Welsh seemed to struggle and never established himself for Hull City – injuries stopping his development several times.
Aged 25, Welsh had still not had a full year of first team football and so decided to move back to Merseyside with Wirral-based Tranmere Rovers. Having an inconsistent first year, Welsh still did enough to warrant his new contract and following a mass exodus in the summer of 2010; Welsh was handed the captaincy and has since developed into a great leader for the young Tranmere side.
John Welsh: The one time prodigy has finally settled at Tranmere
The View from the Cowsheds
One of our best players in my opinion, very good at controlling the midfield, think he's found his level although he could possibly play in the Championship again in the future – Tomm
one of our most important midfielders these days. Work horse, grafter with a little bit of flair. Breaks the game up in important areas and is prone to the odd wonder goal when going forward. well, one or two… i think he'll just be happy to be getting a few seasons of consistent games under his belt, prob for the first time in his career(?), and hopefully feels at home with us… – modman
since being made captain seems to have brought out the best in him, disappointed a bit last season at times but this season is turning into an influential player for us gets stuck in and really gives his all. – bigmart
Last season at times he was a bit hit & miss. This season he's been fantasic. Not afraid of putting in a crunching tackle. We miss him when he doesn't play – oxtonpete
Started off slowly but has turned into a fairly consistent player. Aggressive and not afraid to get stuck in, plays well with Jossy Labs – Rollover
---
Thanks for reading the second issue of Second String Review, as always, if you would like to leave comments they will certainly be added.
Next week we will look back at the Academy teams match against Notts County; have a better look at Reserve team striker Michael Ngoo and review the career another former Reserve captain, David Mannix.
Second string review is written by Michael Sweeting.