One of the biggest success stories in European football over the past decade has been that of German side Borussia Dortmund, we take a look at the similarities shared between 'BvB' and Liverpool FC.


Dortmund Fans [Copyright: KENCKOphotography]
Once a football power house in the 1990's, Dortmund went through a period of mismanagement and digression that took them to the brink of administration in 2003; to the point that Bayern Munich had to loan the club 2 million Euros for a couple of months to pay the players.
In 2005 the club almost went bust for a second time, with 80% being written off the value of its shares. Drastic measures included a 20% pay cut for every player.
Whilst the circumstances may have been different, fast forward to 2010 and there are real parallels with the situation Liverpool FC found itself in; teetering on the brink of administration, just five years after being crowned European Champions (Dortmund were European Champions in 1997).
But whilst the romance of the Dortmund renaissance has captured the imagination of football; it has been a long, hard slog back to the top of the game. The appointment of Jurgen Klopp in 2008 was a turning point on the pitch; but building a sustainable foundation has been equally important.
Dortmund and Liverpool share many similarities in identity (similar to Barcelona where Mes que un club – More than a club – is built into the DNA of a few, unique clubs in world football). But how does 'project Liverpool' stand up against 'project Dortmund' – what are the parallels – and what signs do they give us about how Liverpool's future may unfold?
The managers
The obvious parallel between Dortmund and Liverpool is the manager. There is no direct comparison between Klopp and Rodgers; but there is a similarity in how both clubs have taken a risk in appointing a young, unproven manager with no real pedigree.
Klopp was appointed Dortmund manager on the back of a stint at Mainz 05, where he had mixed success (win % was 40.15%), including qualification for the UEFA cup and a relegation. Rodgers background has a similar kind of feel to it, his stint at Swansea (win % was 40.63%) really moved the club forward, but his record at Reading and Watford was uninspiring.
Appointing a young manager with no real track record to speak of is a risk. But both Dortmund and Liverpool have taken the long term view with Klopp and Rodgers. Both clubs have recognised that a manager still in a development phase can grow into the role; and that attributes such as strong coaching and philosophy are an adequate substitute for experience.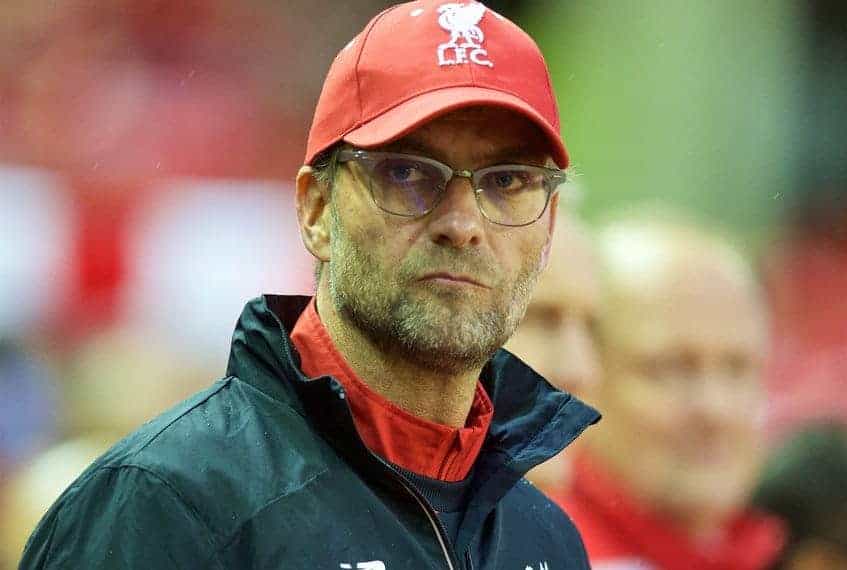 Dortmund boss Jurgen Klopp [Copyright: KENCKOphotography]
It is a risk to put your faith in an unproven manager, but Klopp has risen to the challenge at Dortmund, in the same way Liverpool hope Rodgers will step up.
There will naturally be comparisons between Klopp and Rodgers as they have both had a similar journey and faced similar challenges when appointed. But the comparisons end there. If Rodgers wants to succeed at Liverpool, I am sure that Klopp is one of a number of peers he will look at to drive his development.
Structure
It was widely publicised that the entire Dortmund squad that reached the Champions League final in 2013 cost in the region of 40 million Euros (Fernando Torres plus change). A team that boasted the likes of Gotze, Lewandiowski and Gundogan. All three of whom were relatively unknown before rising to prominence with Dortmund.
In many ways, Dortmund have changed the face of football. It has always been a widely accepted point of view that you can only succeed in football by spending vast amounts of money. The simple 'accepted' formula has always been: Buy the best players = success on the pitch.
But Dortmund have turned that on its head. They have proven, spectacularly, that by buying smart and through excellent scouting you can build a winning team within a relatively small budget.
There have been many references to Moneyball and Billy Beane since FSG acquired Liverpool in 2010; and the appointment of Damien Comolli was an attempt to apply some of the principles that have worked for the Red Sox in baseball to football. But the experiment didn't work, although the idea was the right one.
"I mean anybody who's not building a team right and rebuilding it using your model, they're dinosaurs."
— John Henry's line in the movie "Moneyball"
Dortmund (138.5m Euros revenue 2012) are arguably the Oakland A's of the football world. What they have been able to achieve with a small budget in comparison to Munich (321.4m Euros revenue 2012) is a game changer in how football clubs should now look to operate. Especially those clubs that have aspirations to be the best, but don't have the financial resources to take the most direct route.
The Dortmund model relies on an evolution of the playing squad; sourcing players that fit the manager's philosophy but are yet to reach the elite. This summer will be a testing one for Dortmund, they will be losing one, perhaps two of their best players in Gotze and Lewandiowski – so the replacements they bring in will determine if they can continue to build on the success of last season. But the track record they have of sourcing the 'hidden gems' sets them in good stead.
One of the most impressive things about Dortmund is that they have built a competitive side against the backdrop of building a sustainable infrastructure. They currently enjoy the largest attendances in the Bundesliga and have an 80,000 capacity stadium that caters for a wide demographic of supporter. The stadium has had multiple upgrades over the years, the most recent being in 2006. During the financially difficult years, Dortmund was forced to sell the stadium and they have had to sell the naming rights as part of the process in acquiring it back.
Dortmund are continuing to grow revenues, and the 31 million Euros they will be receiving from Munich for the purchase of Gotze will give them the resources to reinvent themselves again next season.


Mario Gotze [Copyright: KENCKOphotography]
The end game for Dortmund looks incredibly bright; they have built strong foundations on sustainability and have a structure that is allowing them to make the right 'football' decisions.
So what does this mean for Liverpool?
In my mind, the Liverpool journey is being plotted along the same path as Dortmund's. There are some major differences, but the broad strokes are very similar. There is often a lot of talk about the Arsenal model and how that is our ambition, but in reality, there are a number of clubs that have reinvented themselves, building from the bottom up from which we can learn, including Barcelona.
But at this point in time, it is Dortmund that can give us i) the biggest indication of where we want to go and ii) a great deal of hope that we can succeed.
One of the biggest leaps of faith for supporters in this model is going to be the movement of players. The one defining principle for success or failure at Liverpool is going to be how we recruit players. When Lewandiowski signed for Dortmund (fee of 4.5m Euros) he was an unknown, he is now one of the most sought after strikers in Europe.
That is the kind of deal Liverpool is looking for in today's market. The creation of the transfer committee has that singular purpose of unearthing players that have not yet caught the eye of the world. The signings of Alberto and Aspas fit that approach; both have been identified by the committee as players that can grow and thrive at Liverpool. In the same way Coutinho came in as a relative unknown, but has looked like an absolute steal at £8.5m.
It is difficult to keep perspective in the transfer window, and the media narrative can be torturous as a supporter. But whether it is Liverpool or Dortmund, clubs will always have a list of targets that they methodically work through, with the realisation that even when you have unlimited resources, you don't always get your first choice.
Despite selling out an 80,000 stadium every week Dortmund (16th) is still a way behind Liverpool (9th) in the revenue league – although that gap will close as Dortmund continue to grow. So whilst Anfield redevelopment remains a long term priority for bridging the gap on the 'biggest' earners, it doesn't have to be a barrier to success.
The supporters
The one area where Dortmund is a way ahead of Liverpool is the relationship with supporters and a link to its identity. The scenes following Dortmund's progression to the 2013 Champions League final is how football should be. That bond between players and supporters, the sense of one club.
Retaining a local identity is something that comes easier for Dortmund as the majority of the support base is local. The reason Dortmund's revenues are still relatively low is probably because they have yet to take on the 'global' market. As they continue to grow, that will perhaps become a more difficult balance.

It is also easier for Dortmund of course because they are essentially owned by the supporters. That makes the supporters the masters of the clubs destiny, with the only agenda being success. It is the idealistic model for any football club, and the Bundesliga has found the right formula. In some ways it is the polar opposite to the Premier League where supporters are seen more as 'consumers' than 'stakeholders' in the modern game.
But that isn't to say that kind of relationship between supporters and club is impossible in England. If you look back at the Champions League semi-final of 2005 against Chelsea at Anfield, and then Istanbul, those scenes were special. When we won the UEFA Cup against Alves, ironically at Dortmund's Westfalenstadion, the team sang 'You'll Never Walk Alone' with the supporters. Dortmund's celebration after knocking Madrid out of the Champions League last season reminded me of that night.
The link between the players and supporters at Liverpool is still strong. The link between the boardroom and supporters, especially locally needs some work, but there are lessons we can learn from Dortmund, and German football in general.
Reinventing Liverpool FC
There are so many things to admire about Dortmund, and also a great deal we can learn from them. We are currently going through a process of reinventing ourselves; in the same way Dortmund have done so successfully. The obvious difference is that Dortmund are supporter owned, and Liverpool are owned by FSG who ultimately want to see a financial return. But it is going to be success that drives that financial return – so those two agendas are not as different as you would think.
It is going to require a few leaps of faith and a great deal of patience, as there will be failings and setbacks on the way. But after taking Dortmund to 6th and 5th place in his first two seasons, Klopp won the Bundesliga in season three. That has acted as a catalyst to take Dortmund back to the top of the game with a sustainable foundation.
There are no guarantees Liverpool will achieve similar under Rodgers, but the fact that our journey feels similar to Dortmund's means we are probably looking in the right direction.