Arsenal's hopes of signing Luis Suarez are fading quickly, and Arsene Wenger has turned his attentions to pursuing a move for Manchester Utd striker Wayne Rooney, according to the Telegraph.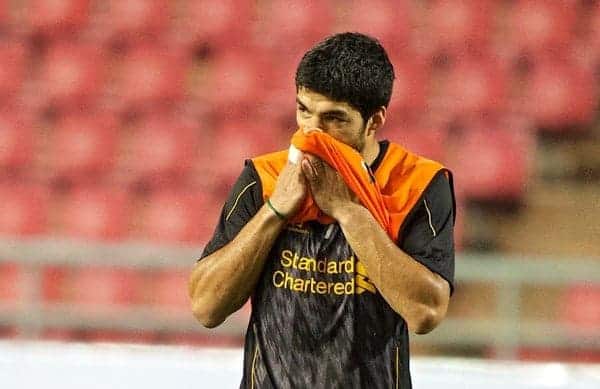 Liverpool made it very clear this week that they are not prepared to sell Suarez to anyone, when principal owner John Henry put his foot down in a series of interviews with British newspapers.
That came after Suarez had himself used the papers as a tool to try and force his way out of Anfield, for which – as well as his below-par performances in pre-season – exiled him to train on his own this week.
Today Jeremy Wilson of the Telegraph says Arsenal are now looking at signing want away England international Rooney from United as an alternative to Suarez.
Chelsea have had two bids turned down but there is also now competing interest from Arsenal, whose chances of buying Luis Suárez from Liverpool are in serious doubt. There is a theory that United could yet prefer to deal with Arsenal rather than Chelsea as they are regarded as less of a direct rival for the Premier League title.
The Gunners have already had two bids for Suarez turned down, the latest being for £40million + £1, a fee they believed would trigger a release clause in the Uruguayan's contract.
However, this week PFA chief Gordon Taylor revealed there is no such clause in Suarez's contract with Liverpool, despite the player's claims.
Reds boss Brendan Rodgers has compared his transfer valuation of Suarez to that of Tottenham's Gareth Bale, who could be set to join Real Madrid for almost £100million.
But, Wilson writes today:
Arsenal have yet to follow up their interest with a formal bid and have still not completely given up on Suárez, despite Liverpool's very public insistence that he is not for sale. A final bid of around £45 million remains likely but Arsenal are also considering other options, including Rooney.
The saga continues, but it at least looks like it's cooling. Is there any way back into Liverpool for Suarez though?