Brendan Rodgers this week urged Raheem Sterling to focus on football. Aaron Cutler urges him to listen to his manager.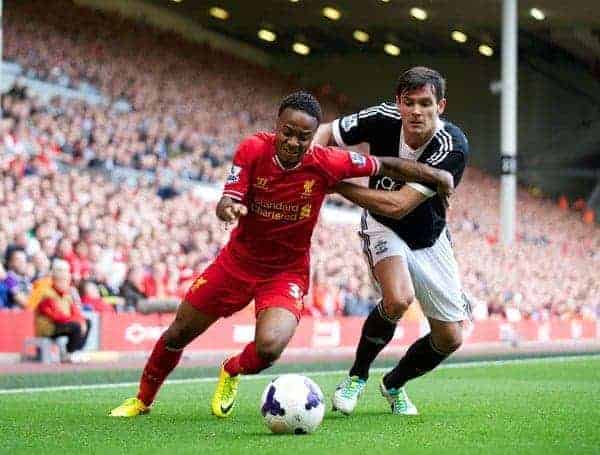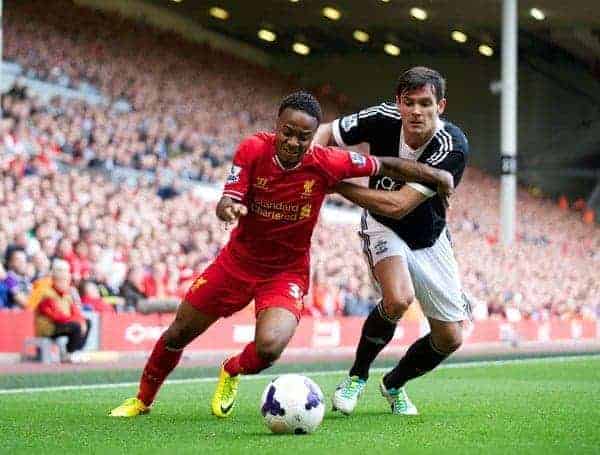 When Raheem Sterling burst onto the scene last season he did so with fervent energy. Lightening quick with a touch and trick to boot, his was a genuine success story in an otherwise laboured start to the campaign.
At just 17, this slight winger was starring in match-ups against the Premier League's baddest, burliest defenders. Far from overawed he rose to every challenge, graduating from prospect to key first teamer in a matter of weeks. Assists, goals and even an England call-up followed in a whirlwind six months.
With each passing performance comparisons were made to teenage sensations of yesteryear, Sterling a new protégé to rival Robbie Fowler and Michael Owen. Then came the drop-off.
Overplayed and perhaps overhyped, Sterling tailed-off quite dramatically at the back-end of the season. His decision making betrayed him, as did that initial zip that defined his early prominence. A victim of our small squad, he figured 36 times, far more than anyone envisaged or hoped.
The pressure of playing for Liverpool can overwhelm seasoned internationals, let alone those barely out of school uniform. Mentally as much as physically, Sterling appeared drained by his meteoric rise. Brendan Rodgers acted accordingly, withdrawing him from the limelight in February.
Refreshed and reinvigorated, the youngster has come into this season desperate to recapture that early promise. This year he faces far more competition, a positive both for the club and player himself. No longer a guaranteed starter, the nippy winger must prove his worth all over again. Not only that, he must start conducting himself like a Liverpool player.
Rodgers fired a shot across the bows on Thursday, urging his starlet to concentrate on football matters. At just 18 Sterling has found himself entangled in a series of unsavoury incidents, including a court case two weeks ago. The breakdown of such was as pathetic as it was amusing but should serve as a reminder to avoid scrapes of its kind.
Youthful unruliness is nothing new, indeed Sterling look only at Steven Gerrard and Jamie Carragher as examples of 'scallies' who matured into fine players and men. The teenager now finds himself at the same crossroads they navigated – whereby he falls by the wayside or fulfils his tremendous potential.
There is a role for him in this Liverpool side. A left-winger by description, he entered the fray to good effect as a number 10 yesterday. Moreover, he has also featured on the right and as a full-back for the Under 21s.
One of Sterling's biggest traits is his ability to carry the ball, something few of our squad possess. Sometimes he wanders down a blind alley but he relieved pressure to great effect at the Stadium of Light, winning a free kick late-on after beating two men.
The man Sterling replaced yesterday – Victor Moses – does similar and it is he the youngster must target. Being a loan signing, Moses whereabouts next year is debatable. In the meantime he is seen as an experienced alternative to Sterling and for a season at least could bring out the best in the England youngster.
With Moses ahead of him in the pecking order and Jordon Ibe threatening his role as impact sub, Sterling has stiff competition which should ignite his performances. When introduced he must stake his claim and make Rodgers think twice about finalising any deal for the Chelsea wide man.
It is worth remembering that Raheem is only 18 and at the outset of his career. He is very raw and will hone his attributes in time. Nevertheless there are certain aspects to his game which need developing with greater urgency than others. One is his end product.
Too often he finds himself in dangerous areas but lacks purpose. He meanders when a direct approach is needed. Beat your man and either head for goal or fire in a telling cross. The centres themselves could also improve, particularly when we break on the counter-attack. He fizzed in balls for Luis Suarez to notch against both Sunderland and Wigan last term but they were collector's items; too often he suffers from indecision.
Another pressing area for improvement is goal-getting. To date Sterling has three strikes to his name, the most recent coming against Notts County in the League Cup. Nobody is expecting him to plunder 15+ but when deployed in a front three you must provide a goal threat of some kind. Suarez, Daniel Sturridge, Philippe Coutinho and even Moses offer that – Sterling does not.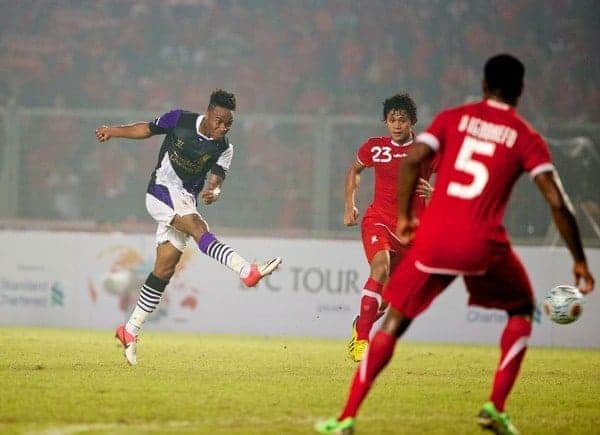 Again it is important to stress he is just 18. These are the formative years of his footballing career and big improvements are likely once he hits his twenties. Nevertheless there is no harm in sharpening those skills now and offering Liverpool another dimension to their attack.
Certain sections of the fan base have been quick to jump on his back and question his future worth. That is crazy as this 'dip' is something which impacts most youngsters at this level. The fact he showcased his qualities before such time is evidence enough he will be a top, top player. The key for Brendan Rodgers and Liverpool is nurturing his talent, fine-tuning his numerous qualities and ensuring he stays on the straight and narrow. Should that criteria be met, he has every chance of going on to enjoy an excellent career.
The team itself returned to winning ways this weekend but were far from convincing. There are two major positives to take from the season to date. One is our rivals seeming inconsistency. City, Chelsea and most notably United have endured wobbles, suggesting the race for Champions League football may be more open than first predicted.
The second plus point is our results in correlation to performances. We have yet to hit top gear but find ourselves second. Too often in recent times we have played brilliantly only to suffer the disappointment of a draw or ignominy of defeat. This season we have yet to piece together a solid 90 minutes but find ourselves firmly in the mix – a reflection of our opening to the 2008/09 campaign.
Southampton aside we have found a way to get over the line and take something from games, the hallmark of a good side. With Suarez restored and Coutinho and Johnson hot on his heels our level will surely improve, which can only bode well.
In terms of general play our inability to keep the ball is a real concern. Brendan Rodgers' mantra of possession football is not currently being meted out, with worst case scenarios evidenced away to Swansea and at home to Saints. When teams press high it disrupts our rhythm and we struggle to find a foothold. This must be addressed.
So too must our defending of set pieces. Granted we dealt with such situations yesterday but every time Sunderland tossed one in a collective gasp of dread was palpable. The goal that won United progress in the League Cup followed on from Southampton's headed winner at Anfield. Both were inexplicable goals to concede and cost us dearly.
Another topic for debate is our midfield duo. Before the United fixture we clearly missed a link between midfield and attack – namely Coutinho. Whether it a tactical ploy or a matter of fitness, there was precious little emanating from Messers Gerrard and Lucas. The 3-5-2 formation deploys Moses as that go-between but in our standard system this pair need to step-up – both practically and metaphorically.
You could question whether there is a need to play both. Lucas is a destroyer who offers absolutely no goal threat. With Gerrard playing deep alongside him there is precious little stemming from this area. Instead the emphasis is on Jordan Henderson to chip-in with goals, something he has failed to do on a regular basis.
Could Henderson drop into a deeper role and allow Joe Allen license to roam? Likewise could Allen and Henderson combined free Gerrard? The suspension of Lucas may bring-about change this coming weekend. Who knows, Rodgers may stumble upon an answer to this ongoing concern.
In all 13 points from a possible 18 is a healthy total and one we would have accepted before a ball was kicked. A 100% return is essential in October as the fixture list becomes decidedly tougher thereafter. The key for us is staying in the mix for as long as possible. By doing that we can have a say in matters, something we have failed to do in four long years. If you can keep your head when all about you are losing theirs…