Following Liverpool's emphatic win at home the Manchester City on Sunday, Jack Lusby assesses each team's chances in the title race, and just how important this result may prove to be.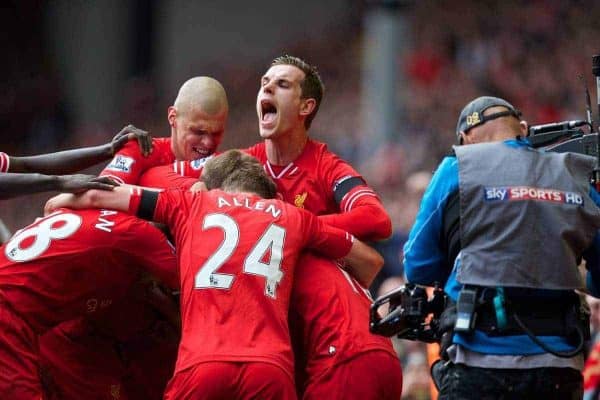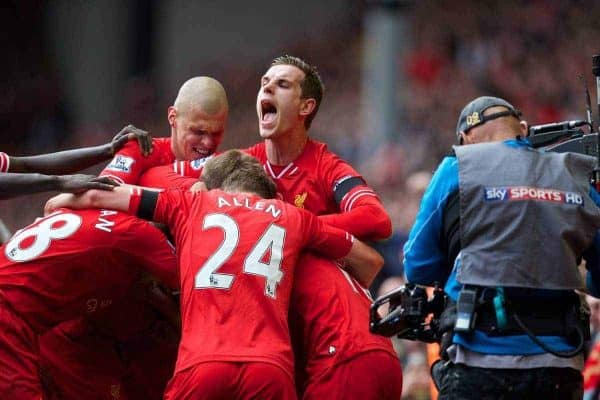 LIVERPOOL 3-2 MANCHESTER CITY
Sunday, 13th April 2014
In what was billed as the most significant league game for Liverpool football club for the past 24 years, Sunday's 3-2 victory over Manchester City at Anfield has earned the Reds an important lead when it comes to the Premier League title race.
A pair of mesmeric performances by Phillipe Coutinho and Raheem Sterling, aided by a phenomenal atmosphere and a newly fostered self-belief, pushed the club towards victory in what eventually proved to be a rigorous encounter.
Not only propelling Liverpool into a legitimate points lead for the first time since the club's title charge began in earnest, Sunday's result will prove to be key within the title race; however, three clubs remain in the hunt and, while one will be nursing their wounds this week, each will have their eyes set firmly on the Premier League title.
Naturally, not involved in Sunday's title bout, Jose Mourinho's Chelsea edged out Swansea City with a 1-0 away victory in a tie which immediately followed Liverpool's victory.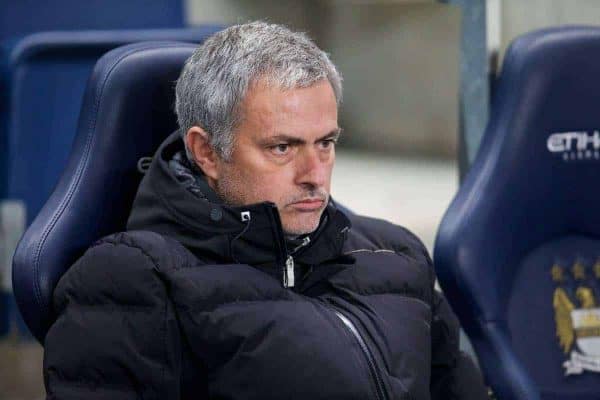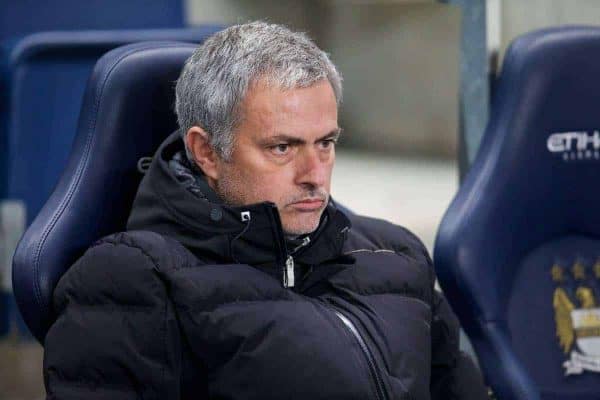 As a triumphant 'You'll Never Walk Alone' echoed around Anfield, the Portuguese manager will have been well aware that his forthcoming tie would now be a must-win.
His charges, adept at grinding out a win – aided by a trademark thirst for victory – didn't perform at anywhere near their peak, and had to make do with a rare Demba Ba strike; finishing the game at a meagre 1-0 against a team who played with 10 men for over two-thirds of the bout suggests that the Stamford Bridge club struggled to hit top gear.
However, a priceless three points in this away fixture leaves Mourinho's team two points behind Liverpool, and a visit to Anfield on the 27th is now unavoidably crucial within this title race.
Much to the Reds' rapture, Chelsea have the distraction of a Champions League semi-final to look forward to, and these games – against Diego Simeone's resplendent Atletico Madrid side – bookend the fixture at Anfield.
Furthermore, a current injury to key player Eden Hazard would aid Liverpool's chances immeasurably if he were to continue to struggle for fitness – the club limping over the line without the player at Swansea indicative of his influence – and HereIsTheCity.com quotes Chelsea assistant manager Steve Holland in regard to this issue:
"[E]very player is fit with the exception of Eden. He should be back sooner rather than later, it's still a little bit too early to say for sure…I can't stress enough the extra demand the Champions League brings."
Liverpool fans will be hoping the Belgian's absence, along with the distraction of the Champions League – Roman Abramovich's coveted jewel – can affect the London club's title run, but don't count Mourinho's men out just yet.
The loss to Liverpool on Sunday will have rocked the Manchester club to no avail, there's no doubt about that.

As Coutinho's late snap shot spun away from the grasp of a sprawling Joe Hart, Manuel Pellegrini's men surrendered any opportunity of securing a vital three points at the expense of their title rivals; more significantly, for the first time the Citizens no longer hold sway with their games in hand.
City now lie third in the table, much like prior to the Anfield clash, but whilst they still have two games in hand over both Chelsea and Liverpool, winning both no longer leaves them top of the table.
The club are now in the worst position of the title candidates, and many factors could contribute to their downfall in weeks to come.
Firstly, whilst games in hand can often be considered a bonus, the psychological impact, of knowing that every game is a must-win, aided by the knowledge that the title race is now out of their hands, could well go against Aguero and Co.
Furthermore, Aguero is one of many players currently suffering from injury of sorts in this pivotal period – he was introduced on 68 minutes and remained subdued throughout, placing their hopes on the Argentine as he struggles back to full fitness may hamper the Manchester club's chances.
Another key man, midfielder Yaya Toure, limped off after only 14 minutes against Liverpool, and it could be argued that his absence offered the Reds a helping hand towards victory.
A potential lay-off for Toure, and difficult games away to Crystal Palace and Everton, could well be the final nail in the coffin for Pellegrini's title hopes.
Liverpool
It remains baffling for the modern Liverpool fan to be in a position of such optimism in terms of the Premier League title race but, rub your eyes as many times as you like, the table now suggests that the Anfield club are in the best position possible.

Two points clear of Chelsea, and seven ahead of City, with four games to play puts Brendan Rodgers' men in an outstanding position when it comes to heading for the title.
Some consistently scintillating football, from the back-four to the continually impressive front-line, underlines the Reds' first genuine chance for the title in many years.
However, as captain Steven Gerrard outlined in an emphatic post-match speech on Sunday, the Reds cannot afford to get complacent in this most important of stretches (video contains expletive):
[youtube http://www.youtube.com/watch?v=P42bQ37FKqs&w=560&h=315]
Liverpool are set to travel to Norwich on Easter Sunday, followed by the all-important tie at home to Chelsea and games against Crystal Palace and Newcastle, and Liverpool's inspirational leader hits the nail on the head.
Every game is now a cup final, every game is a must-win, and mathematically Liverpool are now in the best position to go on and win the league.
Can Liverpool now be considered the genuine favourites for the title? Let us know in the comments below.