Liverpool welcome Chelsea to Anfield on Sunday afternoon looking to secure another massive three points as they go in search of title glory. Ben Twelves discusses the team selection options for Brendan Rodgers ahead of the title clash.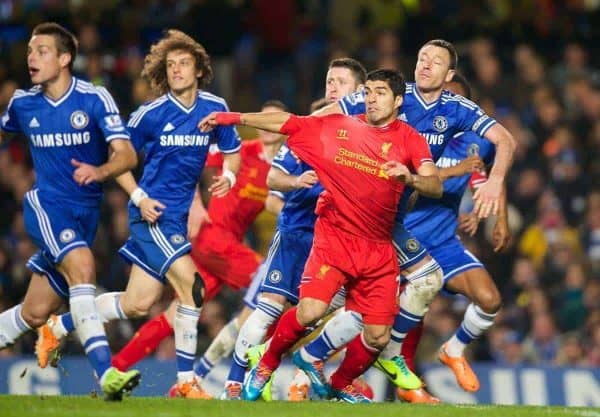 A nervy but hard-fought 3-2 win over Norwich City last Sunday, the 11th in a row for Liverpool, saw the Reds achieve their season objective officially confirming their place back amongst Europe's elite for next season's Champions League campaign. Also guaranteeing a finish of no lower than third, the Reds astonishingly opened up a luxurious five point gap at the top of the Premier League with only three games left to play. Just let that sink in.
The finishing line is now firmly in sight for Brendan Rodgers' side, who show no sign of passing up the clubs' best opportunity for title glory for over two decades but as ever, the manager insists that the focus remains solely on the next game, of which this time is a mammoth encounter as second place Chelsea arrive at Anfield.
A late penalty from on-loan Red, Fabio Borini, saw Jose Mourinho's side concede ground in the title race, meaning that it is very much win or bust as far as the Londoners are concerned. For Liverpool, the mantra remains the same and while it would be extremely helpful of other teams to do us favour where Man City are concerned, much like Sunderland have, it is essential Liverpool stay focussed and concentrate on themselves.
Selection & Formation
Liverpool go into the crunch clash with big question marks continuing to hang over Daniel Sturridge's availability for the match, which Jordan Henderson will miss as he sits out the second of a three match suspension. Jose Enrique remains the only long-term absentee and assuming everyone else in the squad is fit, Rodgers' team selection could be very similar to the team that won at Carrow Road last time out.
Without these players available the starting eleven picks itself. What is up for debate however, is the formation that Liverpool line up with but as displayed even more so in recent weeks, the flexibility that we currently have within the squad allows us to adapt instantly as the game pans out. Raheem Sterling continued to flourish in his central role buzzing around Luis Suarez, and European football's best young prospect was joined by Philippe Coutinho, who operated both behind and slightly wide of the two goal-scorers, creating a three-man attack on occasions.
Despite conceding two goals, it would be a surprise to see Rodgers tinker with the back four and a mobile Chelsea attack is likely to see Mamadou Sakho keep his place alongside Martin Skrtel at the heart of defence, with Daniel Agger remaining on the bench. With Henderson out, it's safe to assume that Steven Gerrard, Joe Allen, Lucas Leiva and Coutinho will make up the midfield.
However, in his pre-Norwich press conference last week, Rodgers did comment that Sturridge is notoriously quick at recovering from injuries and if this was to happen, the question would be does he start from the off or from the bench. Rodgers' has tended to keep faith with those that did the job last time out but the threat that Sturridge gives to the team could persuade him to throw the former Chelsea-man straight back in. This should be at the expense of Lucas Leiva, who unfortunately looks as if injuries have taken their toll on the immobile midfielder, who despite starting well last Sunday, faded very quickly.
The Line Up
Last Sunday, Liverpool lined up as below, in a diamond shape and unless a recovered Sturridge is back available for selection, it's highly likely Rodgers' side will remain like so:
If Sturridge does recover in time for the match, it could be tempting to drop Lucas Leiva, put Coutinho into a deeper midfield role and drop Sterling behind Suarez and Sturridge, keeping a diamond formation. That would see Liverpool look like this:
Winning seven points from the last nine available would be enough to see Liverpool crowned champions of English football for a long overdue 19th time. Another monumental effort from all those at Anfield on Sunday is needed, as the Reds' prepare for the first of three final pushes in their battle to secure what would arguably be the clubs' best ever title win.