Assistant boss Colin Pascoe took Liverpool's pre-Swansea press conference at Anfield on Monday afternoon ahead of the League Cup fourth round tie on Tuesday night.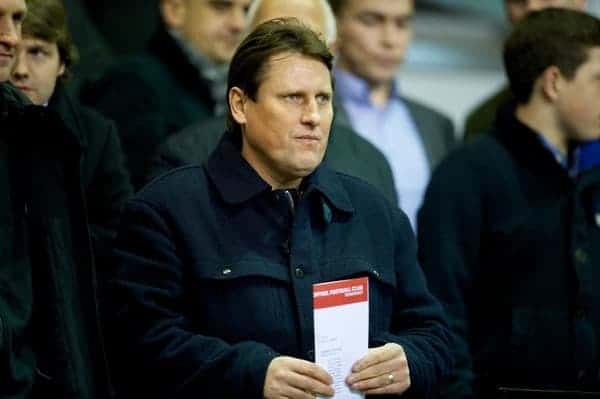 Assistant boss gave little away over team selection
Mamadou Sakho faces another two weeks on the sidelines
Mario Balotelli is not affected by the scrutiny he is under and has the hunger to succeed as a Liverpool player, according to Reds assistant boss Colin Pascoe.
Balotelli has scored just once in his first 11 appearances for the Merseysiders and the maverick striker left his manager Brendan Rodgers less than impressed last week when he swapped shirts with Pepe at half-time during the 3-0 Champions League loss to Real Madrid.
Rodgers was complimentary about Balotelli's performance in Saturday's 0-0 Barclays Premier League draw with Hull, though, and has since spoken of his confidence in the Italy international's willingness to "learn", as well as about the support he is receiving from the club.
Those words were backed up by Pascoe ahead of Tuesday's Capital One Cup fourth-round clash with his and Rodgers' old side Swansea at Anfield. Asked at the pre-match press conference on Monday about the effect the attention focused upon Balotelli was having on the 24-year-old, Pascoe said: "Nothing really.
"He works hard, he is a great talent and every day on the training pitch you can see he wants to do more. At the end he is always asking to do more things.
"Everything will be alright with Mario because you know his hunger is there and he wants to win.
"After every training session he wants to do shooting, passing – he wants to do everything, to work on his game. We as coaches will help him that way."
Balotelli was always likely to generate headlines following his move to Liverpool from AC Milan in August. But things have been particularly intense for him given, in the absence of the sold Luis Suarez and injured Daniel Sturridge, he has struggled for goals while leading the line for a club who excelled last term but have made a shaky start to the current campaign.
Tuesday's game might be deemed a good opportunity for Balotelli to break his eight-match scoring drought – or for him to be taken out of the spotlight for an evening. Either way, Pascoe was giving little away as to his chances of retaining his starting spot when Liverpool's players are rotated for the tie.
"We have strikers and midfielders who can step in as we rotate it," said Pascoe, who watched from the Reds bench as Swansea won 3-1 at Anfield in the Capital One Cup fourth round two years ago.
"It is not all about Mario here – you have (fellow strikers) Rickie Lambert or Fabio Borini that can step in. It may be one for Mario, but we'll just wait and assess everyone and decide then."
Balotelli and Lambert played together for part of Saturday's game after the latter came off the bench. And asked about using Balotelli alongside someone rather than as a lone frontman, Pascoe said: "With Mario and Rickie working together and linking up, it worked well, and when Daniel gets back, the three of them can cause a problem to any team.
"At Tottenham (a 3-0 win) with Mario and Daniel up front we put in our best performance of the season so far – that worked well."

Meanwhile, Pascoe insists Sturridge has just been "unlucky" with his injuries. The England man was ruled out for two to four weeks earlier this month with a calf problem, having only just recovered from a thigh injury sustained on international duty. Rodgers admits Sturridge needs to get a consistent run of games if he is to become one of Europe's top strikers.
And Pascoe, asked if there were concerns long-term about the 25-year-old continuing to have fitness issues, said: "No, not at all. "He is a great pro, he looks after himself well and he has just been unfortunate."
Another Liverpool player currently on the sidelines is defender Mamadou Sakho. A few days after Sakho, who had not been named in the squad for the match, departed Anfield during the 1-1 Merseyside derby draw with Everton in September, Rodgers confirmed the France international had sustained a thigh strain.
And giving an update on Sakho on Monday, Pascoe said: "He's progressing well. "He'll be another couple of weeks, and hopefully he'll be available then."
Then asked if there were any issues with the player with regard to what happened in the derby, Pascoe said: "As soon as he's fit and raring to go he's available."
PA