With Liverpool linked with a move for Real Madrid midfielder Isco, Jack Lusby believes that this wouldn't address the problems in the squad.

With the Premier League entering another break due to the Adrian Chiles-embossed dirge of another international jaunt, and nearing the January transfer window, speculation has begun in earnest.
Liverpool's first big-name link has surfaced in the form of Real Madrid and Spain playmaker Isco, and a bid of at least £30 million is reportedly in the offing, with the Liverpool Echo entertaining the story.
"Reports suggest the Reds have made him a priority target in the winter transfer window. The 22-year-old could cost upwards of £30m and has been capped four times by Spain."
This would definitely solve one perceived issue, as Reds boss Brendan Rodgers seemingly feels.
The manager recently bemoaned his side's inability to bring in big-name signings, claiming "we know what targets we wanted and what was out there, but for one reason or another they are not here and gone elsewhere."

This summer's big regret was the failure to sign Chilean virtuoso Alexis Sanchez, and the Arsenal man would have been a perfect replacement for Luis Suarez.
Furthermore, if Liverpool had gone and signed players of the calibre of £80 million Angel di Maria and £32 million Diego Costa, performances would undoubtedly have been improved, to say the least.
Rodgers' side are not in a position to do so, however, even with the added attraction of Champions League football, and the signings of Emre Can, Alberto Moreno and Javier Manquillo this summer have proven canny so far.
It is more in Rodgers' failure to address long-standing problems within his squad that Liverpool are now suffering.
Signing Isco would not deal with these.
Isco
.@isco_alarcon reaches 50 wins with Real Madrid! http://t.co/iWygraZBD7 #HalaMadrid pic.twitter.com/Xy66XMufzK

— Real Madrid C.F. ???? (@realmadriden) October 19, 2014
The signing of James Rodriguez by Madrid this summer has busied Carlo Ancelotti's forward line even further, with the £60 million Colombian effectively demanding a starting role after a long run of exceptional form.
This does work to marginalise the talents of Isco, but that is far from saying the Spaniard hasn't been shining this season.
Take the midfielder's outstanding performance against Liverpool in the two sides' first Champions League encounter at Anfield this season.
https://www.youtube.com/watch?v=6aUWvotfNqE
Isco started on the left-hand side of midfield, replacing the injured Gareth Bale.
The 22-year-old set to tear apart the Reds' defence with some ingenuous attacking play and an infectious work rate.
Isco's performance against Liverpool was just unreal! Simply too magical! pic.twitter.com/ejP75efwRc

— HALA MADRID (@RMadridCastilla) October 23, 2014
Elsewhere, arguably the Spaniard's best performance in this La Liga season so far came in Madrid's 5-0 away victory over Levante in mid-October.
Nicholas Rigg of ESPNFC detailed this showing perfectly: "Madrid's man of the match with a starring performance that included a sizzling goal, a superb assist and everything in between."
Isco would bring many qualities to this Liverpool side, and would undoubtedly boost the ranks as a genuine, world-class prospect, with a versatility that lends to Rodgers' system.
However, would these qualities truly address the areas that are in most need at Anfield?
Liverpool Issues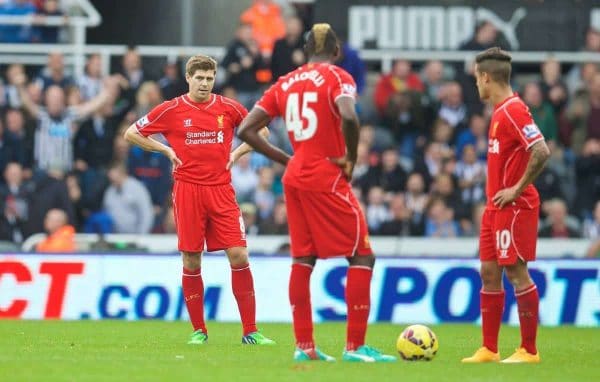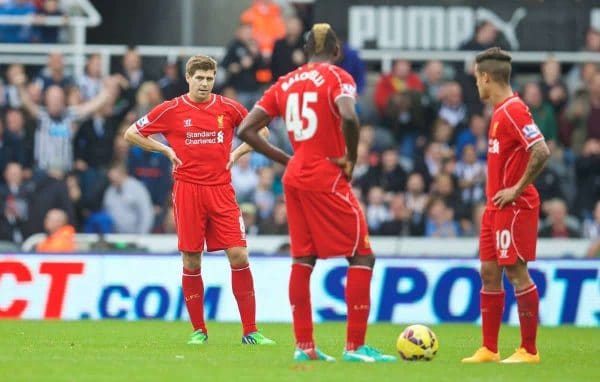 This season's downturn in form has culminated in this most miserable of international breaks, with the triple-header of losses away to Newcastle United and Madrid, and at home Chelsea, leaving Liverpool in 11th in the Premier League and with work to be done in the Champions League.
Two of Rodgers' defensive signings in Simon Mignolet and Dejan Lovren have looked completely devoid of confidence in goal and at centre-back respectively, and this fear spreads.
Chelsea took advantage of this with a high press at Anfield, containing the Reds for much of the game.
This is what Liverpool did so well last season, with the high-energy contributions of Suarez, Daniel Sturridge and Raheem Sterling pinning opposition defences in their own half.
In turn, this would allow Steven Gerrard to flourish as a regista, spreading play from a deep-lying, aided by the legs of Jordan Henderson. Now, Gerrard is the opposition's target.

With Mario Balotelli replacing Suarez, and with Sturridge injured for much of the season so far, Liverpool have looked far from the devastating attacking force of last term, unable to cover for their defensive deficiencies.
With so many issues to confront, one marquee signing will not transform Liverpool's season.
Plumping for another big-money midfielder would bypass many more cancerous areas, and there is precedent in the Premier League to prove that this is not the way forward.
Juan Mata and David Moyes
Medical complete, deal done. @JuanMata10 is a Red! #mufcmata http://t.co/DmXTk5z44e pic.twitter.com/TjgzjPhWvl

— Manchester United (@ManUtd) January 25, 2014
One such glaring example of this was Manchester United's signing of Spanish No. 10 Juan Mata last season, in a move which then-manager David Moyes ostensibly saw as the solution to all of his side's woes in the Premier League.
United were in an amplified version of the situation Rodgers' side find themselves in at this juncture, with a toothless midfield and a diminishing back line.
Bringing Mata into the club did undoubtedly boost spirits, and performances picked up on occasion, but Moyes' downfall was ignoring the problems elsewhere in favour of making this one marquee signing.
United defender Phil Jones claimed that "it makes an impact in the dressing room when you sign a player of that calibre," continuing that the motivation is to "show him that we are one of the best teams to be at."
However, this is only truly relevant when the personnel are capable, and the early signs of the problems areas in this Liverpool squad suggest replacement is necessary.
Isco: "We're on a roll and ready for the stretch of the season coming up" http://t.co/kG3FL3VyDa #LEVvsRealMadrid pic.twitter.com/WFLazRio6Z

— Real Madrid C.F. ???? (@realmadriden) October 18, 2014
Signing Isco would not provide Liverpool with a defensive leader, it would not transform Gerrard or Lucas Leiva into the requisite dominant, ball-winning midfielder, and it would not relieve the pressure on Sturridge as the side's only dependable striker.
A great signing though it would be, Brendan Rodgers throwing the chequebook at Real Madrid to sign Isco would ignore the more pressing issues infecting his squad.
Could signing Isco salvage Liverpool's season, or would his signing ignore other issues? Let us know in the comments below.