The transfer window opens next month and no matter who Liverpool sign, hopefully they won't turn out to be as bad signings as these were!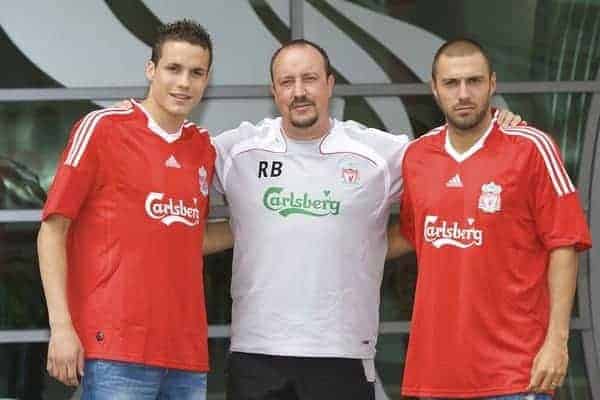 It's fair to say that Liverpool, like any club, have had a pretty mixed time of things in the transfer market since the start of the 21st century.
The likes of Luis Suarez, Fernando Torres, Xabi Alonso and Javier Mascherano all became Reds legends during their respective times on Merseyside, but for every good purchase there has been a shocking one alongside it.
Depressingly, there are quite a substantial number of players to look at when picking the most failed buys since 2000, with failure to reach their potential and inflated transfer fees both playing a big part in the selection process.
Here are the top 10:
10. Fernando Morientes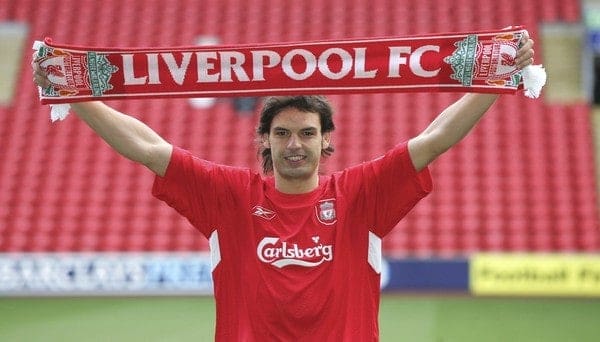 When Liverpool signed Fernando Morientes for £6.3m in January 2005, there was plenty excitement over the move. The Spaniard had scored nearly 100 goals for Real Madrid, and was expected to bring real quality to Rafa Benitez's squad.
Despite only being 28 when he made the move to Anfield though, Morientes looked like a player past his peak, and simply never got going.
He scored just three times in 15 appearances during his first half-season with the Reds, and was cup-tied for their incredible march to Champions League glory.
The former Spain international lasted just 18 months in England before returning to his homeland to play for Valencia. 12 goals in 60 Liverpool appearances was just not good enough for a proven international striker.
9. Stewart Downing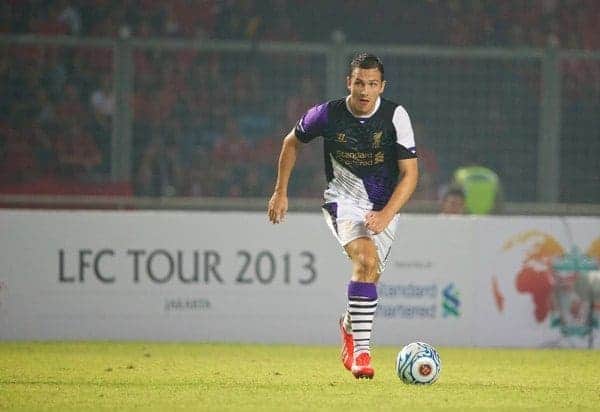 Liverpool paid £18.5m for the services of Stewart Downing in the summer of 2011, with many tipping the Englishman to finally reach his potential alongside better players.
That fee seemed to work against Downing from day one though, and more often that not he looked like a player terrified to do anything risky on the ball.
Despite being an attack-minded winger, he scored just seven times in 91 Reds matches, and failed to find the net in the Premier League in 2011/12, despite playing 36 times.
Downing is not a bad footballer, far from it, but he never had the personality and belief to be a success at Liverpool. It was an enormous amount of money wasted.
8. Bruno Cheyrou

As soon as Bruno Cheyrou was dubbed "the new Zidane" by manager Gerard Houllier, the Frenchman appeared to be on a hiding to nothing. He was a complete flop on Merseyside.
The then 24-year-old was expected to come in and add goals and guile from midfield, having scored 15 times for Lille prior to his move in May 2002, but it was soon clear that he was out of his depth in the Premier League.
Physically he was weak, he lacked pace and his work-rate was lacking, and barring a winning goal at Chelsea and two against Newcastle in the FA Cup, Cheyrou was a major letdown.
7. Andriy Voronin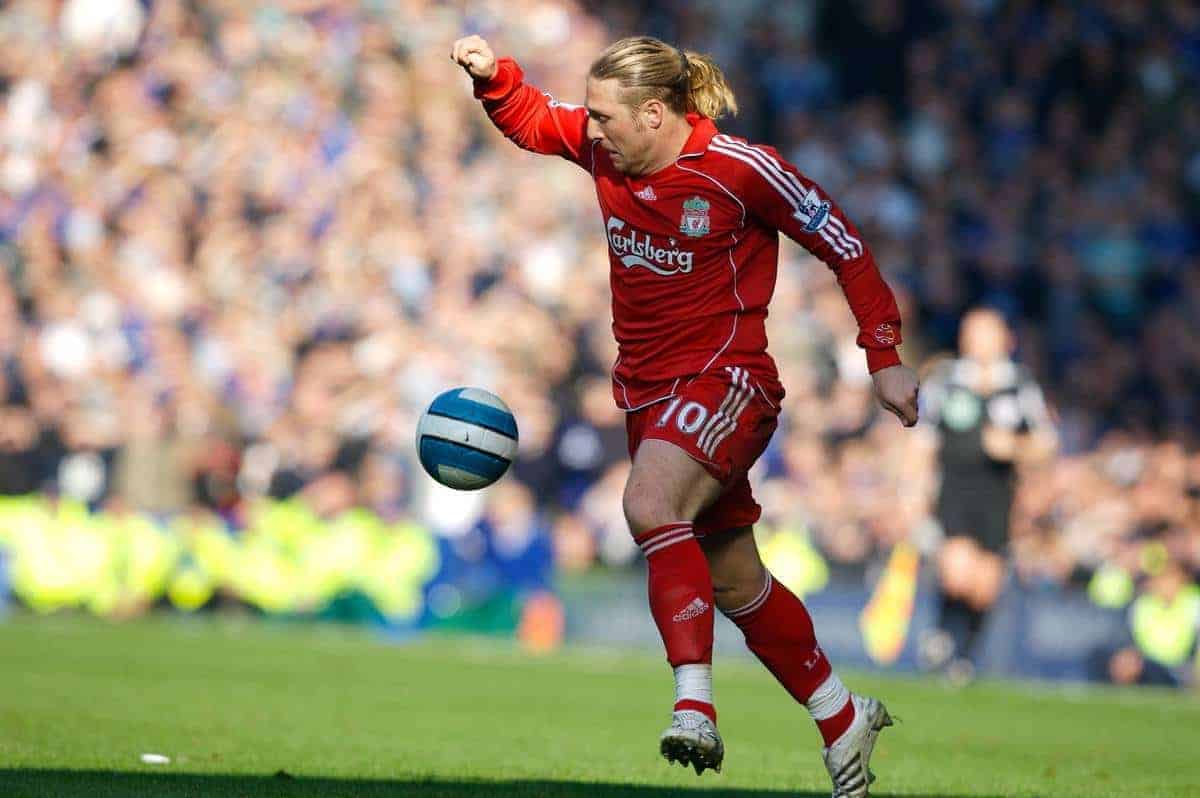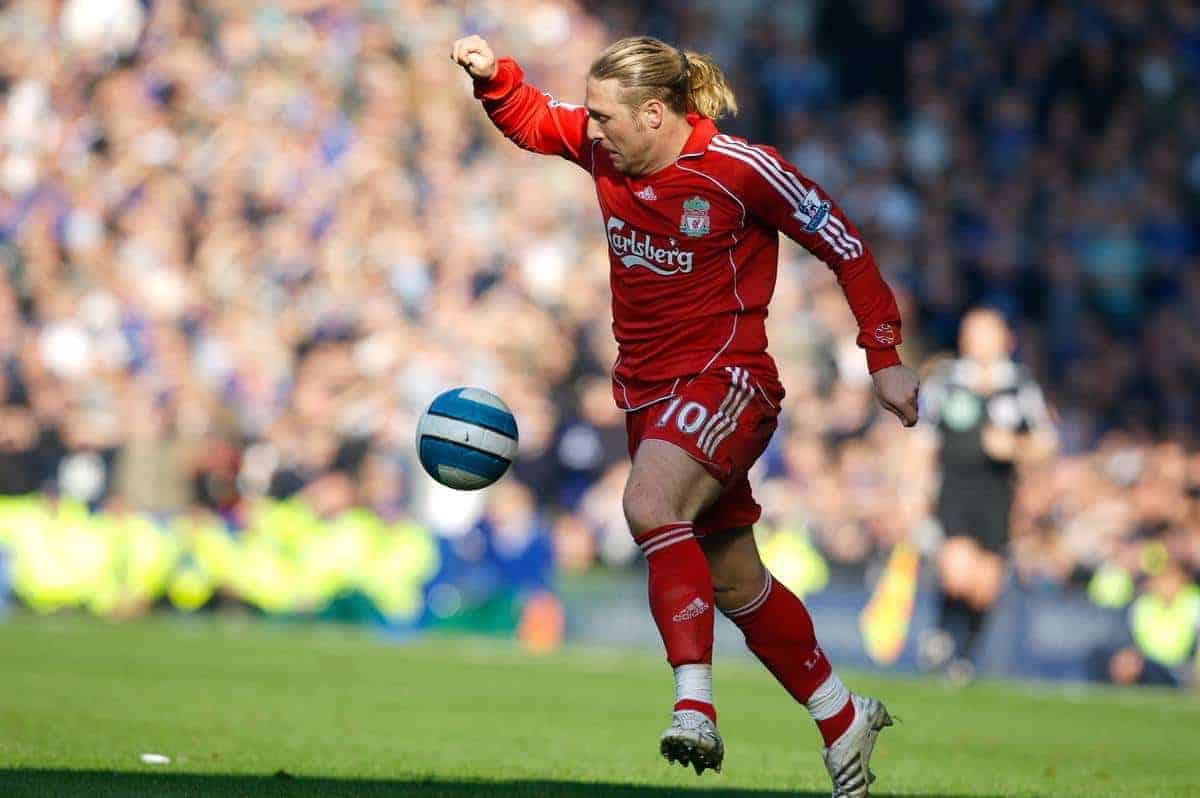 The only good thing that Andriy Voronin did during his time with the Reds was bearing a striking resemblance to WWE wrestler Triple H. Other than that, he was a waste of space.
The former Ukraine international joined on a Bosman in the summer of 2007, with Benitez looking to bolster his attacking options, but he barely did a thing of note.
Six goals in his first season was a poor return, and having been loaned out to Hertha BSC in 2008/09, he returned to Liverpool a year later and failed to score a single goal.
Voronin never had the all-round game to be a success in the Premier League, but few expected him to be quite so poor.
6. Salif Diao

Salif Diao was one of two Senegal stars who arrived at Anfield in 2002- more on the other one later- having impressed for the African side at the 2002 World Cup in Japan and South Korea.
It wasn't long before it became clear he was not up to Liverpool standards, with Steven Gerrard one of those not impressed from the off.
"With Salif, I knew after a week of training that he wasn't going to be good enough," Gerrard wrote in his autobiography.
Diao completely lacked the ability to boss a midfield battle, and whenever he was on the pitch, he invariably felt like the weak-link of the side.
He lasted three seasons with the Reds, playing just 21 times in his last two years, and the only saving grace is that the £4.7m Liverpool paid for him was not exactly astronomical.
5. Robbie Keane

Benitez decided to bring Robbie Keane to Liverpool for £19m in July 2008, and he was seen as a terrific signing. The Republic of Ireland star had been superb for Tottenham, and many felt he would thrive alongside Torres in attack.
What happened next was one of the most uninspiring, short-lived spells any player has ever had in the famous Reds jersey.
Keane took forever to register his first goal for club, taking 688 minutes to score before netting against PSV Eindhoven in the Champions League.
It wasn't long before the LA Galaxy man lost his place in the side, with Gerrard pushed alongside Torres to devastating effect. The writing was on the wall for Keane.
Barring one terrific strike away to Arsenal, the former Wolves and Aston Villa star was a massive disappointment, and by January 2009 he was back at Spurs. He lasted just six months at Liverpool.
4. Paul Konchesky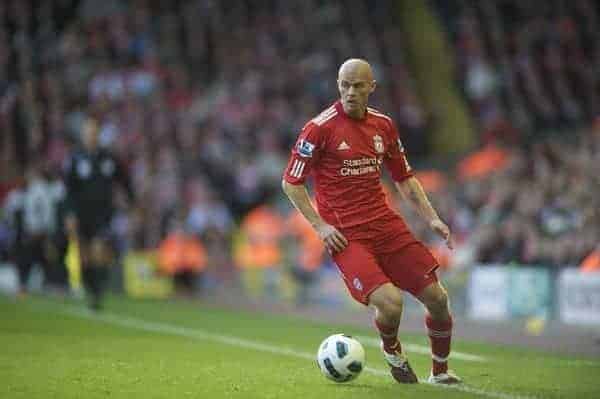 If ever one player summed up Roy Hodgson's dismal, embarrassing short spell as Liverpool manager, it was Paul Konchesky.
The current England boss brought Konchesky with him to Anfield from Fulham in 2011, but he was so far out of his depth it was almost tough to watch.
The left-back was a liability defensively, offered nothing going forward and lasted just six months on Merseyside before being loaned out to Championship side Nottingham Forest.
There were dreadful players signed by the Reds around that time, but Konchesky takes the biscuit. It perfectly summed up the ineptitude of Hodgson.
3. Andy Carroll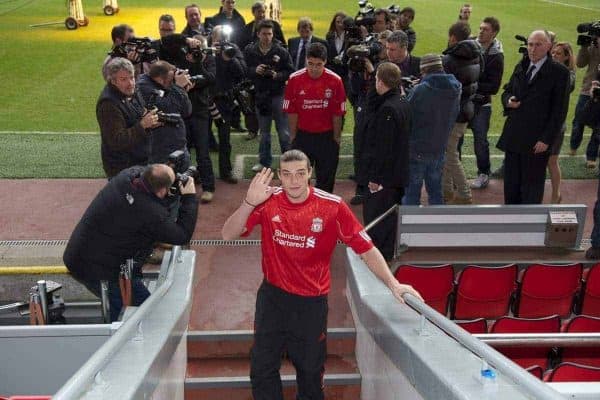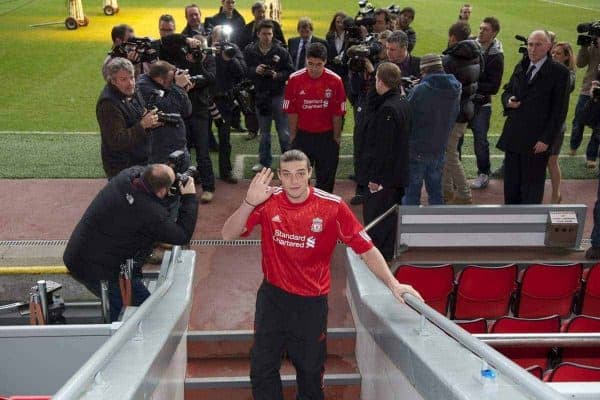 Andy Carroll would be many peoples number one on this list, because of the ridiculous sum of money Liverpool spent on him, but he just about avoids top spot.
The burly striker was signed for £35m from Newcastle in January 2011, making him the Reds' most expensive player in history, and he never close to repaying that fee.
Injury problems meant he didn't make his debut until March, and barring two good goals against Man City at Anfield, Carroll didn't score for the remainder of the 2010/11 campaign.
The following year he found the net just four times in 35 league appearances, and although fairly likeable as a character, he lacked the hunger to be a success and never suited Liverpool's style of play.
Brendan Rodgers eventually got rid of him in 2013, and until the club signs someone for even bigger money, Carroll was always be remembered as the record signing who flopped completely. [td_ad_box spot_id="custom_ad_3″]
2. Alberto Aquilani

When Alonso left to join Real Madrid in 2009, Liverpool had to replace to brilliant Spanish playmaker with someone of similar quality. They didn't.
Alberto Aquilani arrived injured from Roma for £17.1m, and didn't make his debut until the end of October. Although slick in style, the Italian was nowhere near Alonso's class, and very much flattered to deceive.
He made 26 appearances throughout the 2009/10 season, scoring just twice and looking powerless to succeed in the more physical Premier League.
Aquilani's poor performances and injury issues saw him sent out on loan to Juventus and AC Milan, in 2010/11 and 2011/12 respectively, before being sold on a permanent deal to Fiorentina in 2012.
Incredibly, he played just 28 times for Liverpool; not far off £1m per game.
1. El Hadji Diouf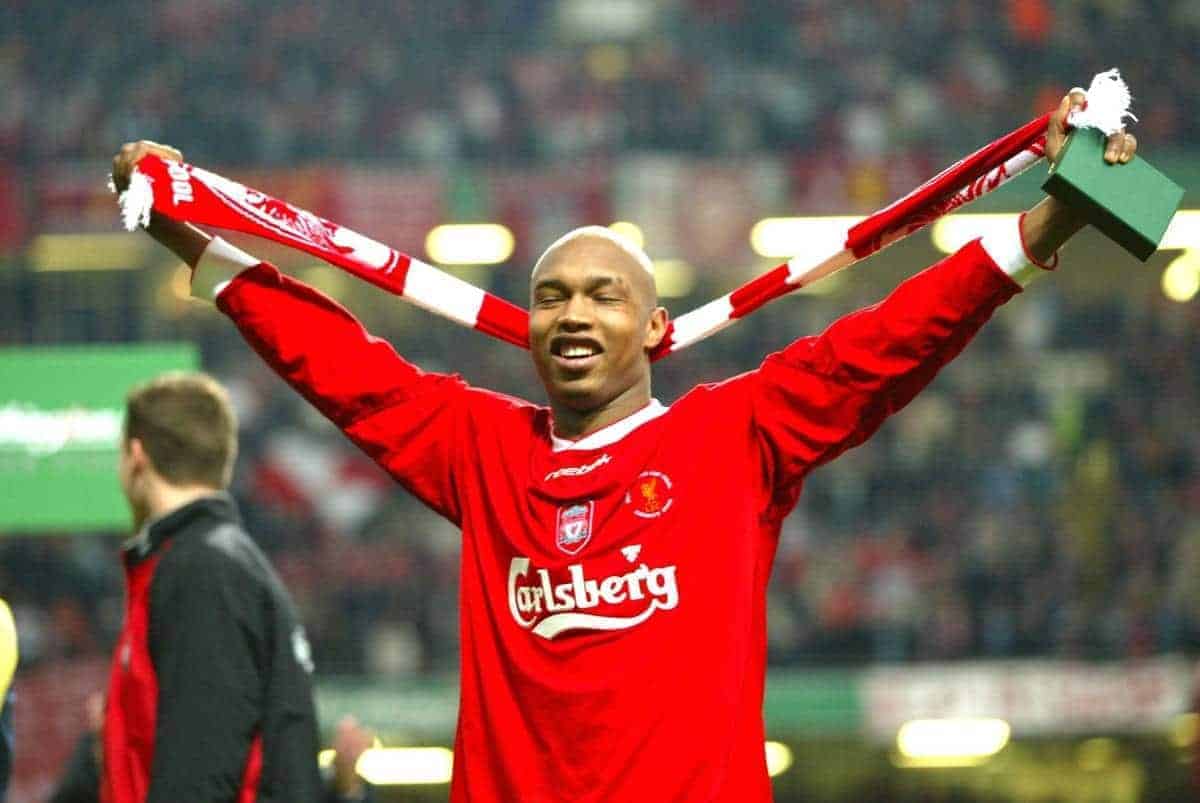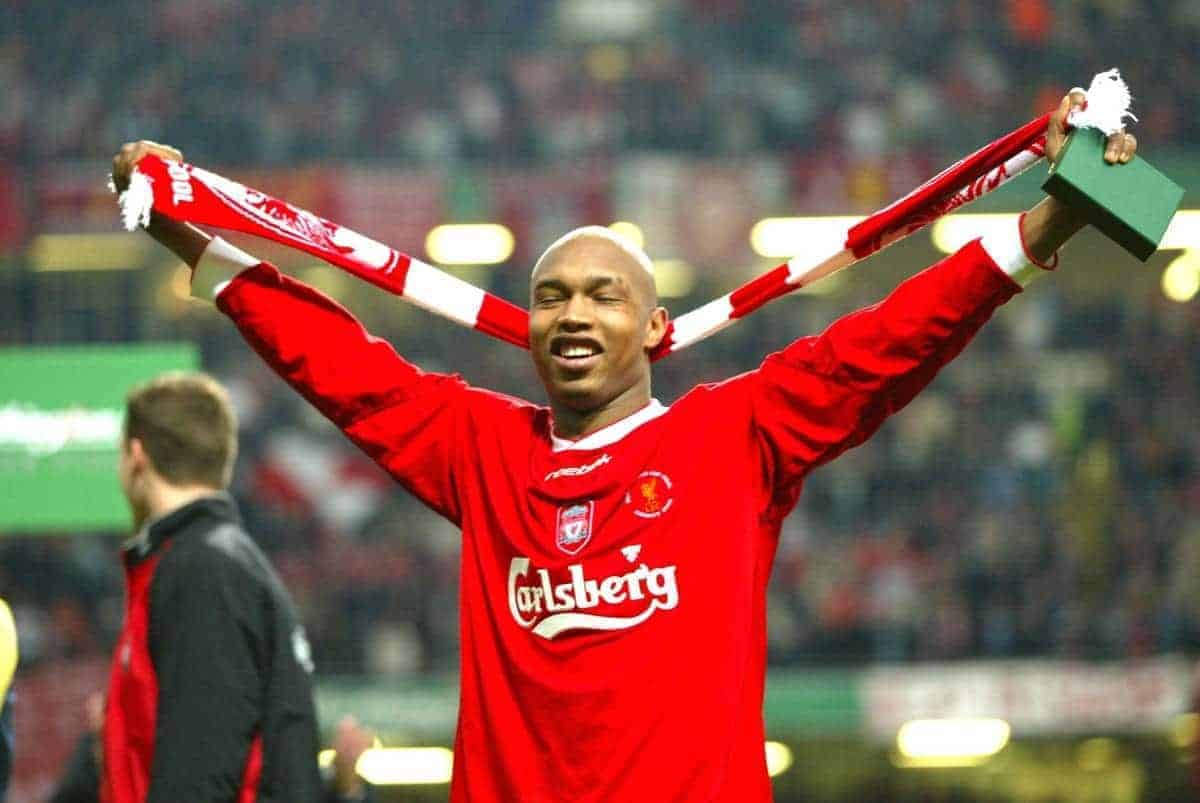 There has arguably never been a more detestable character to represent Liverpool Football Club than El Hadji Diouf. Not only that, he was an complete waste of money.
The controversial forward was signed for £10m from Lens on the eve of the 2002 World Cup, and his performances in Japan and South Korea did enough to get Reds fans excited about his potential.
Two goals against Southampton on his Anfield debut further enhanced his reputation, but from that point on he was atrocious.
Following the Saints game, he scored just goal in his next 28 league appearances in 2002/03, and his ineffectiveness as a striker saw him shunted out to the wing by Houllier.
His second and final season with the Reds was even worse, with the Senegalese pest not registering a single goal in 33 matches.
The fans loathed him- spitting at a Celtic fan in a UEFA Cup clash in 2003 certainly didn't help matters- and players hated playing with him. Diouf is undoubtedly Liverpool's worst signing of the 21st century.
[interaction id="5579546a84caec334b80d2c3″]