Selling Raheem Sterling for £50 million would not impact Liverpool like the sale of Luis Suarez did, argues guest writer John Hablitz.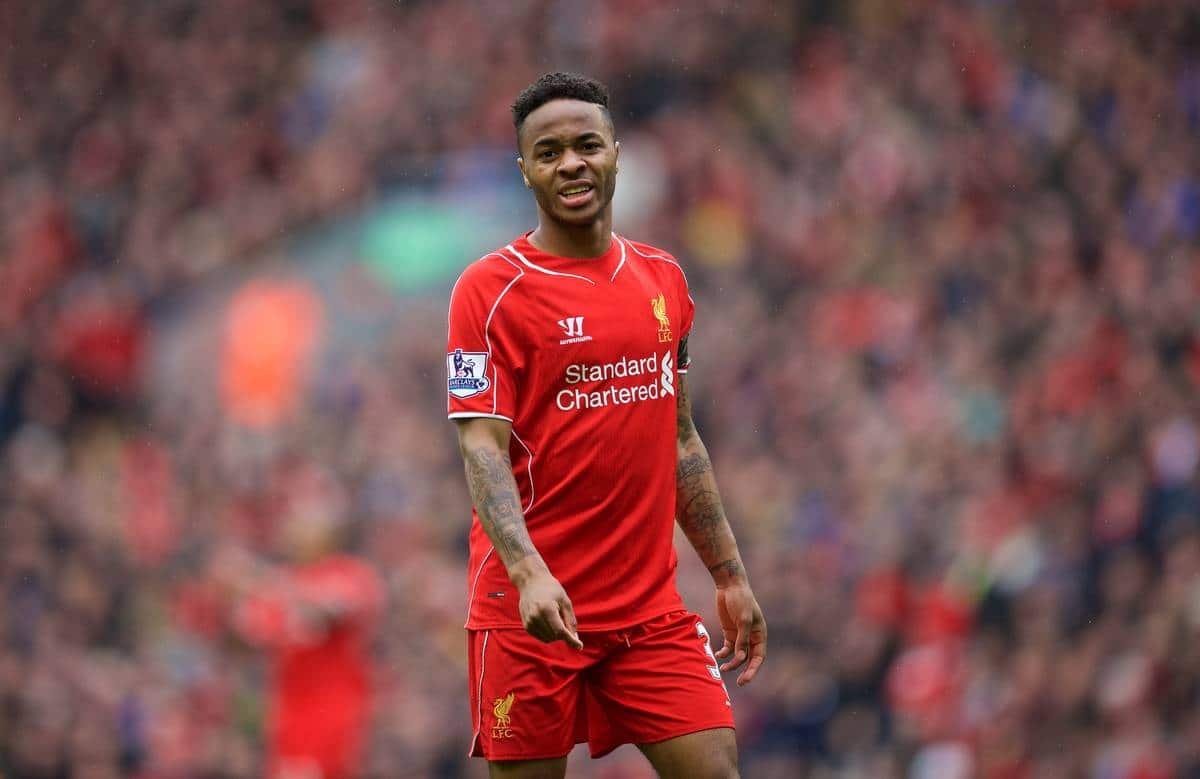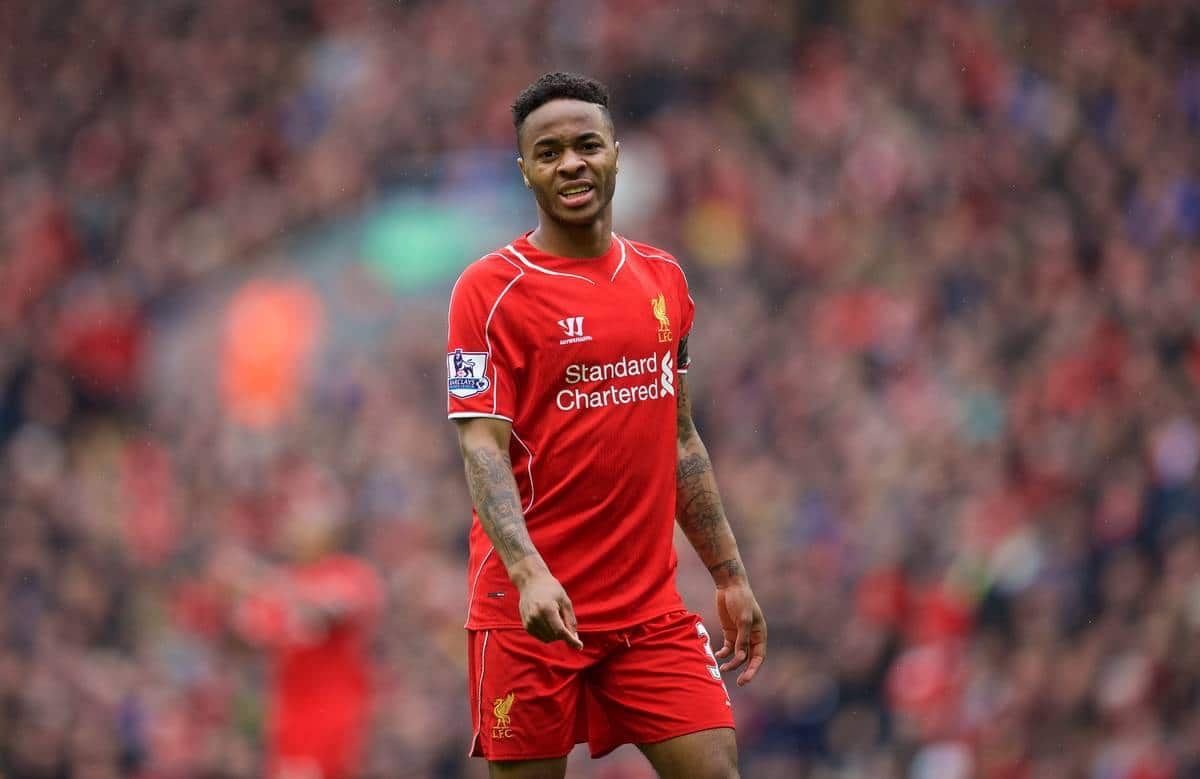 The blood is in the water at Anfield and it's not only opposing fans who smell it—the naysayers of Liverpool's model are taking bites of monstrous size.
Twitter's battlefield of opinions has claimed FSG are out to just make a quick buck and liquidise prize assets.
Albeit the jury is still out on Liverpool's model and future success one thing is clear: selling Manchester City target Raheem Sterling for £50 million is not similar at all to selling Luis Suarez for £75 million.
Luis Suarez: Irreplaceable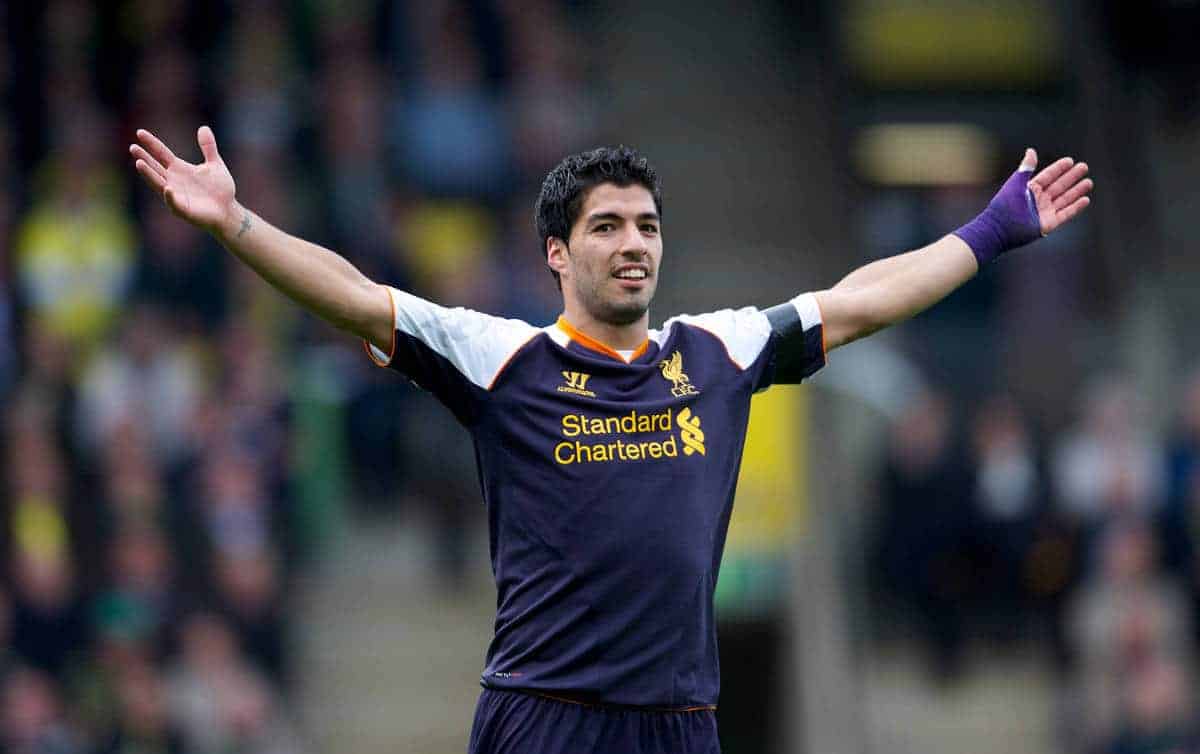 Firstly Suarez, simply put, is irreplaceable.
Anfield was blessed to have another amazing striker, but this was the best out-and-out striker to bless the modern game.
However, Suarez was not perfect.
He had his issues of taking bites, larger than those on the internet towards the Red's owners, out of opponents and attempted to be sold, but nonetheless an irreplaceable red.
His numbers show this, with quite an impressive haul:
Suarez (2013/2014):

Appearances: 33
Goals: 31
Shot Accuracy: 53%
Chances Created: 87
Pass Accuracy: 75%
Average Duels Won: 42%
Let's put it this way, the borderline-mad genius scored 31 goals even though he didn't play in the opening six games.
Liverpool in 2014/15, without the Uruguayan, scored a grand total of 52.
Leading a title charge that only fell apart due to a failing defence and manager's greenness, Liverpool looked to be the best team in Europe—if not the world—on their day.
A fine-tuned and finished product, Suarez was the heartbeat of the attack.
He allowed Sterling and Philippe Coutinho to find acres of space, stretched defences for Daniel Sturridge, and allowed Steven Gerrard to simply relax in the defensive-midfield role.
Losing Suarez hurt not only Liverpool's attack, as the defensive end of Liverpool no longer had a madman chomping his teeth at opponents as he closed them down.
This year the strikers were unable to add the pressure needed; thus the midfield was left chasing shadows, which has led to debates on the quality of it.
Simply put, Liverpool sold the man that made them tick.
Raheem Sterling: Dispensable?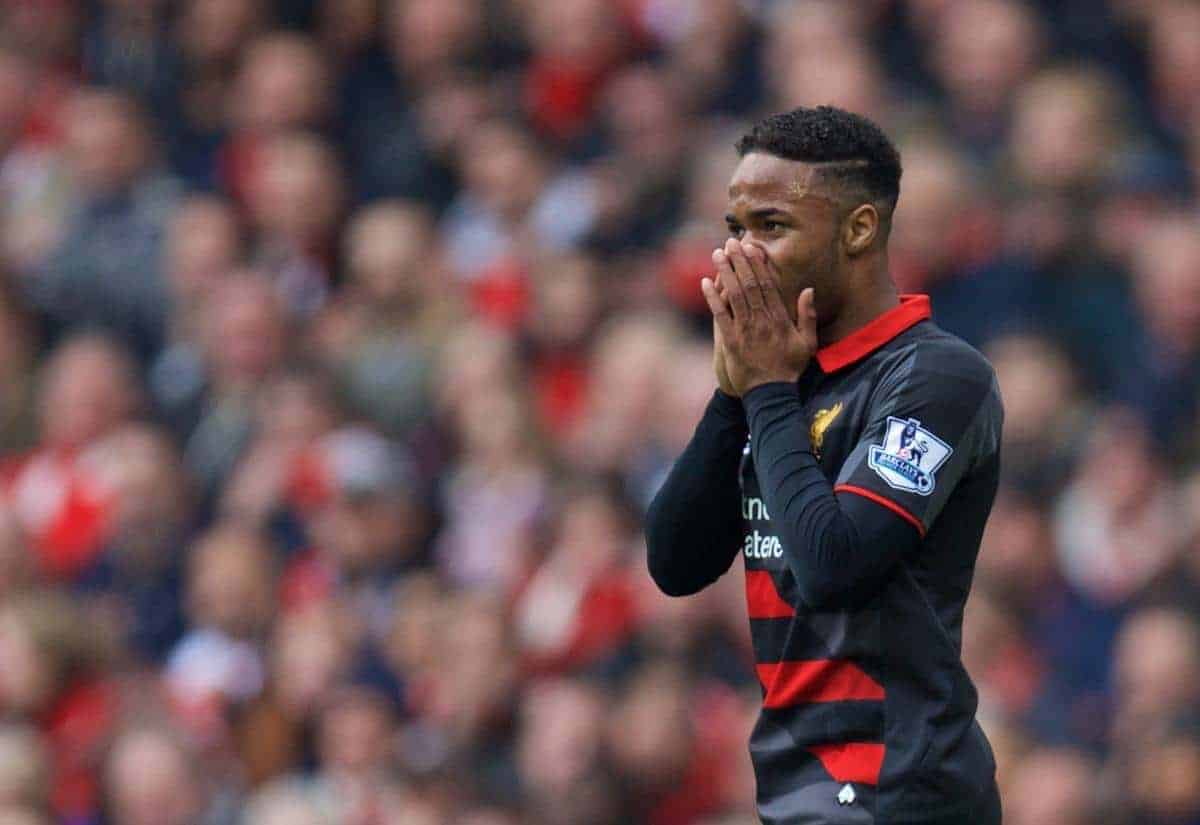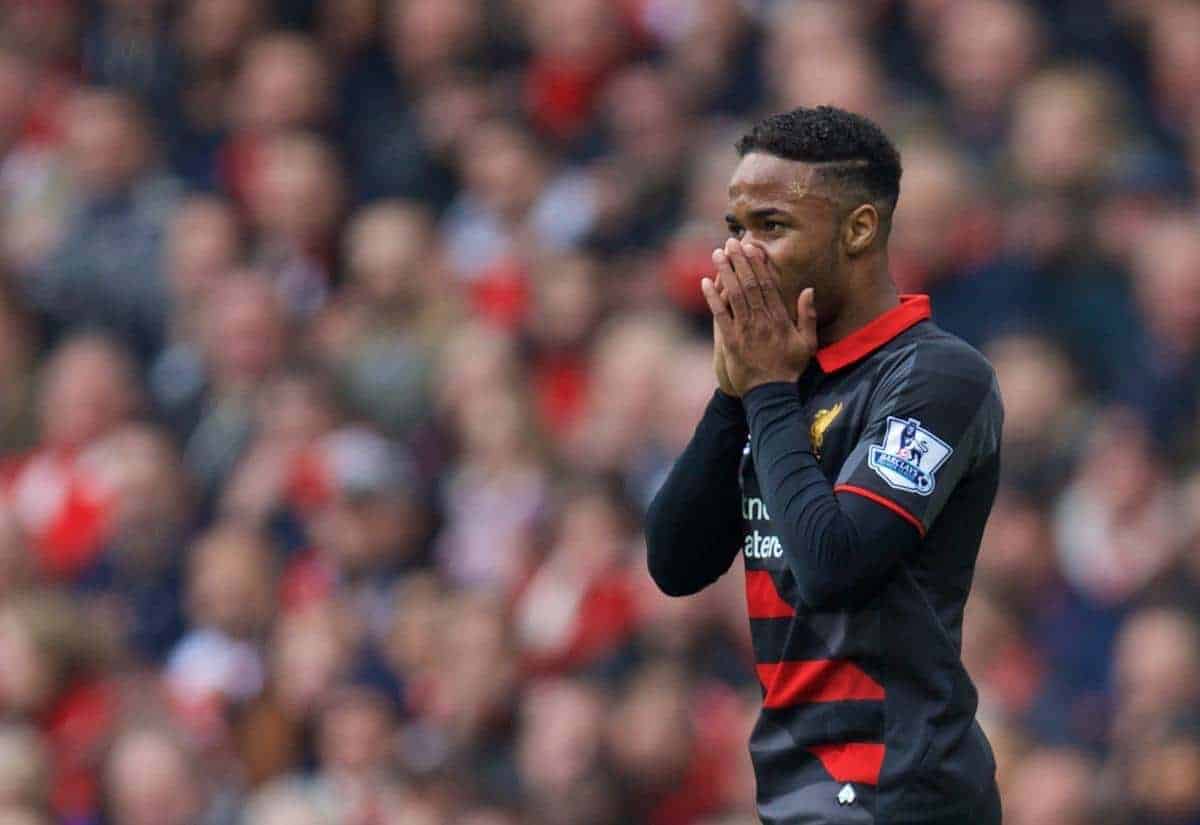 What similarities does this have with Sterling? Simple: absolutely nothing.
The teenager has not led a title charge, or anything much, during his time at Liverpool. A talented teenager, Sterling simply took advantage of being able to play against teams who wet themselves at the sight of Suarez.
I am in no way saying that the teenager is not a major talent nor that he could not possibly turn into a European superstar.
However, his head is being turned for all of the wrong reasons and it is time to get rid.
£50 million for a player heading into the last two years of his contract is nothing to be sniffed at.
Liverpool would in theory get a similar fee in a tribunal, but this would leave a toxic environment in the camp. In many people's opinions, the manager does not need any extra drama to fight off.
The issue with Suarez is there was no replacing the Uruguayan.
No one can argue that the money was spent poorly and the strikers brought in did not even allow Liverpool to play in a similar system. Rodgers seemed completely lost on how to create a similar, quick-paced attacking team, and was left baffled, eventually throwing away the 4-4-2 diamond formation.
Liverpool was unable to cope with the loss of Suarez because they were unable to replace him with a similar player.
However, with Sterling this isn't true.
Who Can Replace Raheem Sterling?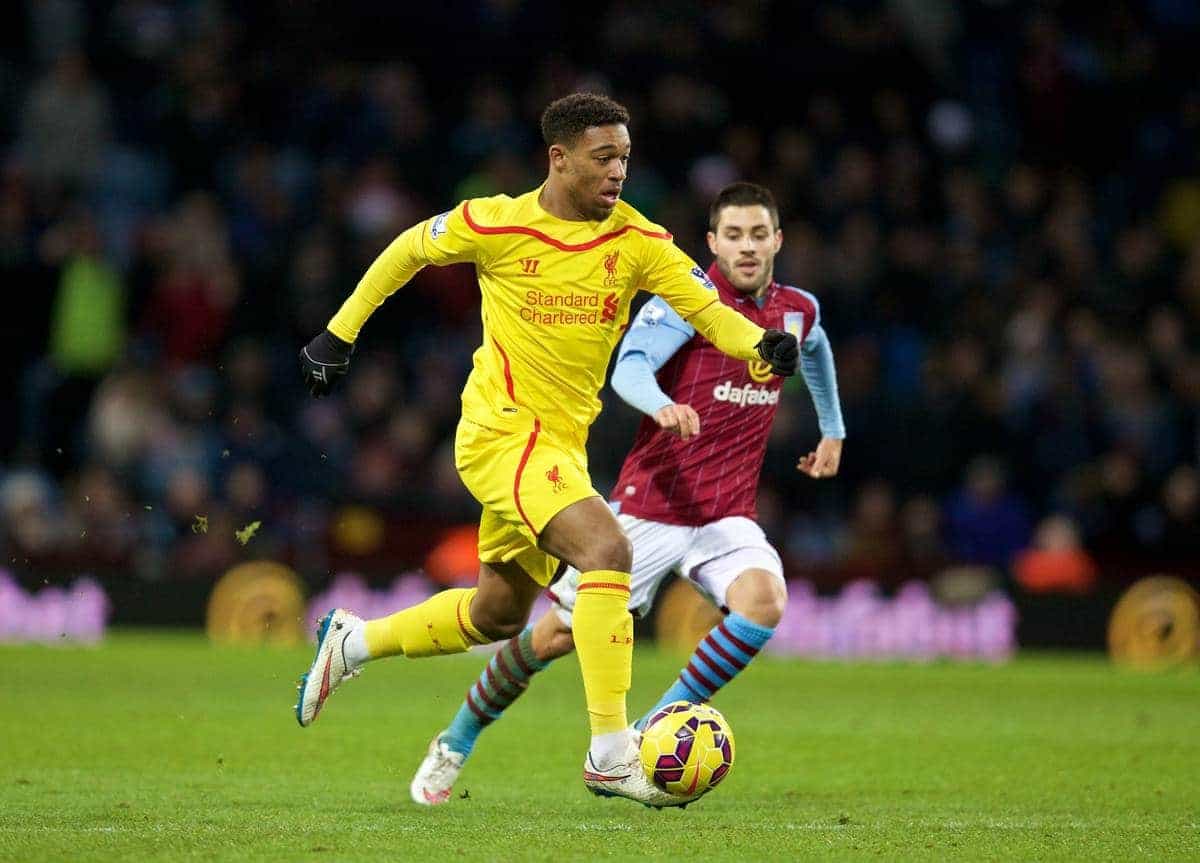 Liverpool has two ready-made replacements who have performed on a similar level recently, or better in the past: Jordon Ibe and Lazar Markovic would readily fill the void left.
To be perfectly honest, both should be thrilled at the prospect of being played in the attack.
I can easily imagine Markovic licking his lips at the idea of playing where he belongs rather than being chained as wing-back.
Don't believe that these players could replace Sterling? Let's look at the numbers:
Sterling (2014/2015):

Appearances: 35
Goals: 7
Shot Accuracy: 53%
Chances Created: 75
Average Pass Accuracy: 81%
Average Duels Won: 52%

Appearances: 19
Goals: 2
Shot Accuracy: 23%
Chances Created: 19
Average Pass Accuracy: 81%
Average Duels Won: 46%
A rough season for Markovic.
Looking at the numbers for an opening season looks damning, but this is entirely down to misuse of the marauding Serbian.
Quotes of the Serbian being a European talent were made not only by Avram Grant ("I can say that, apart from Ronaldo and Messi, Markovic is one of the best talents I've ever seen at 19 years of age").
But also compatriot Nemanja Matic: ("It was excellent playing with this fantastic kid for six months. He has massive potential. He could be one of Europe's best players in his position.").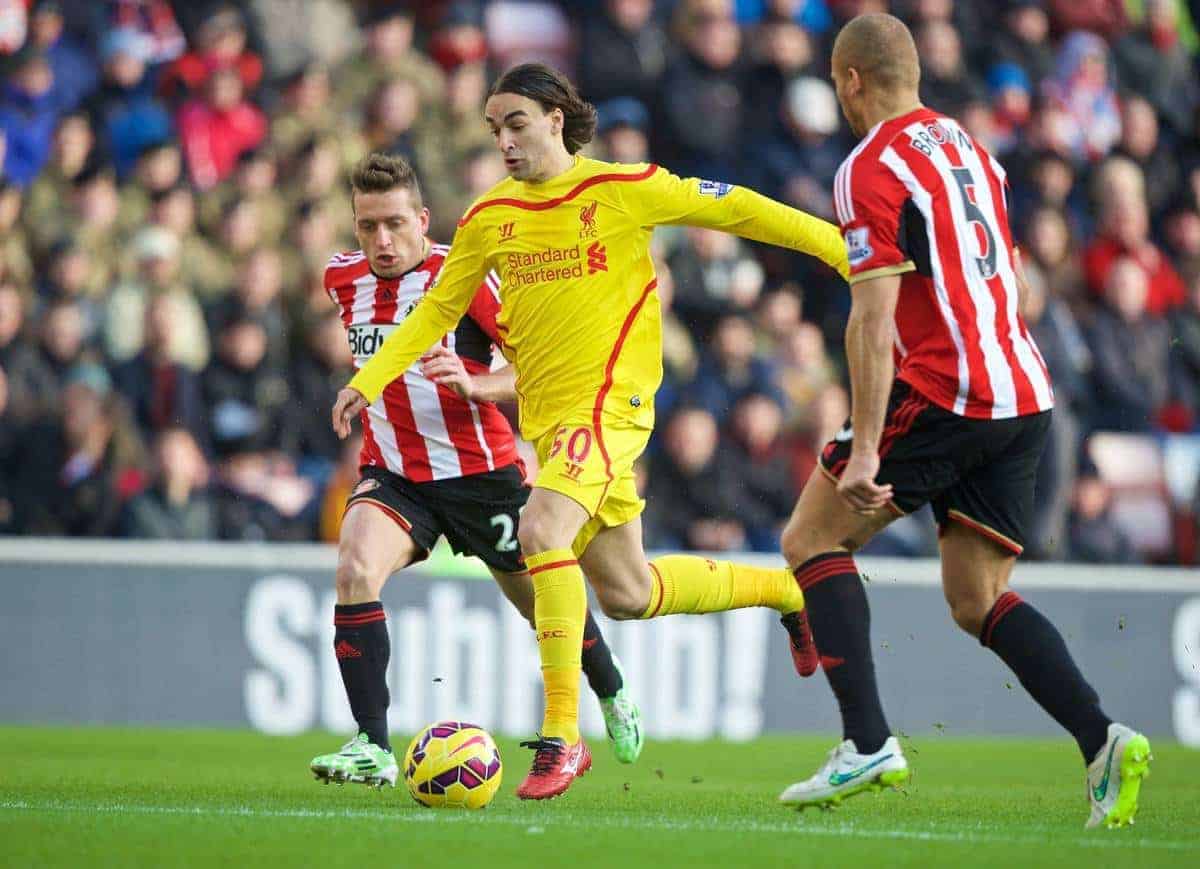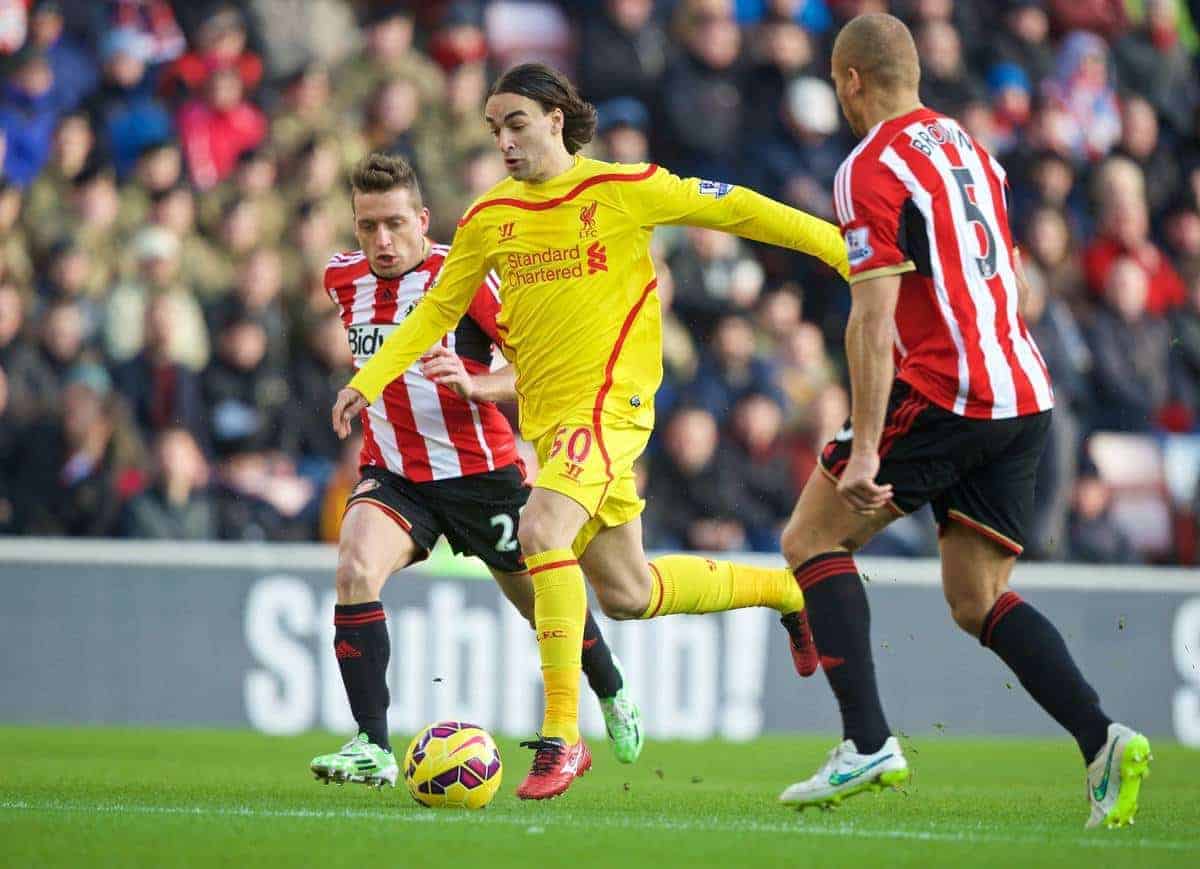 Looking at Markovic in his forward role shows an entirely different picture—a player who plays the exact position that Raheem was so often placed in the front line.
Sadly only a fraction of his games in the Europa League are statistically available, but the numbers still show promise as Benfica continued on to the final, losing without the suspended Markovic:
Appearances: 8
Goals: 1
Shot Accuracy: 23%
Chances Created: 3
Average Pass Accuracy: 81%
Average Duels Won: 42%
Markovic often was pulling the strings for the Portuguese club and was pivotal in their charge to the final.
Not having him in that game definitely hurt Benfica's chances, a game that eventually went to penalties could have ended very differently with the Serbian.
In truth the best is yet to be seen of Markovic, and this year could in theory be chalked up as one of transition to that of the physically demanding Premier League.
Markovic is not far behind the £50 million-rated Sterling and would only develop with time in his correct and favoured position.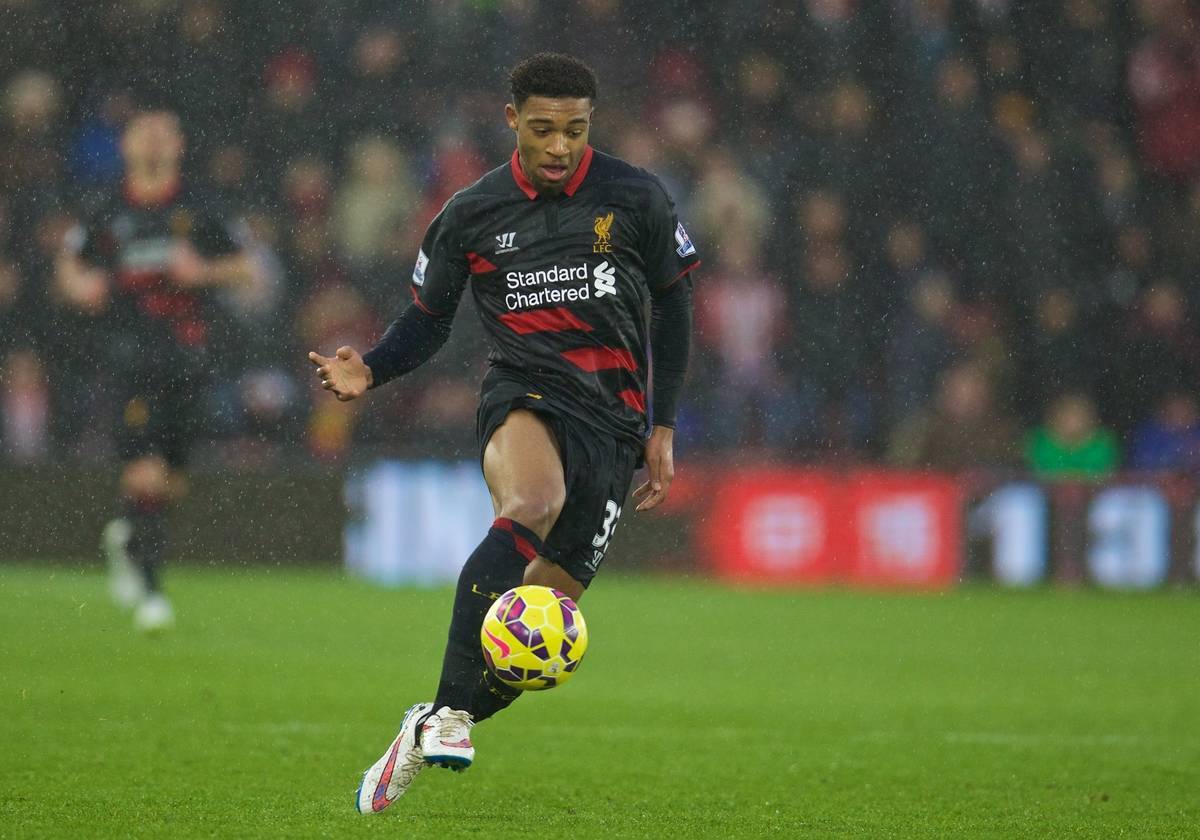 And then there is the new promising academy prospect, Ibe:
Jordon Ibe (2014/2015):

Appearances: 12
Goals: 0
Shot Accuracy: 44%
Chances Created: 6
Average Pass Accuracy: 87%
Average Duels Won: 59%
A first season proper in his red shirt for Jordon Ibe was one that was very difficult.
Thrown to the wolves in his first appearance against Everton, Jordon was by far the best player—tearing through the Toffees' back line, Ibe was robbed of the perfect debut performance only by the crossbar.
In truth, Ibe's opening season is very reminiscent of Sterling's:
Raheem Sterling (2012/2013):

Appearances: 24
Goals: 2
Shot Accuracy: 43%
Chances Created: 37
Average Pass Accuracy: 84%
Average Duels Won: 51%
And using these numbers look at Markovic's opening season again:
Appearances: 19
Goals: 2
Shot Accuracy: 23%
Chances Created: 19
Average Pass Accuracy: 81%
Average Duels Won: 46%
Sterling, without a doubt, was very versatile and useful as he offered an outlet when Rodgers was unable to make any use of the strikers at his disposal.
But the results and performances he has given Liverpool are nothing of that which were shown by past players.
Will Raheem Sterling Be Missed?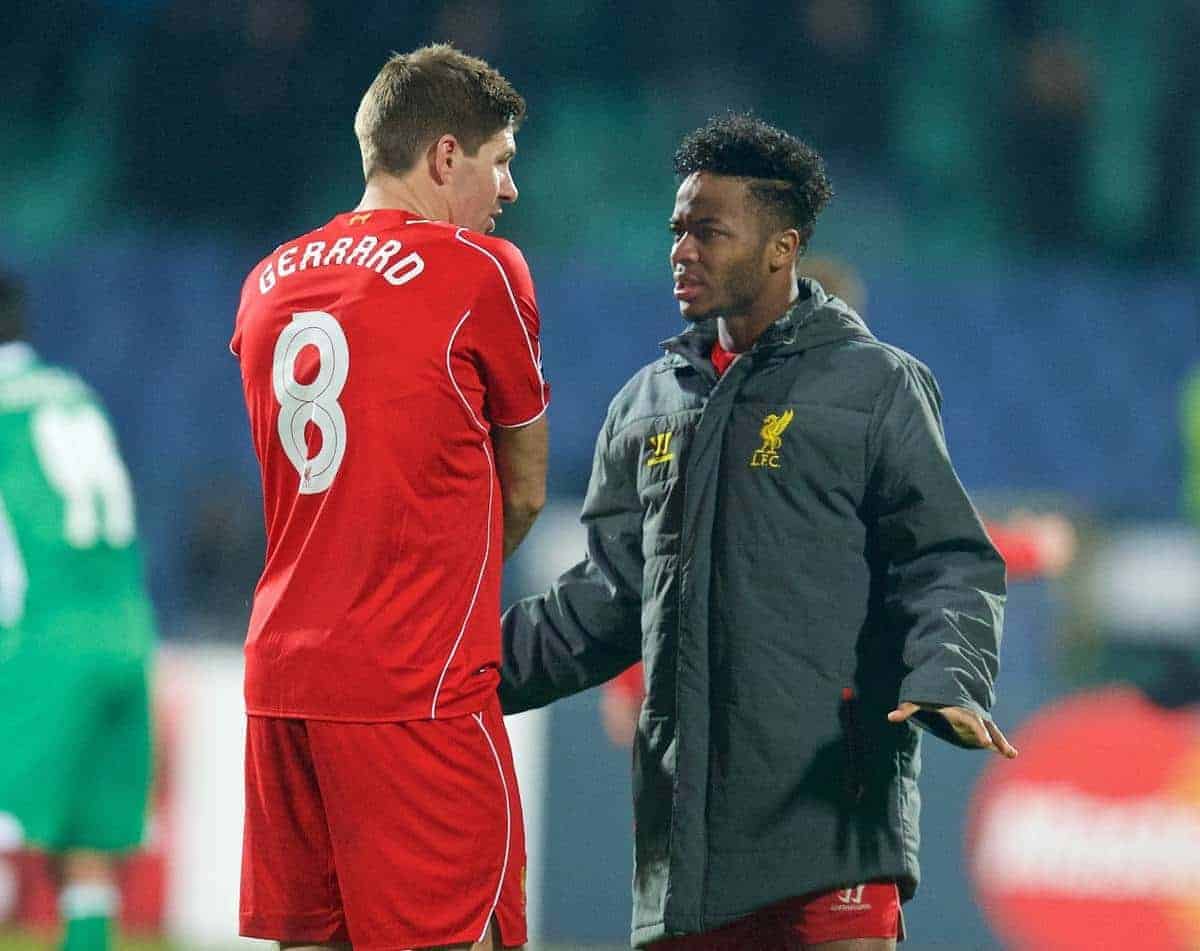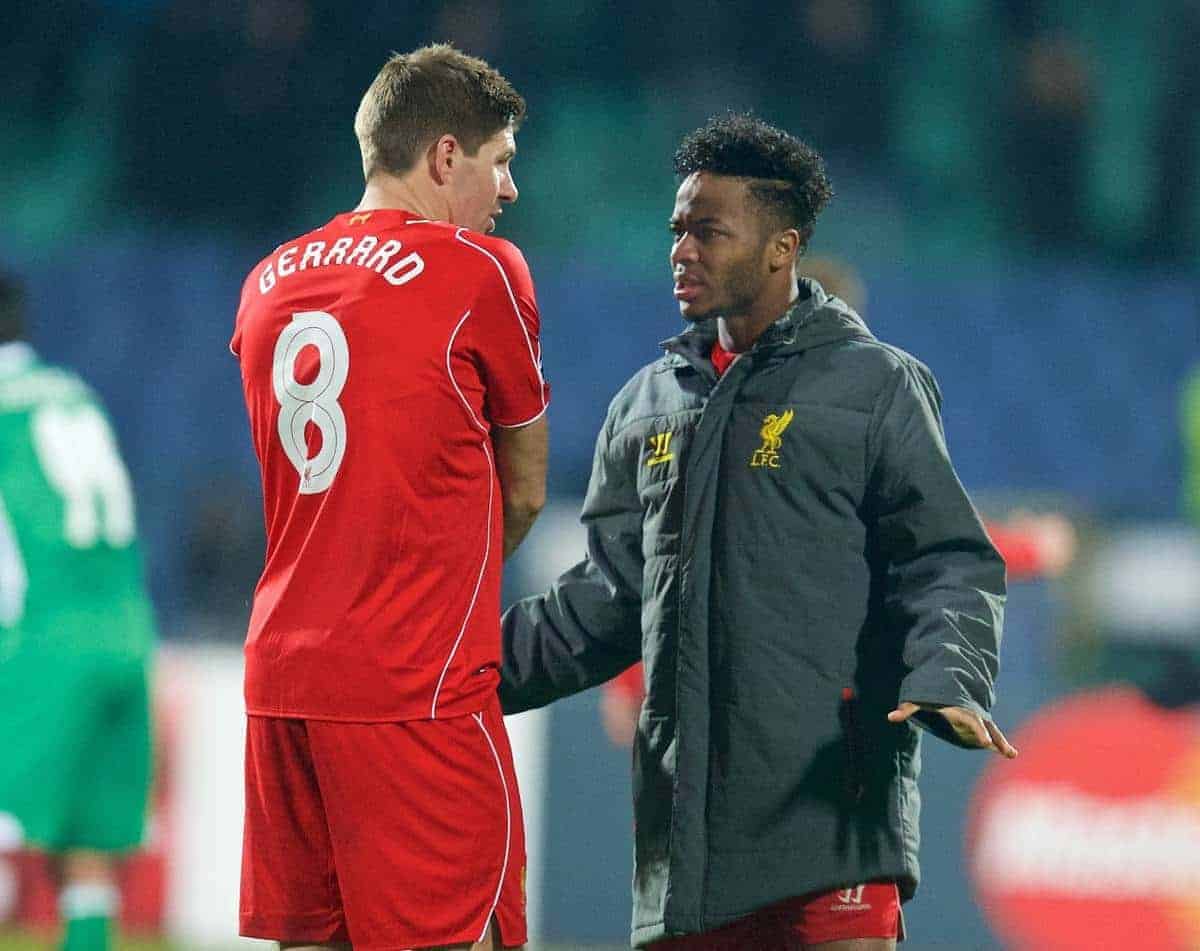 Suarez, Gerrard, Fernando Torres, Xabi Alonso, Javier Mascherano, Jamie Carragher, Sami Hyypia and even Luis Garcia all are players who will be more missed than Raheem.
They will be missed not only for performances, but the way in which they handled their business. Sterling is not pivotal to Liverpool's success nor style.
Sterling is attempting to play a dangerous game and in all reality Liverpool could be the only winner in the end. There are no guarantees in football, and as cliched as the saying is there is nothing closer to the truth.
Selling Sterling could come back to bite Liverpool, we could all end up regretting not giving the wantaway forward his demands when it was possible.
But for a boy who proclaimed "all I want to do is play football at the highest level," Manchester City seems a terrible option. However, the fee that is being spoken of is a great option for Liverpool.
The chances of Sterling becoming a world-beater are just as likely as him becoming another of Man City's failed youth prospect.
In truth no one truly knows which way Raheem will turn.
However, Liverpool shouldn't think twice if they are officially offered £50 million.
Many will claim that it is the same as the sale of Suarez, but nothing could be further from the truth. Liverpool have the players on hand to replace Sterling and could use the added cash to find what is truly needed: a striker.
[interaction id="55813678669294f91b566f1b"]
Statistics via Squawka.
Will Liverpool miss Raheem Sterling if he is sold this summer? Let us know in the comments below.