Liverpool are continuing to monitor the progress of injured trio Daniel Sturridge, Jordan Henderson and Adam Lallana, Brendan Rodgers has confirmed.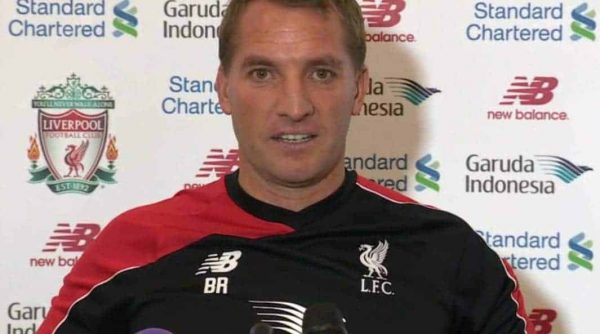 As Liverpool head into an all-important top-four clash against Manchester United, Brendan Rodgers has provided an update on the fitness of key players Daniel Sturridge, Jordan Henderson and Adam Lallana.
Speaking to reporters ahead of Saturday's trip to Old Trafford, Rodgers said "it's all coming along well."
"Daniel Sturridge has returned to training, but there's no timeline on when he can participate," he continued.
"Jordan Henderson and Adam Lallana we'll see about in the next 24 hours, apart from that nothing really changes."
He later added: "Joe Allen is still unavailable but we'll try to train him next week."
While injuries to Henderson and Lallana, as well Philippe Coutinho's one-game suspension, will be a major blow for Rodgers as he plots for victory at Old Trafford, this tie gives him the opportunity to utilise his squad ranks.
With Liverpool heading into a congested fixture schedule, with games in the Capital One Cup and the Europa League coming in the next two weeks, the likes of Danny Ings and Divock Origi could be given some game time.
"I said to the players before the first game of the season that through until the international break there wouldn't be many changes," Rodgers said.
"After the break the games come thick and fast and that's when we will utilise the squad."

The manager's main concern, however, will be improving his side's efforts in front of goal, but Rodgers remained positive that this will come as the squad gels.
"I think it will increase and improve as the team improves over the course of the season," he said.
"We've created chances to score more goals than we have.
"We didn't create enough in the West Ham game and we were disappointed, but I know it will get better.
"Sturridge is looking the best he has in 18 months, so it's going to be really good when he gets back."
But, not wanting to put pressure on Sturridge after a lengthy spell on the sidelines and hip surgery this summer, Rodgers stressed that the striker should be eased back into the first-team picture.
"I can never say [Sturridge is over his problems]," he stressed.
"I don't want to put any timeline on him to come back, [but] I'm grateful of the work he's done in America, and I'm grateful of our medical team for doing their job to get Daniel back to a level of fitness.
"He's joined in with the group and now we'll see—we'll take it day by day."