With Liverpool heading into a busy fixture schedule this autumn, Aaron Cutler champions the idea of a rotated cup side.

Professional footballers are united in their disdain for certain tags. Few embrace the Utility moniker; while nobody sets out to become a career Super Sub.
Those who flit from one club to the next do not necessarily view themselves as Journeymen, while the Next Big Thing is wary of becoming Yesterday's Man.
But one label ambitious sportsmen truly resent is that of the Bit-Part Player.
The latter is defined as someone with "a very small part in something." A supposed afterthought; a squad player. Liverpool's summer overhaul has left many skirting dangerously close to that title and just how they wear it will impact on the season as a whole.
In a change from the norm, the first four games of this campaign occurred before the inaugural and oft-infuriating international break.
In a sense these fixtures became their own mini-project and a season within a season.
Team selection provided a glimpse into Brendan Rodgers' thought process – one focused solely on a defining opening month.
Everything – and seemingly everyone – else could wait for Manchester United and the autumn.
Pre-Break Consistency

What this period confirmed was the 'group' – to use Brendan terminology – which the man himself views as key first-teamers, and those who will be made to wait for their chance.
For some the prospect of a season on the sidelines, or rather the periphery, was presumed counter-productive.
Lazar Markovic was loaned-out for that very reason, a stunt in progression deemed helpful to neither party. For others occasional appearances will neither harm nor hinder their long-term future.
Keeping all on-board, if not involved, will prove crucial.
This season Liverpool compete on four fronts and if they are to make a genuine assault on each they must rotate. There is, one hopes, a distinct chance of two teams being clearly defined, a la Helsinki and Swindon at the tail end of pre-season.
This is no bad thing. In fact, it is an absolute necessity.
The Premier League should take rightful priority, with the Europa League and League Cup particularly gifting Rodgers that chance to chop and change. Indeed to remain competitive the manager has no choice but to tinker.
History tells a sorry tale of UEFA Cup entrants struggling on a return to domestic action. With the race for Champions League football fiercely contested, the Reds cannot gift opponents any advantage.
Successive defeats mean we have already ceded ground, and the room for error is lessened.
To that end a leggy performance at Everton, post-Sion, could prove the difference between fourth and fifth, as well as bragging rights.
As a result certain individuals should be spared the rigours of Europe and its subsequent travel. A 4000-mile trip to Kazan, really?
Who Should and Should Not Be Utilised?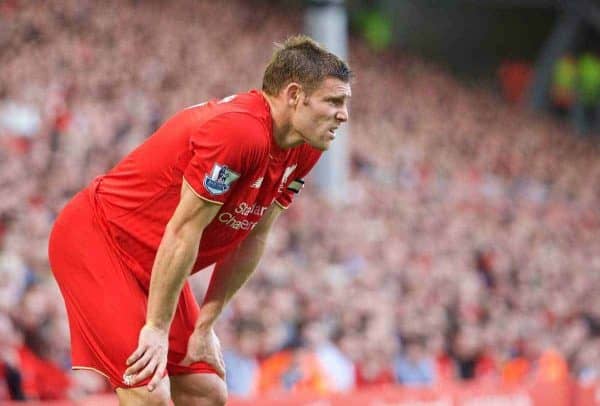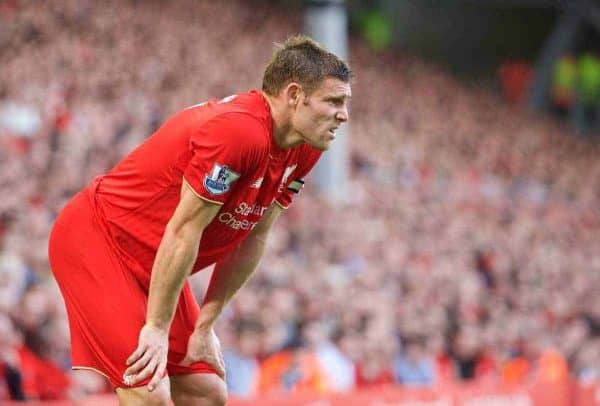 Take James Milner as a case in point. The vice-captain should not be considered for Europa League action unless the Reds progress to the latter stages of the competition – and by virtue re-evaluate targets.
Milner's appearances and contribution should be judged in relation to league matters alone, with the European stage one the Bit-Part Boys must embrace.
This is not to lampoon the competition as such, for it can prove a great launchpad.
Harry Kane, now curiously cosseted as the saviour of English football, announced himself in Europe's second competition. Our own very Jordan Henderson and Raheem Sterling forced their way into first-team matters courtesy of efforts in said tournament.
The Europa League is essentially the gateway that the reserve league is no longer and affords Brendan the opportunity to placate his squad players.
So who are the latter?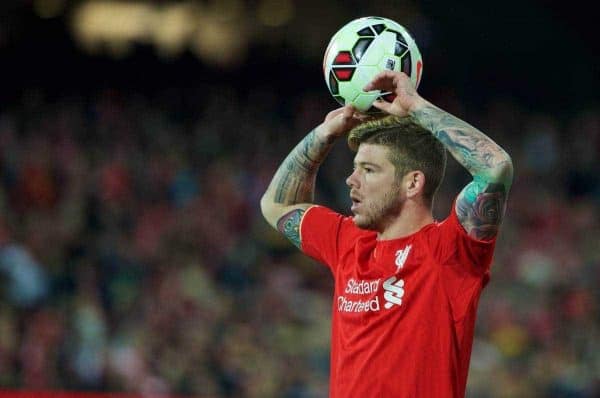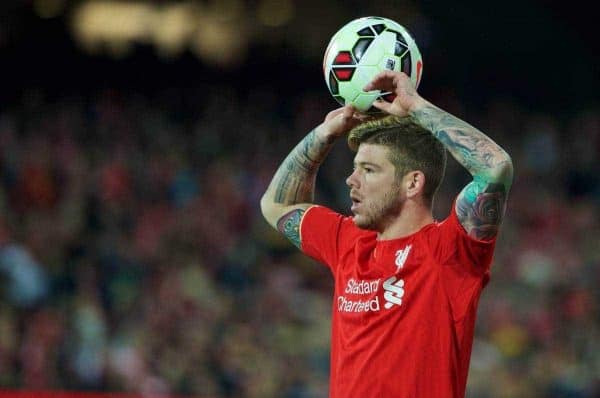 Alberto Moreno may form part of this glorified B team – the unexpected rise of Joe Gomez has given the Spaniard a watching brief, at least until the final quarter of games.
Moreno struggled throughout his first season but few are writing him off. Indeed a spell on the sidelines appears to have reinvigorated him: cameo appearances against both Bournemouth and Arsenal gave rise to the thought this is a man revitalised and ready to step in when called upon.
Moreno was one of the few to come out of our West Ham debacle with a crumb of credibility. He barely touched the ball at Old Trafford meanwhile, making him Man of the Match by default.
Crucially his attitude appears first class, with no toys or tantrums thrown.

Danny Ings is another who may view the Europa League as more help than hindrance. Until Saturday Rodgers had resisted the temptation to blood the striker (yes, striker), perhaps doubting his worth in a 4-3-3 system.
Ings is a good player who may well earn his manager's trust courtesy of European assignments.
Lest we forget this is a player with just one full season of Premier League football under his belt. He handled the jump from Championship to top flight admirably; scaling another rung will hone his game further still.
At 23, Ings must learn the European way, in much the same way as his manager – currently boasting a dreadful record in continental competition.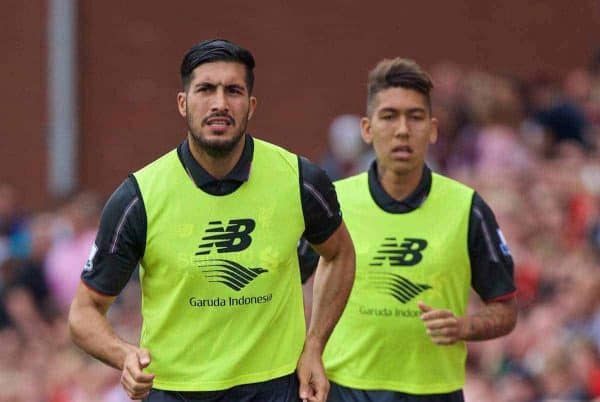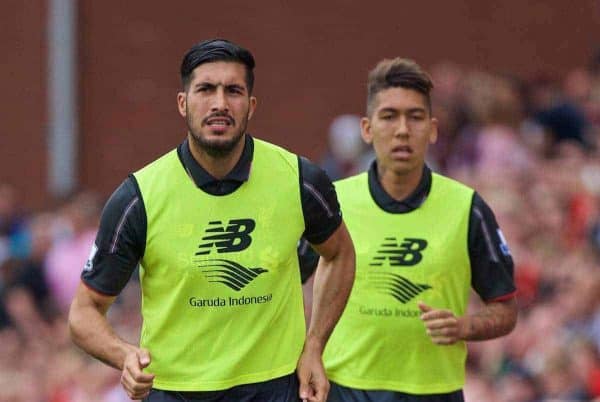 Elsewhere, Emre Can may be asked to feast on Europa scraps.
A talented player and fans' favourite, Can is caught in an identity crisis. Just where do we play him? Turning in the vein of the QE2 is not the hallmark of a defensive midfielder. Similarly, cumbersome possession is no use in the cut and thrust of English football.
Defensively the German excelled as part of a three-man defence, now retired, but drowned when shifted to right-back.
Liverpool clearly have a top player on their hands but one who must define himself. Sadly we are unable to grant study time in the bread and butter of the Premier League.
Conversely, he could 'work it out' in midweek fixtures.
For that reason Can should figure in every Europa, League Cup and FA Cup fixture, wherein the slower pace will aid his development – hone your game where the margin of error is greatest.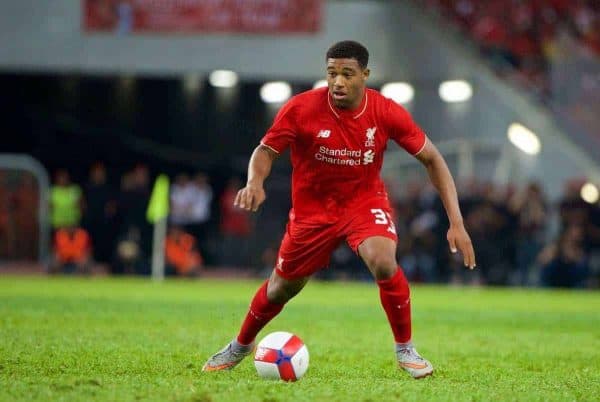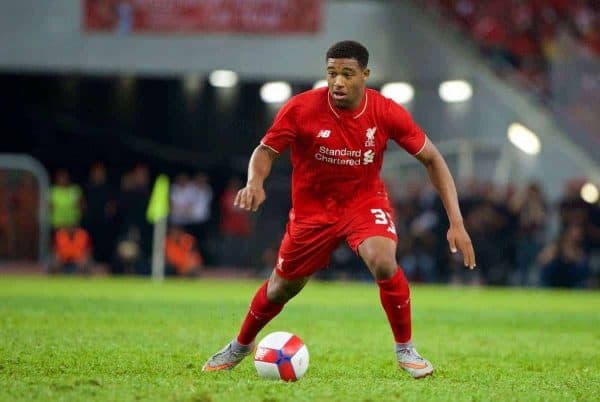 Not forgetting Jordon Ibe, currently managing his first 'dip' in professional football. This drop-off is as frustrating as it is inevitable, with huge expectancy and unhelpful comparisons fostering big pressure.
Ibe has all the tools to become a top player but at 19 he is learning the game. To expect a teenager fresh out of the Championship to suddenly light up the Premier League is delusional.
Give him time, give him cup starts.
Sadly another who must force his way back into the reckoning is Mamadou Sakho. Criminally overlooked by Rodgers to this point, he has presumably been informed of his diminished status.
The flaw in such thinking will be laid bare if and when the Frenchman proves his worth in cup competition. He should not need to, of course, but this presents a comeback trail of sorts.
Others who can be brought in from the cold include Divock Origi, Kolo Toure and Adam Bogdan, while Jon Flanagan may build up a head of steam if returned to fitness.
Even Jose Enrique may be given the chance to re-enact his FIFA showreel against Carlisle. Or not.
Undeniable however is a squad depth that allows for big changes and an accepted second string.
Priorities

That said Liverpool should not belittle or disrespect any competition.
Some are calling for a different management team – one headed by Gary McAllister – to oversee such fixtures. That is not only ridiculous but arrogant, suggesting we are above these bonus competitions.
Come the New Year the latter could well be all we have to fight for…
Indeed there is an argument that says the Europa League should take priority if the Reds progress to the latter stages and their Champions League ambitions are already dashed.
The key is re-evaluating targets at certain junctures: let's give ourselves the best chance of league success and avoid inevitable burnout.
By the same token let's chase silverware – correcting a blotch on Brendan's copybook.
A make-or-break campaign for the manager, this careful balancing act is one he must master. Rodgers has struggled, not only in Europe, but when tasked with rotating a squad.
Last summer's influx of players was meant to ease the pressure on a strong but stretched first-team squad. In actuality it led to all kinds of problems – changes in personnel and moreover formations derailing the campaign.
Now he must prove he has learned from those mistakes and is a coach capable of maximising a large squad.
The objective is top four and a trophy – miss out on both and Brendan will be the one wearing an unwanted tag – that of the Unemployed.
[interaction id="55f7175016f6b5870139c07d"]