Liverpool manager Brendan Rodgers insists there is "no drama" at Anfield despite a 1-1 draw in the Merseyside derby doing little to quash the scrutiny he finds himself under.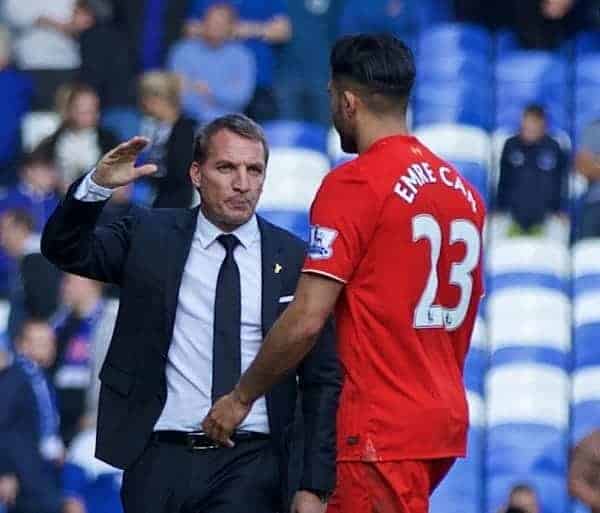 A Danny Ings header in the 41st minute was cancelled out in first-half added time by Romelu Lukaku as Everton went on to dominate the 225th Merseyside derby, keeping themselves ahead of their near-neighbours in the table.
New speculation about Rodgers' future appears to be a daily occurrence but his side are still only three points off fourth place heading into the international break.
"There are two points: the first is I don't feel any pressure, I can honestly say that," he said.
"There is pressure to sell newspapers and make stories and I understand and respect that. My job is to worry about the team, that is the only pressure I will feel.
"People will want to put pressure on for different reasons. I don't feel it, I don't want it but anything externally, there is no drama.
"I have never felt anything other than secure. That is not being complacent. I was brought here to do a job, I signed a new deal (in May 2014) and the owners know it takes time."
Despite spending almost £300million in just over three years in charge, Rodgers stresses there is plenty of work still to do having seen pivotal players like Luis Suarez and Steven Gerrard leave in recent seasons.
And he claims owners Fenway Sports Group have never stipulated he has to regain Champions League football with a top-four finish.
"In all my time it has been an internal ambition but it has never been said by the club," he added.
"We did that against the odds a couple of years ago (almost winning the title with a Suarez-inspired side). We lost quality and will have to rebuild.
"I have never been asked or told to deliver that (a top-four finish) by anyone at the club since I came in.
"If we are to replicate what we did two years ago we will have to build something. That will take time. That is frustrating for supporters but there are new players to come in.
"It will take time, whether that is me or someone else. While it is me, I will continue to devote every ounce to the club."