January is fast approaching and the rumour mill is in full force, with a number of European talents linked with a move to Liverpool.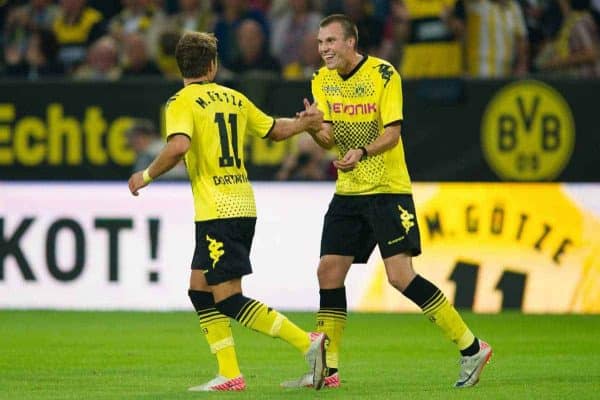 With less than a month to go until the opening of the January transfer window, Jurgen Klopp and the Liverpool transfer committee are working through the night to supplement his fledgling squad.
Or so the rumour mill would have you believe, with a more names linked with a move to Merseyside by the hour.
Klopp will undoubtedly be looking to improve his squad wherever possible this January, but who will end up in his shopping basket in the January sales and who is destined for cutting-room floor?
Here, we round up the latest Liverpool transfer rumours, with an unsurprising European feel.
Grosskreutz to End Turkish Hell With Klopp Reunion
As you can see, Klopp and Kevin Grosskreutz enjoy a close relationship, with the industrious German midfielder serving under the Liverpool manager for six seasons at Borussia Dortmund.
But when Klopp left Dortmund, so did Grosskreutz, who joined Galatasaray in a deal worth up to £1.25 million.
After an almighty administration blunder, however, Grosskreutz was deemed ineligible to play for the Turkish giants until the beginning of January—and this has given the 27-year-old itchy feet.
That is according to the Mirror's Neil Moxley, who claims that Klopp will make a move to "rescue" his loyal servant from purgatory this January.
Grosskreutz is thought to be ready to leave Galatasaray in January, and while it may be lazy journalism to link him with a move to Klopp's new side, he would fit in well on Merseyside.
Hardworking, versatile and with a wealth of top-level experience, Grosskreutz could add to Klopp's midfield banks as well as providing much-needed cover at right-back.
Liverpool Want £18 Million Crock Rossi
When Klopp sits down with Ian Ayre and his transfer cohorts, the first name that will surely pop up is an ex-Manchester United striker with a more comprehensive injury record than Daniel Sturridge, right?
Well that is the case according to Jamie Anderson of the Star, who brings news from Italy claiming that the Reds are set to make an £18 million bid for Fiorentina's Giuseppe Rossi.
The 28-year-old missed the entirety of last season with an ACL injury, and is said to be "struggling to break into the Fiorentina starting XI."
An American-born, English-raised Italian international, Rossi boasts undoubted quality when fit—but that is a crucial caveat, with the striker having missed 116 games in the last five seasons.
As an English speaker, it wouldn't take Rossi long to settle at Liverpool—but that may be in the treatment room, and not on the pitch.
PSG Forward Lucas to Join Liverpool's Brazilian Revolution
They look pally here, but Angel Di Maria has given Lucas Moura the hump, according to Metro.
Will Giles, citing French publication Le 10 Sport, claims that Di Maria's arrival in France this summer has increased the chances of Lucas departing Paris Saint-Germain in January.
"Liverpool have set their sights on Lucas and have already initiated talks with the player over a potential move," according to Giles.
Lucas would be fine addition to an already impressive attacking line alongside compatriots Philippe Coutinho and Roberto Firmino.
But whether the 23-year-old would swap the Champions League in Paris for the Europa League in Liverpool is another matter entirely.
Hummels is Klopp's Chosen Defender
Klopp is not happy with the majority of his Liverpool squad and wants to replace them with players he's already managed.
Grosskreutz, Nevan Subotic, Marco Reus, Pierre-Emerick Aubameyang, Henrikh Mkhitaryan and Ilkay Gundogan are all nailed on to join in January, and Klopp is going to deliver the league title.
On top of that, he's going to add Mats Hummels to his defensive line, according to reports in Italy of all places, as relayed by Goal.com.
Hummels is said to be "unsettled" at Dortmund, with both Liverpool and United circling ahead of January.
Let's ignore the fact that he's a left-sided centre-back and that he's in awful form at the moment, and just blindly believe that another chiselled German is the solution to Liverpool's problems. Deal?
Liverpool Want 19-Year-Old Defender Chilwell
It may be the least attractive move, but it's also the most likely: Liverpool are said to be scouting Leicester City's 19-year-old left-back Ben Chilwell ahead of a January bid.
That is the latest from the Telegraph's John Percy, who suggests that both Liverpool and Arsenal are looking to seal a deal for one of England's most highly regarded young defenders.
"Liverpool's Barry Hunter and Arsenal's Steve Rowley were both at St. Andrew's to keep an eye on the teenage left-back, who is already emerging as one of the most talked about young players in the country," Percy claims.
Chilwell is currently on loan at Huddersfield Town, under the tutelage of Klopp protege David Wagner, where Leicester manager Claudio Ranieri is hoping he will "start to become a player."
Leicester are said to be readying a contract offer for the young defender, but a move to Merseyside could prove desirable.