With Daniel Sturridge linked with a big-money summer move to one of Europe's biggest clubs, we look at how fans have reacted to the news.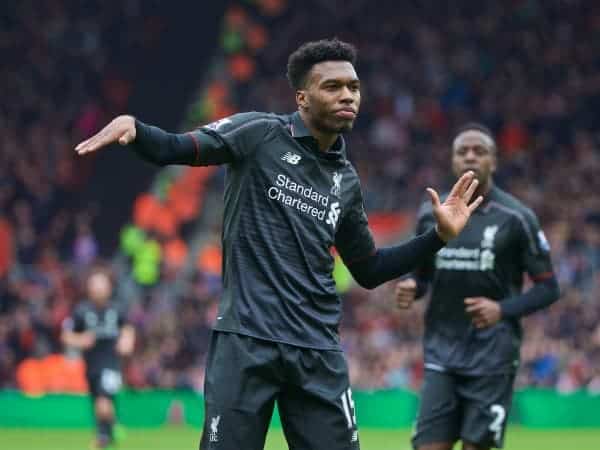 According to reports in the Daily Mail on Thursday, Sturridge is rumoured to be the subject of a £45million bid from Paris Saint-Germain.
The French giants are set to offload both Zlatan Ibrahimovic and Edinson Cavani at the end of the season, and they reportedly see Sturridge as an ideal replacement.
The news has led to plenty of debate among Liverpool supporters on social media, with opinion seemingly split over whether selling the injury-prone striker makes sense or not.
Here is the best of the reaction.
Twitter:
If we get offered £45m for Sturridge then I think we should probably take it. #lfc

▼ Article continues below ▼

— The Anfield Chat (@TheAnfieldChat) March 24, 2016

Nothing to do with ability, this is why if there's any truth to the #PSG reports, I'd sell Sturridge. #LFChttps://t.co/SsMx4jqIae

— N??s ?N³? (@N3_LFC) March 24, 2016

Would i sell Sturridge for £45m? Nope. The money means nothing to me. Ball going into net and wiggly arms does.

— Joseph Cousins (@JCuzzy1) March 24, 2016

▼ Article continues below ▼

Sturridge is an absolutely magnificent, elite striker. Because of that, #LFC must keep him. He is worth the risk.

— Henry Jackson (@HenryJackson87) March 24, 2016

https://twitter.com/MerseysideFisch/status/712929278183284736

If PSG offer £45m for Sturridge, as good as he is, it's a no brainer, surely?

— Floyd Nundy (@TheFNundy) March 24, 2016

▼ Article continues below ▼

Many will disagree with me but we've seen the best of Daniel Sturridge. There's no improving on his 21 goals a couple of seasons ago. Sell.

— LFC Round Up (@LFCroundup) March 24, 2016

£45 mill for Sturridge is a hard one…a month ago I would of said yes all day but Klopp has manged to keep him fit he might come good ??

— Andrew Healy (@_AndrewHealy) March 24, 2016

▼ Article continues below ▼

When you hear PSG a set to pay £50M for Sturridge pic.twitter.com/9qpX66rqeS

— Footy Accumulators (@FootyAccums) March 24, 2016

https://twitter.com/AnfieldObserver/status/712959702498418688

This Sturridge to PSG rumour is a tough one, if he stays fit you simply keep him, but the "if" is a big one, I'd sell myself.

— Guy Drinkel (@guydrinkel) March 24, 2016

▼ Article continues below ▼

Sturridge has been a liability but anyone who thinks he's not capable of scoring 25+ next season is in denial. Keep him. #LFC

— Ian Griffiths (@GuitaristGriff) March 24, 2016

Paris Saint-Germain willing to spend £50m on Daniel Sturridge?!?! If legit offers come in that high, Liverpool would be stupid to reject.

— Alex Batt (@AlexBatt) March 24, 2016

If Sturridge's injuries are finally gone then I'd say keep him, all he needs to do now is adapt to the way Klopp wants him to play. #LFC

▼ Article continues below ▼

— . (@GarthHastings23) March 24, 2016

So split on selling Sturridge or not. He could be the best striker in the league when fully fit, but we'd get good money for him.

— Conor (@KoloTourbae) March 24, 2016

Bottom line re Sturridge is this. If we keep him we can't and shouldn't rely on him any longer, nor build a team around him.

— scott williams (@strebby1) March 24, 2016

[td_ad_box spot_id="custom_ad_1″]

Jason Rowlands:

IF its true and once again its a big IF, i'd take it. Yes he is a quality goal scorer, no doubt. However his injury record is horrendous and for that type of money, I don't see how we could turn it down.

Yash Sharma:

Come ON! We can't let him go! First Suarez and now Sturridge. He's awesome! He can't leave like this. We need a good striker and Studge is the man.

Danny Carter:

Getting 45 million for a player that can hardly play due to constant injuries would be amazing, dont get me wrong Sturridge is class when fit but thats a rare case, getting even 20 million would be fantastic.

Martin Luddy:

Keep him. We don't want to be that club where we sell our top players every year.

[td_ad_box spot_id="custom_ad_2″]

ptt:

You can't replace a fully fit DS for £75m I would suggest. There's only a handful of players in the world who can do what he does. However his injury record and the fact that he only realistically plays half the full matches of many others surely means his value is half that. For £50m I'd seriously consider it but with one caviat, we MUST have his replacement lined up before he leaves and he mustn't be over 6ft…..

Fester:

If PSG are seriously prepared to pay £45 million for Sturridge as suggested on the Twattersphere I'd put him on a plane to Paris myself.

Great player, potent striker when fit and on form but worryingly injury prone and with a suspect attitude/temperament at that price this would be the best opportunity that we've had so far to cash in.

legalalien:

Obviously it's up to the manager, but I'm probably not alone in getting the impression that Klopp doesn't have faith in Sturridge's ability to fit into the team and regularly score goals. Never mind his ability to remain uninjured for most of the season.

Promoted

More from This Is Anfield

Fan Comments

Comments are retrospectively moderated. Some could be subject to delays before publication. They must obey the comment policy. Comments load below.

Please only discuss the article above. General chat can be made on our forums at forums.thisisanfield.com