Collecting Liverpool's Player of the Month award for March, Philippe Coutinho stressed that he was looking to "continue getting better" under Jurgen Klopp.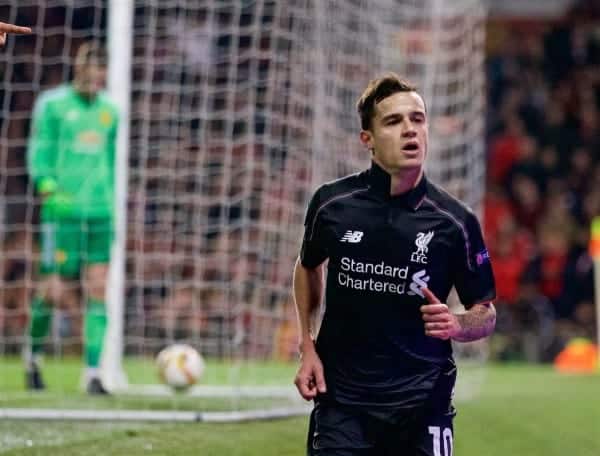 Coutinho scored twice in four appearances in March, earning the club's Player of the Month award, with a sensational display away to Man United in the Europa League's last 16 serving as a highlight of his month.
The Brazilian was also central to Liverpool's emphatic first-half showing away to Southampton in their last outing of the month, though the Reds' subsequent drop-off undermined his quality.
Coutinho has gone from strength to strength in his left-sided role following Klopp's arrival in October, but the 23-year-old wants to "continue getting better" after his latest recognition saw him beat Adam Lallana, Emre Can and Roberto Firmino to the award.
"It is very rewarding for me and it gives me confidence to continue to work hard and achieve positive things," he said.
"I know that in the position I play I have to create chances, score and that is something I have to improve, I try to improve.
"I know I have to improve it; it is something I search for.
"I hope I am getting better at it and that I am helping my teammates.
"Perhaps in that position [on the left], when I suddenly cut inside space opens up giving me the opportunity to try to score.
"I think the team has been playing well and that, of course, helps everybody.
"I hope I continue getting better, I am trying to learn from the coach and my team-mates so I can play better and help them."

Coutinho reserved praise for his fellow attackers, namely Lallana, Sturridge, Divock Origi, Christian Benteke and Firmino, lauding the latter as "a very important player for our team."
But in particular the No. 10 underlined the influence of Klopp, who he described as a "great coach."
"He is accessible, speaks to everybody and he always tries to help," he continued.
"He always corrects the mistakes that happen in the games.
"Even when we play very well he is always looking for things that can improve. This has been good for us as a group.
"This has been excellent, the way he searches for what was negative so we can play better next time."
Coutinho will likely take up his role on the left in Thursday night's Europa League quarter-final first leg away to Borussia Dortmund, with Firmino set to return as Klopp's central attacking midfielder.
As he looks to build on this latest award, Coutinho must continue to strive for progress in the Liverpool attack.